Since Monday, some Instagram users have been receiving a notification that they will no longer be able to use "link stickers," a feature used by many users to post links to external sites.
Some users told Reclaim The Net that they had received several warnings about sharing "misinformation" before the message appeared that they would soon no longer be about to link outside of Instagram.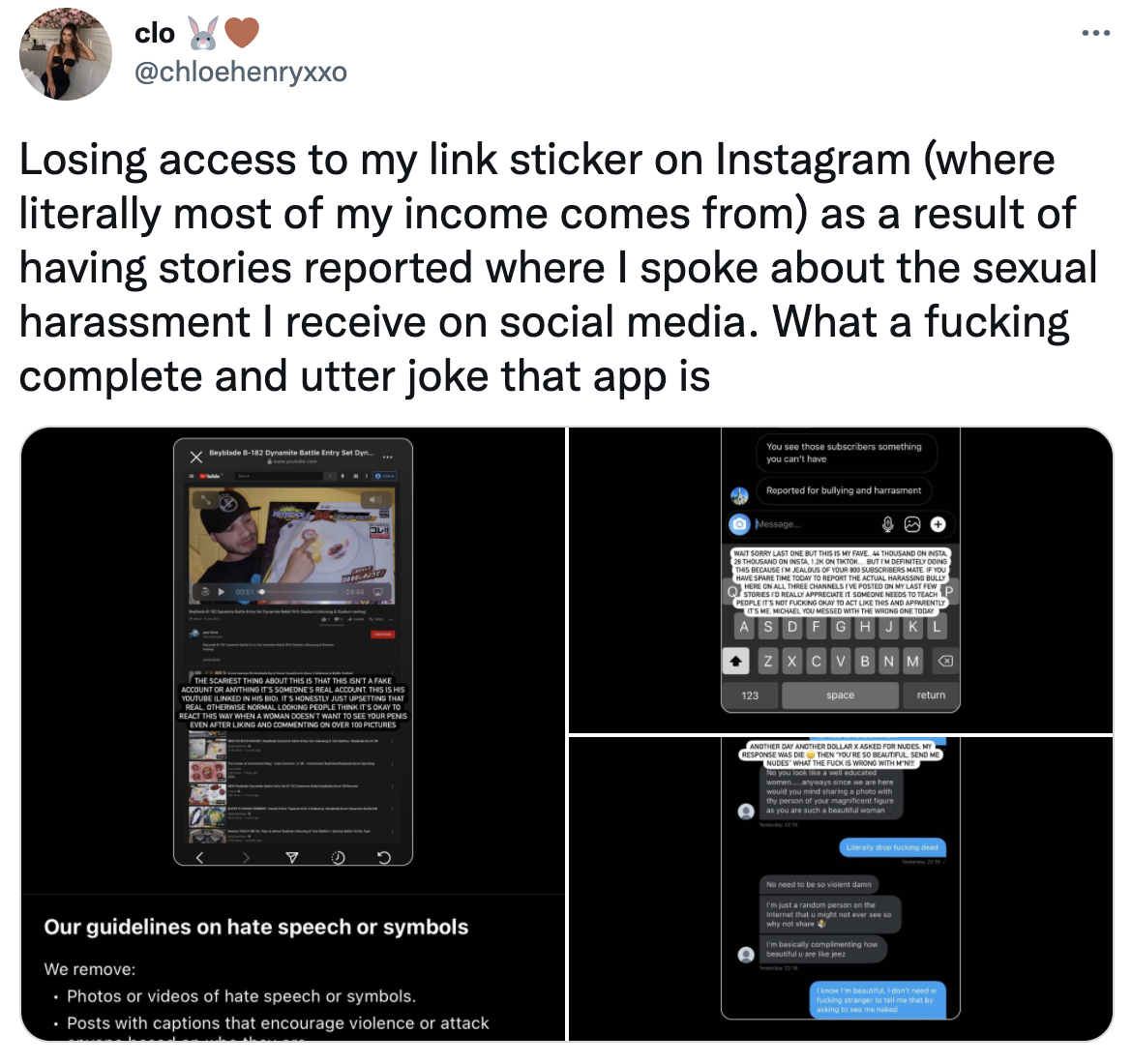 The only place users can post links on Instagram is the bio and on stories through "link stickers."
"Starting October 25, you will no longer have access to the link sticker because you have shared content that violates our Community Guidelines," the message Instagram is sending to some users states.
There's no option to appeal the censorship.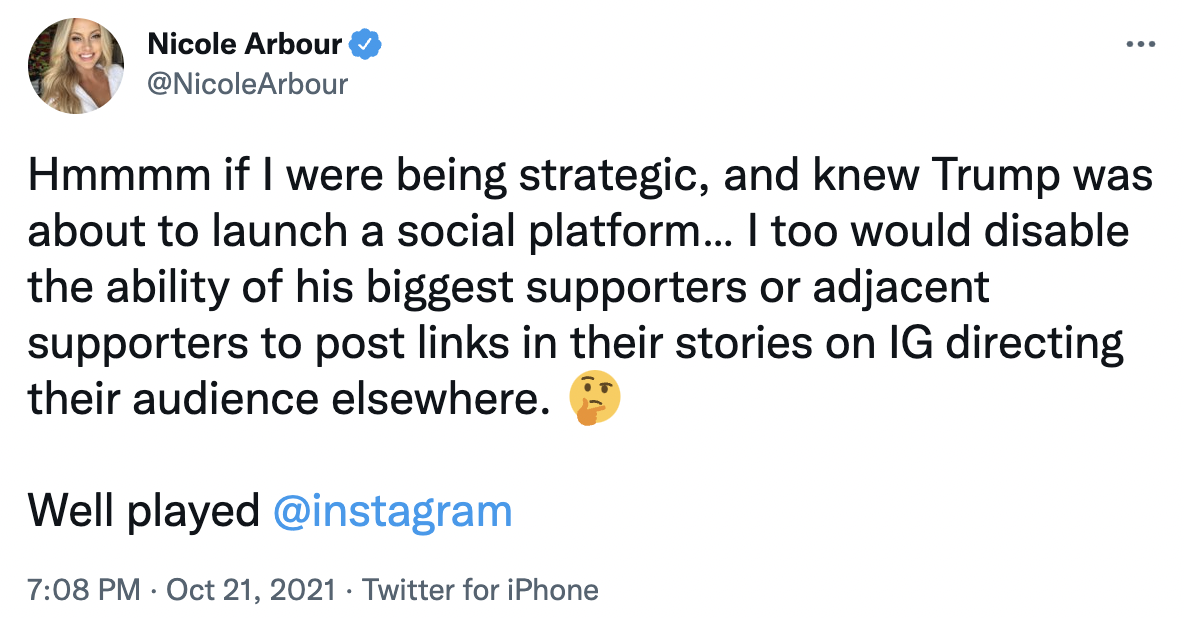 In a statement to Vice, Instagram said: "As part of our efforts to limit the spread of harmful content that violates our Community Guidelines, we'll restrict people who have repeatedly or severely violated these policies from using the link sticker. However, we're investigating an issue where people may have mistakenly been notified that they will be restricted, and we're working on resolving this as soon as possible."
Vice frames the story with a suggestion that the first people to begin receiving the message were sex workers. However, the problem appears to be much broader.
Others who received the email criticized Instagram for the arbitrary implementation of its guidelines.
"If IG has the power to remove access to certain features that directly impact your income/business, the very least they could do is ensure that their moderation process is fair, consistent and unbiased," artist Exotic Cancer, who got the notification on Monday, said to Vice.
As reported by Vice, others who received the email include photographers.
"As a creative, I've been using Instagram from the very beginning to build a platform and career which was very rewarding at first," Vice quotes Kethy W, a photographer who insisted her posts are not adult content. "Sadly, it's become harder to use by the day… Instagram's become extremely authoritarian with its censorship and control. I haven't violated Instagram's community guidelines and yet they get to decide without proper appeal."
Even some Jewish advocacy groups got the notification.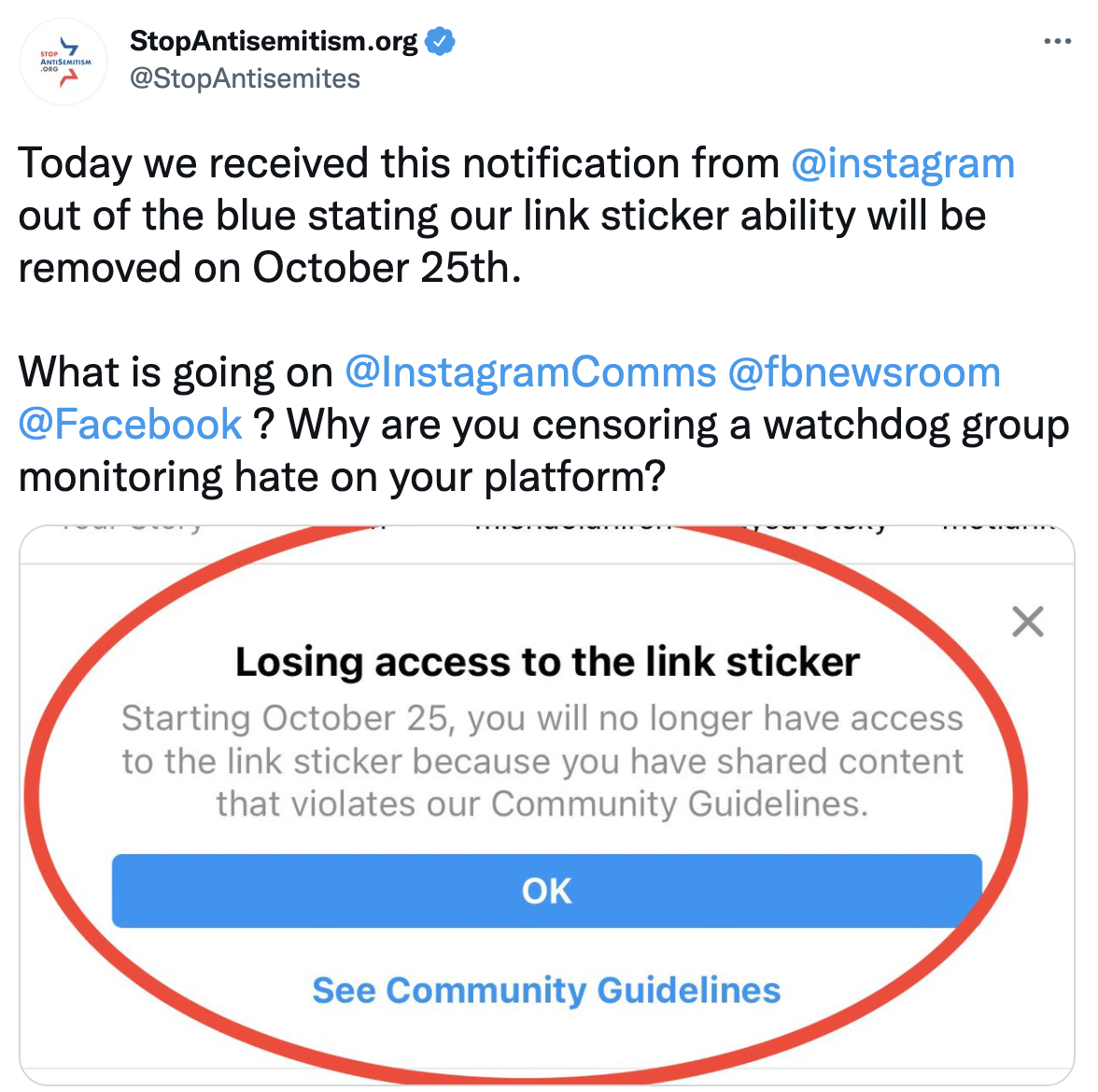 "Today we received this notification from @instagram out of the blue stating that our link sticker ability will be removed on October 25th," tweeted StopAntisemitism.org.
"We believe many Jewish advocacy accounts (including ours) are being targeted by bot farms and mass reporting campaigns; rather than removing the hateful content, Instagram's extremely flawed AI systems are targeting the accounts exposing the hatred versus the source of the hate," said the organization's executive director Liora Rez.