Twitter has suddenly locked Project Veritas founder James O'Keefe out of his account after he tweeted at a reporter from The Washington Post and successfully requested a retraction.
Twitter claims that O'Keefe violated its rules around "posting private information" after he responded to a tweet from Dave Weigel, a reporter at The Washington Post, that accused Project Veritas of "putting moles in the campaign to find that Sanders volunteers talk IRL [In Real Life] like they do on Twitter."
Weigel was referring to undercover videos from Project Veritas which exposed Sanders campaign staffers Kyle Jurek and Martin Weissgerber calling for violence.
O'Keefe tweeted back at Weigel that the subjects featured were not "Sanders volunteers" and "are STILL paid employees" of the Sanders campaign with an attached pay stub proving his point.
Weigel then deleted his tweet minutes later.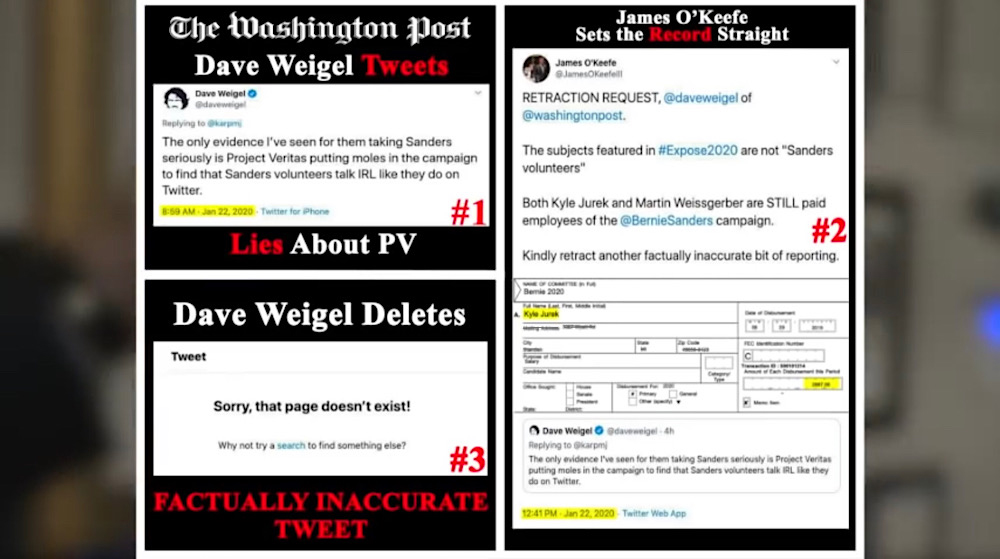 It appears that Twitter has suspended O'Keefe for posting either the names or the paystub, despite both individuals being newsworthy subjects and the paystub being publicly available on the Federal Election Commission (FEC) website.
O'Keefe will now be unable to tweet from his account until the suspension is lifted.
O'Keefe has slammed the suspension and said: "They don't suspend Dave Weigel's account. They suspend us for correcting the erroneous information that Dave Weigel tweeted."
The locking of O'Keefe's Twitter account comes one day after the 2020 Iowa Democratic caucuses and is the latest of several high profile political account suspensions.
During the caucuses, another popular Twitter account, Comfortably Smug, was temporarily suspended after tweeting out "Where's Hunter, Fat???" – a reference to 2020 presidential candidate Joe Biden calling a voter fat.
And days before these caucuses, the Twitter account of Zero Hedge was suddenly hit with a permanent ban after BuzzFeed claimed it had doxed someone by sharing publicly available information.