The popular YouTube channel JCS – Criminal Psychology has announced plans to move from the platform after facing constant censorship.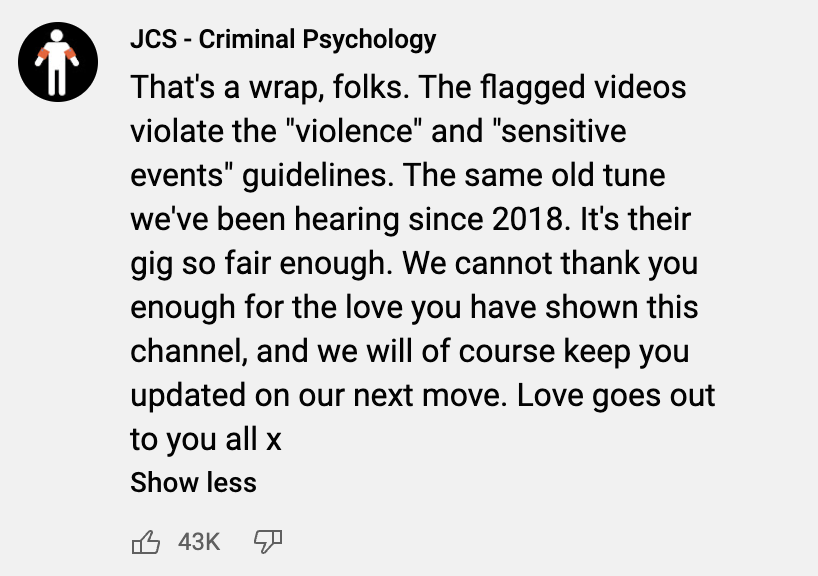 "That's a wrap, folks," the channel wrote on its community page. "The flagged videos violate the 'violence" and 'sensitive events' guidelines."
The channel suggested that it has been a constant problem since they started in 2018 but didn't seem to hold too much animosity towards YouTube, saying, "It's their gig so fair enough."
The channel thanked fans for their support and said that they will keep viewers "updated on our next move," suggesting that they're planning to switch platforms.
The channel focuses on true crime and particularly the psychological aspects of the crimes, as well as reviews and commentary on police interrogation footage.
The channel grew in popularity last year.
On May 26, 2021, JCS – Criminal Psychology uploaded a video titled, "What Pretending To Be Crazy Looks Like."
The video became one of the most popular videos of 2021 and yet has now been removed.
The one hour long video explains how to tell if someone is pretending to be crazy by comparing the testimony of the Parkland school shooter Nikolas Cruz to the testimony of Jerrod Murray, who shot and killed a classmate in 2012. Although Murray was convicted, later he successfully pleaded insanity.
The narrator in the video notes that Murray was cold and emotionless when confessing to the murder. On the other hand, Cruz claimed hearing voices and made attempts to express his mental state through self-harm. The narrator also notes how the officers interrogating Cruz poked holes into his testimony.
JCS – Criminal Psychology's issues with YouTube are not unique as increased restrictions and censorship on the platform have spurred many to look for alternatives in recent times.