During a speech at Riverside Advisory's "Parliamentary Event in Support of Freedom of Expression," former Equalities Minister and Conservative Party leadership candidate Kemi Badenoch warned that it's "wrong and dangerous to limit free speech" and confirmed that she would not vote for a censorship bill that's currently being pushed by the UK government.
"Parliament is now legislating for hurt feelings through the Online Safety Bill," Badenoch said. "I think that this bill going to have some serious implications for free speech. I have supported the government in every single vote since I became an MP [Member of Parliament]. I'm not going to be supporting it this week in its present form."
Badenoch also expressed her support for the principle of free speech and said it's "no longer something we can take for granted as a commonly shared value."
She argued that there's "often a great deal of dishonesty in the debate about free speech" and called out attempts to cancel figures such as author JK Rowling and feminist writer Germaine Greer.
"These aren't even conservatives, last time I looked," Badenoch said. "The number one priority is to silence dissident opinions on the left…And, even though I'm on a different part of the political spectrum, I believe that free speech cuts across all shades of politics, and we need to defend each other irrespective of which party we are members of."
Badenoch added: "Attacks on free speech usually harm the people who have the least power. They don't control the institutions which is why they need their voices, they need those tools of persuasion and reason."
This is the latest of several criticisms Badenoch has leveled at the Online Safety Bill since announcing her Conservative Party leadership bid last week.
On Saturday, Badenoch took aim at the bill and expressed concerns that it risks criminalizing factual statements about biology and sex.
"We had an Online Harms Bill [the name of the initial bill which became the Online Safety Bill], which was supposed to look at very serious crime, online terrorism, child porn and deal with that, and it has now grown," Badenoch said. "It is trying to fix loads of other problems that were not originally intended to solve. Legislation is not always the answer…We've now got to a point where we're legislating for hurt feelings. I think it's going to have significant freedom of speech issues."
Badenoch added: "One of the things that I see is people saying that women are adult biological females is harmful speech. We can't legislate for something that will create a crime out of such a simple, factual statement. And those are the things that I think we're doing wrong."
Badenoch also noted that if she was Prime Minister, she would "really cut that Bill down to focus on what it was meant to do."
In another article published on Saturday, Badenoch described the Online Safety Bill as an attempt to "legislate for hurt feelings" and wrote that "we need to reinvigorate the case for free speech, free markets and the institutions that defend a free people because our values and our ideas are too precious not to fight for with all our heart."
The first draft of the Online Safety Bill, which was introduced to Parliament in March, granted the government unprecedented censorship powers, required tech companies to collect even more user data, and gave large media outlets special exemptions that aren't afforded to regular UK citizens.
Related: The UK Online Safety Bill explained – A reckless threat to free speech
Since this draft was introduced, several amendments have been proposed, including a proposed backdoor on end-to-end encrypted messaging apps, a proposed social media truth score, and a proposal to force Big Tech to proactively censor state-backed "disinformation."
Badenoch is currently the only UK Conservative Party leadership candidate to oppose the Online Safety Bill.
Several Conservative Party leadership candidates, including former Junior Trade Minister Penny Mordaunt, MP Tom Tugendhat, Chancellor of the Exchequer and former Education Secretary Nadhim Zahawi, former Health Secretary Sajid Javid, and Transport Secretary Grant Shapps have previously supported the bill.
Mordaunt welcomed "important contributions" to the draft Online Safety Bill in January.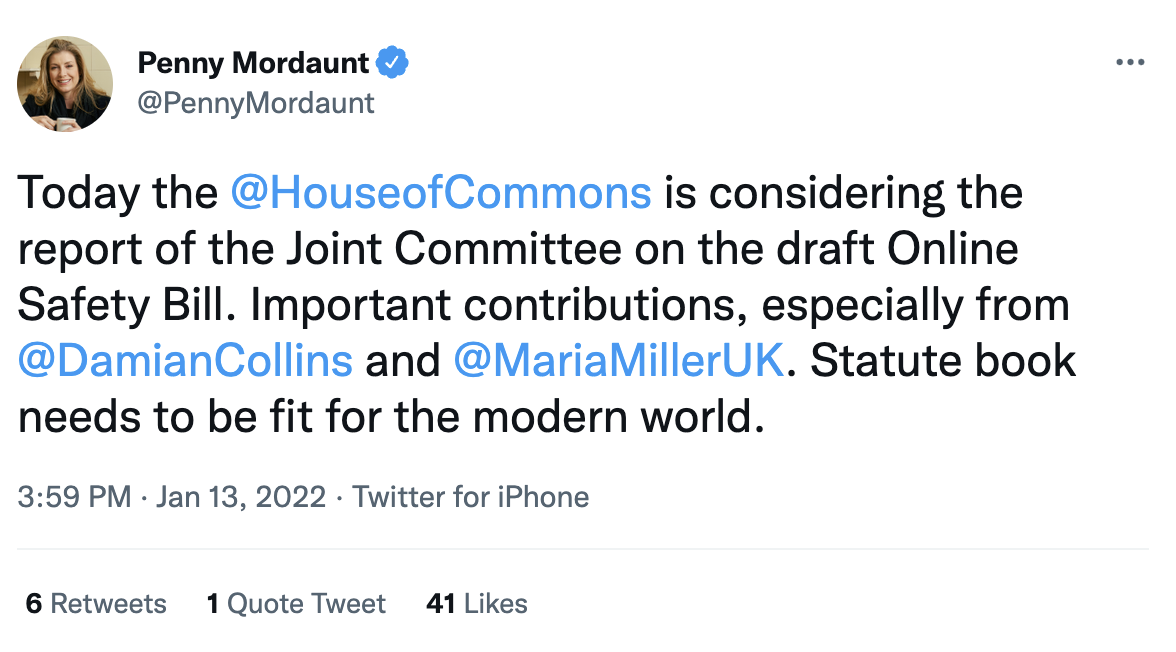 In February 2021, Tugendhat backed proposals that were made during the consultation stage of the Online Harms Bill that would make identity verification more mainstream and said "encouraging people to sign messages in their own name would at the very least mean it's easier to hold people to account where they send threatening or abusive messages, and could perhaps encourage people to think twice about how a message could come across."
In March 2022, while serving as Education Secretary, Zahawi praised the introduction of the Online Safety Bill to Parliament.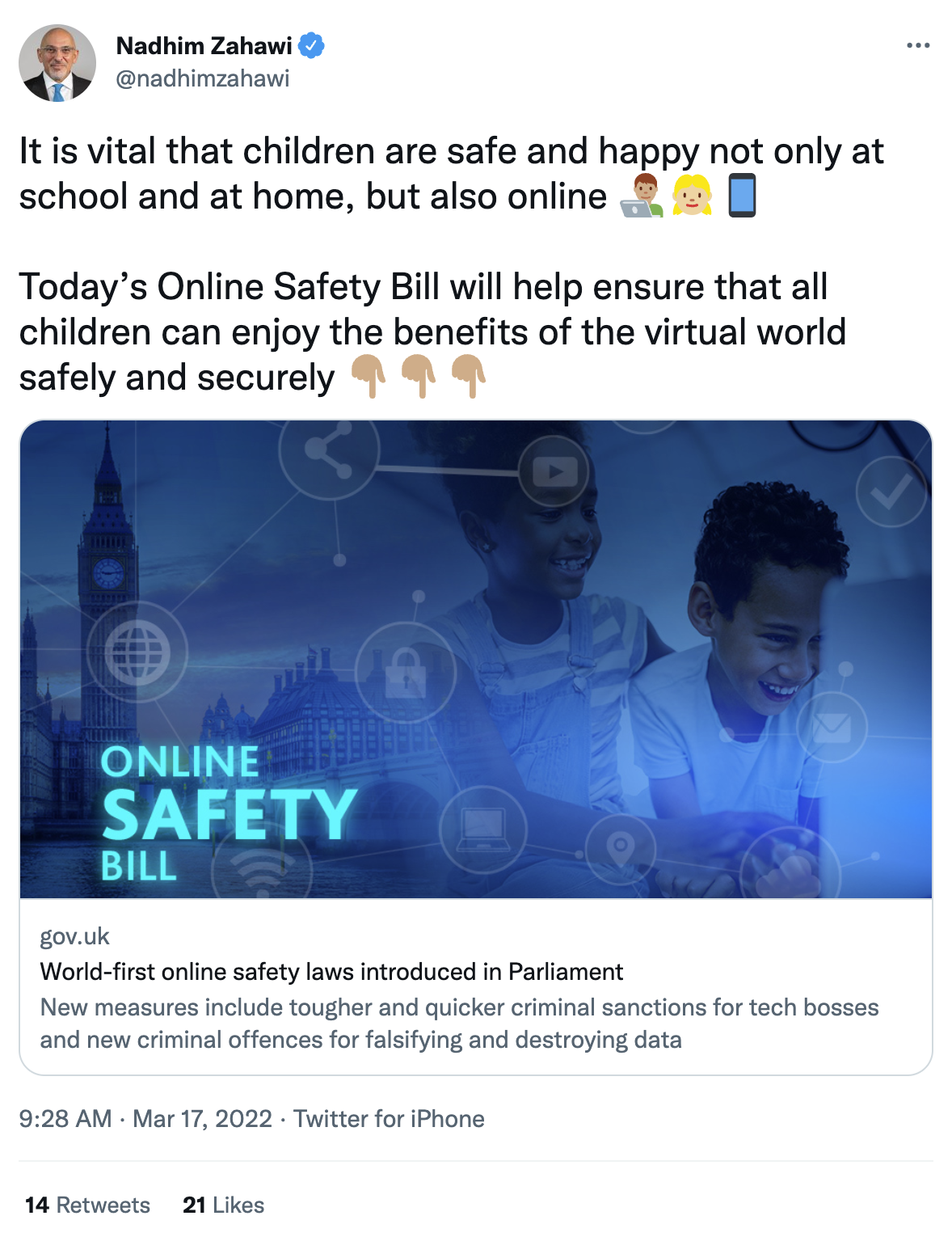 Last month, while serving as Health Secretary, Javid said that a "national suspected suicide surveillance system" which "looks at risk patterns" will be introduced early next year and cited the Online Safety Bill as a piece of legislation that will enable a "better understanding of tackling complex causes of suicide."
And this month, Shapps backed proposed amendments to the Online Safety Bill that aim to force Big Tech to proactively censor state-backed "disinformation."
Other Conservative Party leadership candidates, including former Foreign and Health Secretary Jeremy Hunt and MP Rehman Chishti, have previously pushed for additional laws that would censor online speech or require age verification to use online platforms.
In April 2018, then-Health Secretary Jeremy Hunt threatened to introduce new laws that target social media companies unless they cracked down on cyberbullying and prevented underage users from accessing their platforms.
And in October 2021, MP Rehman Chishti presented a social media bill that would "remove online anonymity to tackle online hate speech."