Last week, we reported on a story wherein YouTube removed a video from true crime content creator Kendall Rae for being "harmful and dangerous" as part of yet another YouTube purge. The purge also targeted comedy videos, YouTube beef videos, and political commentary videos.
Kendall Rae's channel has more than 1.5 million subscribers. Rae had made a video about kidnapping victim Jayme Closs being found. In October of 2018, Closs was taken from her home after the assailant forced his way inside and fatally shot her parents. She was held in captivity for 88 days before escaping in January of this year. YouTube removed this video saying it violated its "harmful and dangerous" policy.
Rae took to Twitter with her shock and confusion. Adding "I'm so damn thankful I started a podcast 2 yrs ago because YouTube is going in a terrible direction." She received a generic, automated response from YouTube saying "If you think this was a mistake, let us know." And so she did.
Rae has now said that YouTube denied her appeal. "Well this clearly was not a mistake. YouTube denied my appeal to get my video back. @YouTube really is out here removing non-graphic True Crime content with no explanation. This is very disappointing. @YTCreators can you at least give me a reason for doing this?"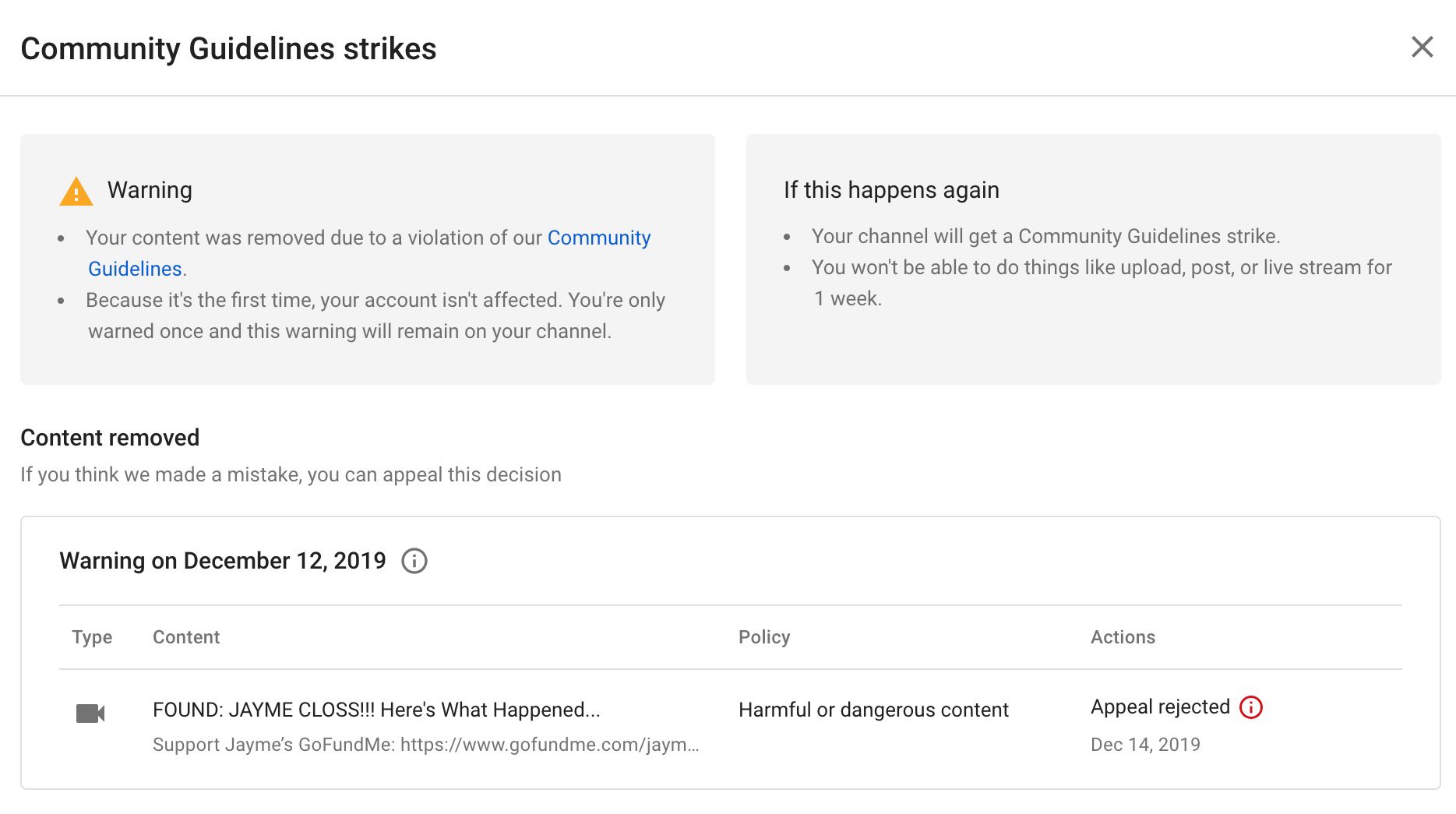 The assailant in that crime was sentenced back in May. It's possible that family members were uncomfortable with the video, or the police weren't comfortable with something that was mentioned in it. However, the Jayme Closs story has been featured in many news reports on YouTube and those videos still remain. The story has also been told on several podcasts.
Critics fear this may be a crackdown on true crime content, which has in the past aided investigations by promoting a story and helping it gain exposure. Countless articles and YouTube videos have been made over the years about mysteries and crimes including murder and rape that were solved with the help of online communities and YouTube's crackdown on this type of content could harm in the long run.