The futures of sports website Deadspin and video games website Kotaku are in doubt after a series of staff clashes with parent company G/O Media. Staff at Deadspin objected to a memo telling them to stick to writing about sports while staff at both sites encouraged readers to complain to G/O Media about autoplay ads on the site. In the wake of the clashes, Deadspin hasn't published for more than 20 hours while Kotaku staff have posted ominous tweets about the future of the site.
Deadspin staff object to stick to sports memo
The staff rebellion at Deadspin began when a leaked memo revealed that G/O Media had told Deadspin staff to stick to sports and "that which is relevant to sports in some way."
Deadspin staff openly rebelled against the memo by publishing non-sports stories on Tuesday and tagging the images with "Stick to Sports." The pinned posts on the homepage were also changed to non-sports stories.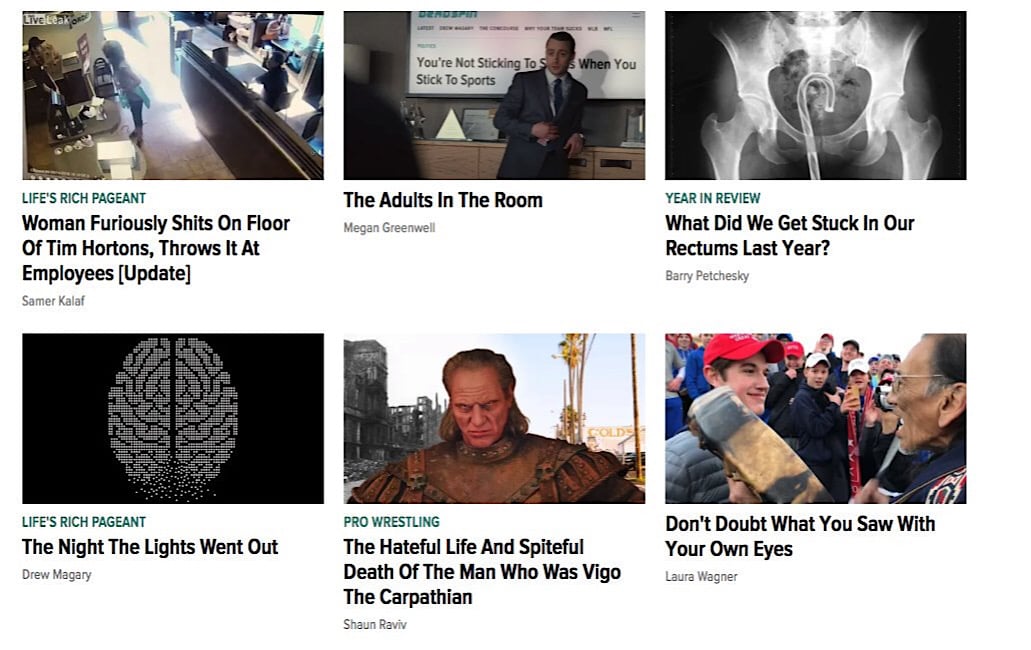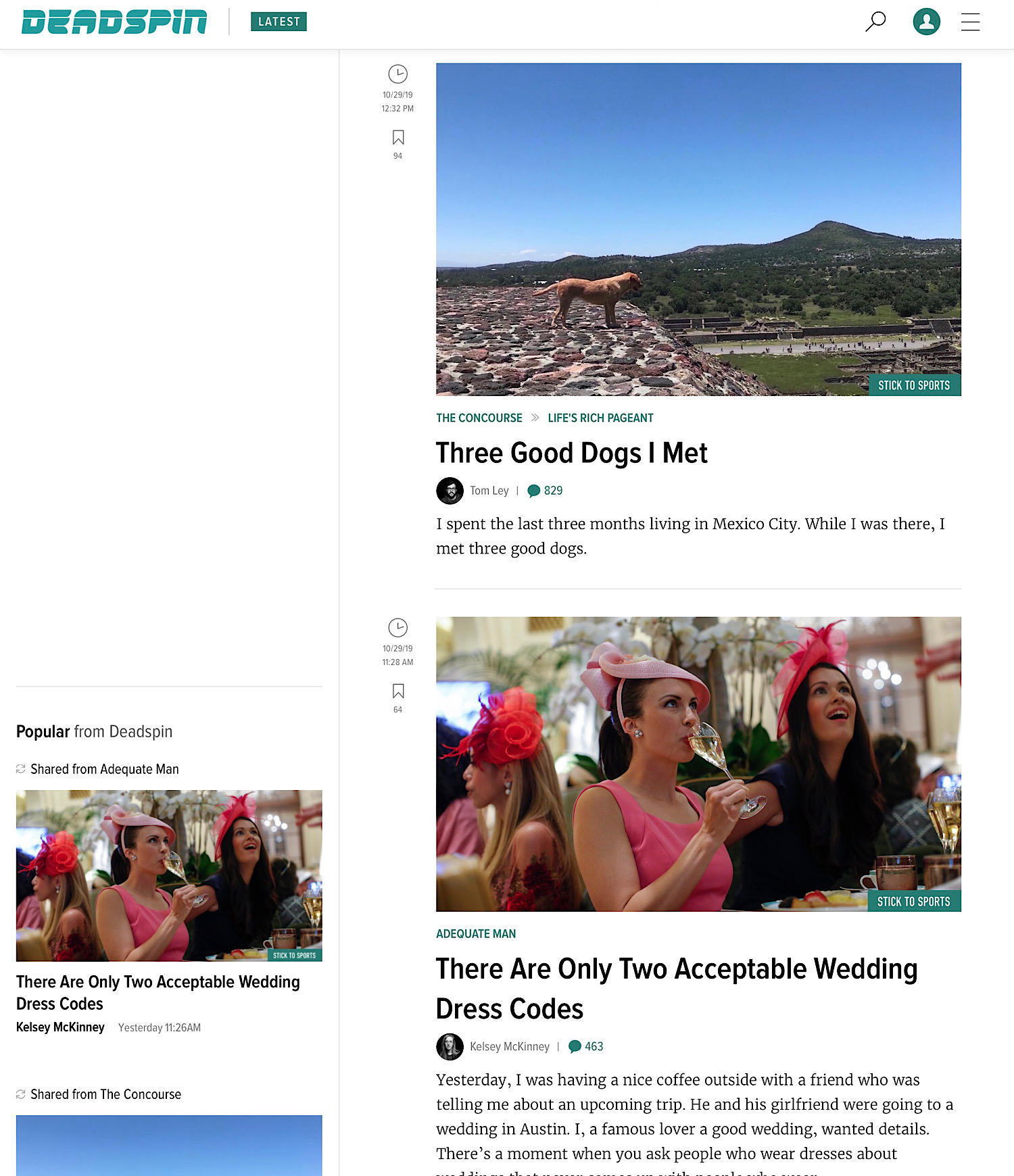 G/O Media responded by firing Deadspin's deputy editor Barry Petchesky for "not sticking to sports."
https://twitter.com/barry/status/1189224064788979712
G/O Media's editorial director Paul Maidment then released a fresh statement alluding to the firing and suggesting that Petchesky had refused to follow the company's editorial focus on sports stories: "We are sorry that some on the Deadspin staff don't agree with that editorial direction and refuse to work within that incredibly broad mandate."
After Petchesky's firing, the pinned posts on Deadspin's homepage changed from non-sports stories to sports stories. The local union emphasized that Deadspin staff had not been involved in this change.
Deadspin staffers had nothing to do with the changes on the front page. Here's how it looked earlier today and here's how it looks now. pic.twitter.com/g51nEOr3FE

— GMG Union (@gmgunion) October 29, 2019
The incident then came to a head when several Deadspin staff members tweeted out their frustrations about G/O Media CEO Jim Spanfeller and the firing of Petchesky.
Jim Spanfeller is a real piece of shit

— Laura Wagner (@laurawags) October 29, 2019
Fucking stupid and awful. https://t.co/bGW2lhu6sA

— David Roth (@david_j_roth) October 29, 2019
I have tried to compose seven tweets about how terrible of a decision this is but I've got nothing. Barry is a great editor and (I hate to say it) a good and compassionate person. This is fucked up. https://t.co/ExCx0Nvnu7

— kelsey mckinney (@mckinneykelsey) October 29, 2019
Staff encourage readers to complain about autoplay ads
Shortly after the stick to sports memo had leaked, a post titled "A Note to Our Readers" was published on Deadspin, Kotaku, and other sites owned by G/O Media.
The post focused on the use of "sound-on autoplay videos" on G/O Media sites, said that "editorial staffers at all levels of this company" had made their concerns known to management, and encouraged readers to submit feedback on the ads.
Many staff members from these sites also encouraged readers to complain to G/O Media on Twitter and framed the ads as "atrocious" and "awful."
If the atrocious ads on our website are bothering you, here is how to contact Kotaku's new private equity owner management team 🙂 https://t.co/OXfBpoHwOt

— Jason Schreier (@jasonschreier) October 28, 2019
It is terrible getting emails from readers about how they want to read the stories you worked hard on but cannot because there are auto-playing videos everywhere: https://t.co/zkw5hEGu8C

— kelsey mckinney (@mckinneykelsey) October 28, 2019
Also, on the other awful new thing about the site that everybody hates, there is this: https://t.co/zfKl8bBKjO

— David Roth (@david_j_roth) October 28, 2019
Tired of the ads and user experience on G/O sites? We are as well! Maybe you can politely tell some folks about it.https://t.co/0GSMYW3J3O

— Heather Alexandra (@transgamerthink) October 28, 2019
A few hours after publication, this post was removed from all G/O Media sites by management.
The GMG Union has been informed that posts across our websites asking for reader feedback on an autoplay ad campaign were taken down by management. We condemn this action in the strongest possible terms. (1/2)

— GMG Union (@gmgunion) October 29, 2019
The Kotaku staff then sent out a series of tweets with ominous messages about the future of the site.
I don't know what's going to happen next, but to everyone who has read and supported our work at Kotaku over the years, thank you ❤️

— Jason Schreier (@jasonschreier) October 29, 2019
Another tough day at the office. I've steered @Kotaku through some rough waters before thanks to my amazing team. Can I do it again? We'll see!

We all love the site–and the family of sites we're in–and are extremely motivated to do right by our readers and viewers.

— Stephen Totilo (@stephentotilo) October 29, 2019
I am grateful for every day that I get to work with the amazing, talented people at Kotaku. I hope it goes on and on. That's how I feel today.

— Chris Kohler (@kobunheat) October 29, 2019
extremely fucked up day

— Maddy Myers (@MIDImyers) October 29, 2019
F

— Cecilia D'Anastasio (@cecianasta) October 29, 2019
Some Kotaku staff members have since insisted that Kotaku is still alive but their responses still allude to an uncertain future with language such as Kotaku is still "fighting" and "see what the future holds."
Got some bad news for all the alt-right chuds spamming my Twitter feed today: 1) Kotaku is still alive and fighting; 2) I already know how to code

— Jason Schreier (@jasonschreier) October 29, 2019
Lotta trolls are acting like Kotaku's gone but we're not. As we fight for our comrades and see what the future holds, we're still gonna do our best to provide the coverage readers expect.

— Heather Alexandra (@transgamerthink) October 29, 2019
Uncertain futures for Deadspin and Kotaku
While there has been no official announcements about the future of either site, these events have left their fates unclear.
Deadspin usually publishes 10-30 posts per day consistently. On Tuesday, this number dropped down to five and nothing has been published to the site since the series of non-sports posts yesterday. The last Deadspin post was published more than 20 hours ago. Fans and critics of Deadspin are suggesting that this is the end.
Sad to see Splinter and Deadspin both die, but the free hand of the market has determined that only two kinds of progressive articles that can exist are "Why 'Lilo & Stitch' Led To Trump" by Lindy West and "Universal Healthcare: Who's Gonna Pay For That?" by Rahm Emanuel

— Will Sloan (@WillSloanEsq) October 29, 2019
Its weird that Deadspin is dying, its almost as if people want to enjoy themselves while reading about sports instead of have a bunch of white girls in their 20's, with rich dads, tell them why they're better than everyone else. Oh, and Barry Petchesky, who coasted off one bit

— Josh Potter (@J_Potter) October 30, 2019
Deadspin, which is not yet dead but hearing its own death rattle under its newest owners' moronic leadership, has been one of the world's best daily websites at least since I started reading it about a decade ago.https://t.co/vwdtCAenaI

— The Outline (@outline) October 30, 2019
Kotaku has been publishing regularly throughout these events but fans and critics are still pointing to an uncertain future.
Kotaku is dying so lets remember this gem pic.twitter.com/MgPqsZVaHd

— Cobra + bunch of numbers (@cobra866921) October 29, 2019
https://twitter.com/profwolandplays/status/1189456744872841216
If Kotaku did what a gaming news site is suppose to do, they would not be facing layoffs. Blaming investors because they don't want to throw their money in a pit of pretentious self-righteous "journalist" that hate the gaming industry and gamers shows how much you don't get it

— Alan (@ComradexSnarky) October 30, 2019
Kotaku staff has been twitting shit like "i loved working here, it's been real" and now are mad because people think they're closing down.

— Alex (@alexdnz) October 30, 2019
You fools.

Kotaku dying is not a means for celebration.

Remember when Tumblr started collapsing?

They moved here.

— Triple-Q (@TripleKyun) October 30, 2019
anyone who's like "good riddance" when kotaku's editorial staff is fighting for editorial control over their website against shitty old rich people is a fucking asshole and not cool full stop

— Alex Faciane (@FacianeA) October 30, 2019
If you're opinion on what's happening to the writers and employees at Kotaku, Deadspin, across Gizmodo etc is anything other than horror and disgust at corporate vultures squeezing journalists out of their jobs you're a shitty person and you can kiss my ass.

— MovieBob Productions (@the_moviebob) October 30, 2019
For now, we're still waiting for an official announcement and will post an update when it's available.