Last week, The New York Times admitted that the Hunter Biden laptop story was authentic, about 17 months after the New York Post published its content in September 2020. Now, Republicans are demanding a probe into the laptop and the censorship of the information about the laptop that was reported, suggesting that the suppression and discrediting of the story could have impacted the results of the 2020 Presidential election.
When the post published the story, it was immediately censored by social media companies. Many mainstream outlets either ignored it or tried to discredit it. Some media figures dismissed the story as a Russian disinformation campaign.
Some of the Republicans that have called for a new probe into the laptop include Texas' Sen. Ted Cruz.
In a statement to The Post, he said: "The most basic accountability requires firing those responsible for the 'Russian disinfo' lie about the Biden family's corruption, including and especially the former intelligence officials who were elevated to the top of cable news because they pushed wild and unsubstantiated Russia conspiracy theories about President Trump.
"Furthermore, Big Tech leaders who participated in censoring the truth should answer to Congress and the American people in sworn testimony."
"It's sad. We're all talking about disinformation in Russia and other totalitarian countries and we are learning that we have it right here at home," Staten Island GOP Rep. Nicole Malliotakis said.
"Big Tech's censorship of a story the liberal media has now acknowledged to be true just proves that a Republican House majority must take meaningful action to rein in Big Tech censors next year," said GOP Rep. Claudia Tenney.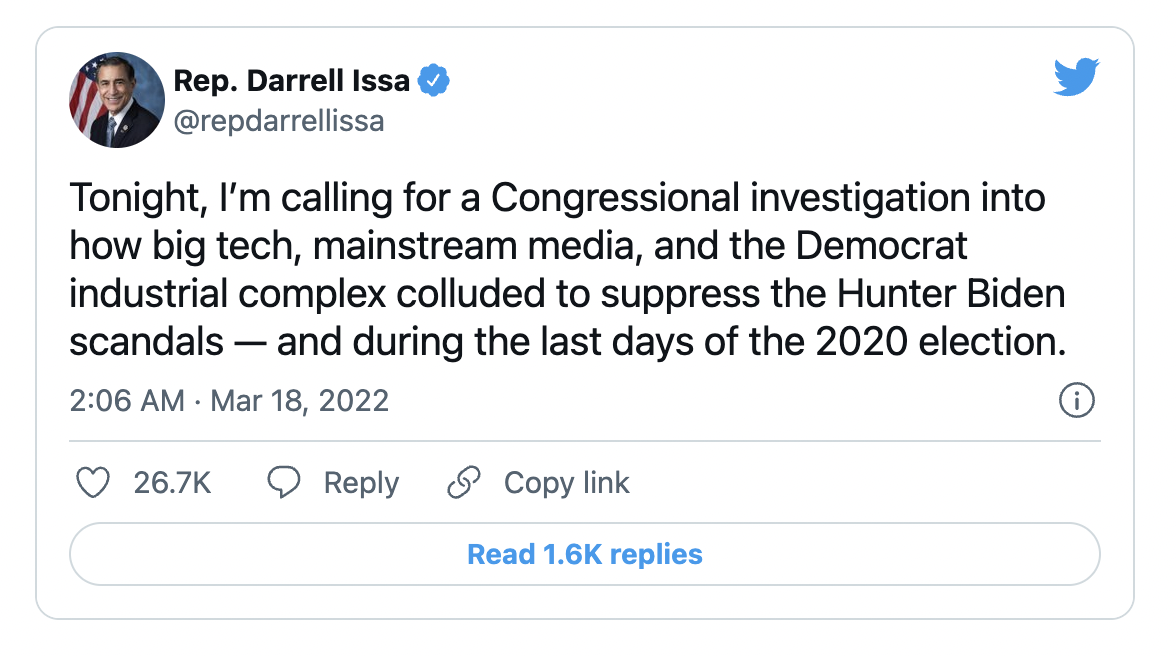 Hunter Biden left his laptop in a repair shop in Delaware. When he did not pick it up, the laptop ended up in the hands of Rudy Giuliani, who then took it to The Post. After verifying its authenticity, The Post published its contents.
Emails and other documents on the laptop suggested that Hunter Biden used his father's influence as vice president in corporate dealings in eastern Europe, notably Ukraine.
According to research by The Media Research Center, more than half of Biden voters did not know about the controversy and about 10% would not have voted for Joe Biden if they knew about the laptop.