Twitter this week temporarily banned the Libertarian Party of Kentucky (LPKY) for an opinion shared on its account about the ongoing trial of Kyle Rittenhouse.
Rittenhouse is a teenager who stands accused of committing first-degree murder during the Kenosha riots. Rittenhouse killed two persons, injuring another, but claims that he was acting in an attempt to defend himself from a violent mob.
And while the outcome of the trial is yet to be known, Twitter seems to have made up its mind about what transpired in Kenosha and whether its users are allowed to view Rittenhouse as innocent of the charges.
According to the Libertarian Party of New Hampshire (LPNH), who tweeted on Monday, the tweet that got the LPKY in trouble read, "Watching this trial, it's ever more obvious that Kyle Rittenhouse did nothing wrong."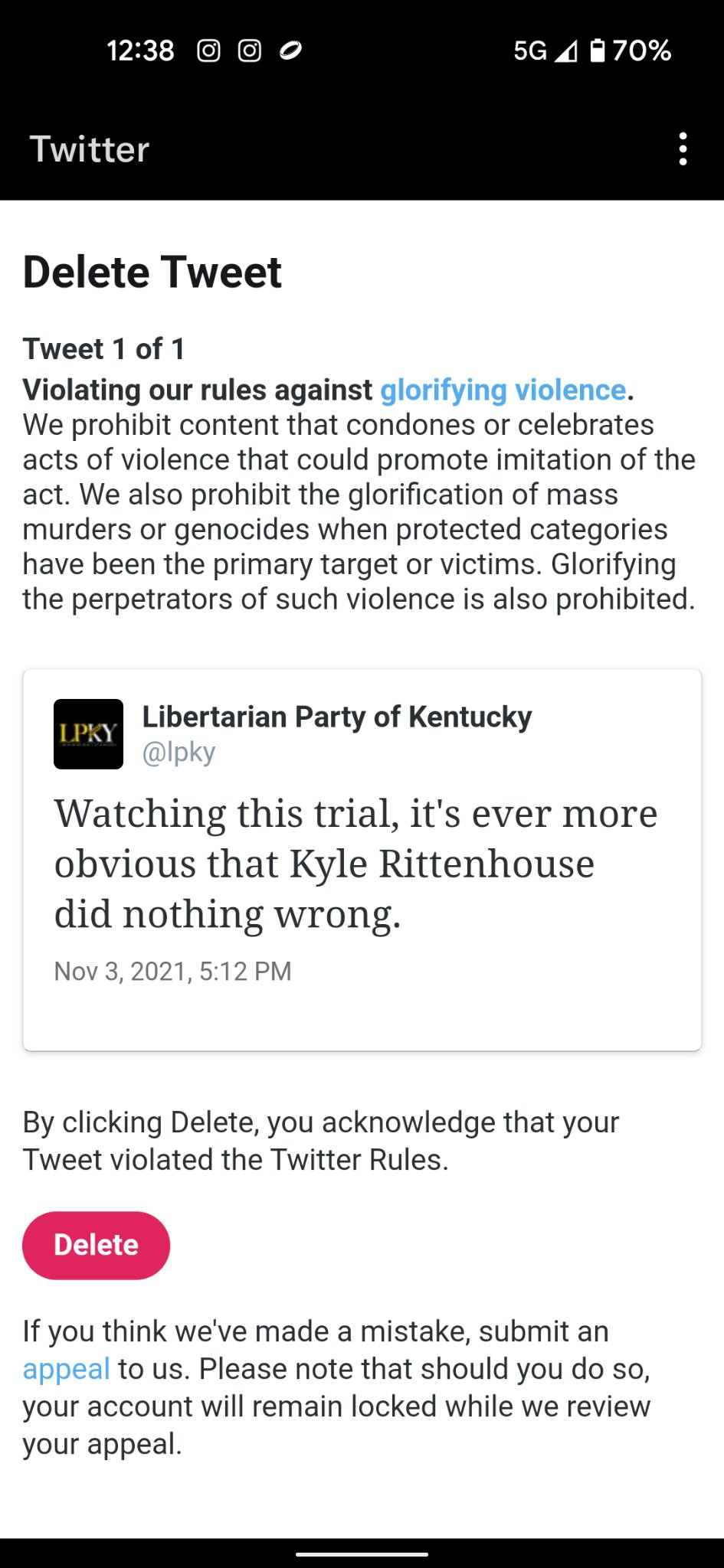 The party's account was then suspended and those behind it were forced to delete the tweet to be able to continue posting on Twitter, screenshots shared on their own Twitter account by the LPNH showed.
Twitter's message to the LPKY cited the tweet about Rittenhouse, ordering the party to delete it for violating rules against glorifying violence. The post that said Rittenhouse "did nothing wrong" is also characterized by Twitter as breaking its rules around condoning or celebrating violence, glorification of mass murders or genocide, or their perpetrators.
The LPKY is advised that they can appeal the decision to lock the account until the tweet has been deleted, but the message also noted that it will remain locked during the appeal review process.
Reflecting on all this, the Libertarian Party of New Hampshire concluded that Twitter prevents its users from sharing opinions about the case, specifically to say that they think Rittenhouse did "nothing wrong" – meaning that only those whose opinion is that he did do something wrong can express themselves on the social network.
With this in mind, the LPNH promoted the use of alternative social networks, where discussion of the case is not censored.