In yet another development that raises serious questions about the suppression of election candidates during a presidential campaign, presidential candidate Vivek Ramaswamy has announced he has been locked out of his LinkedIn account for his comments on climate change and President Biden's relationship with China.
"I was a bit surprised to get an email noting that my LinkedIn account had been shut down," Ramaswamy said in a video. "I wondered why, 'cause actually a number of friends texted me saying they follow me on LinkedIn. That's how they keep up. They weren't able to find me anymore. And so when I had my team get in touch with LinkedIn, here's the response that we got."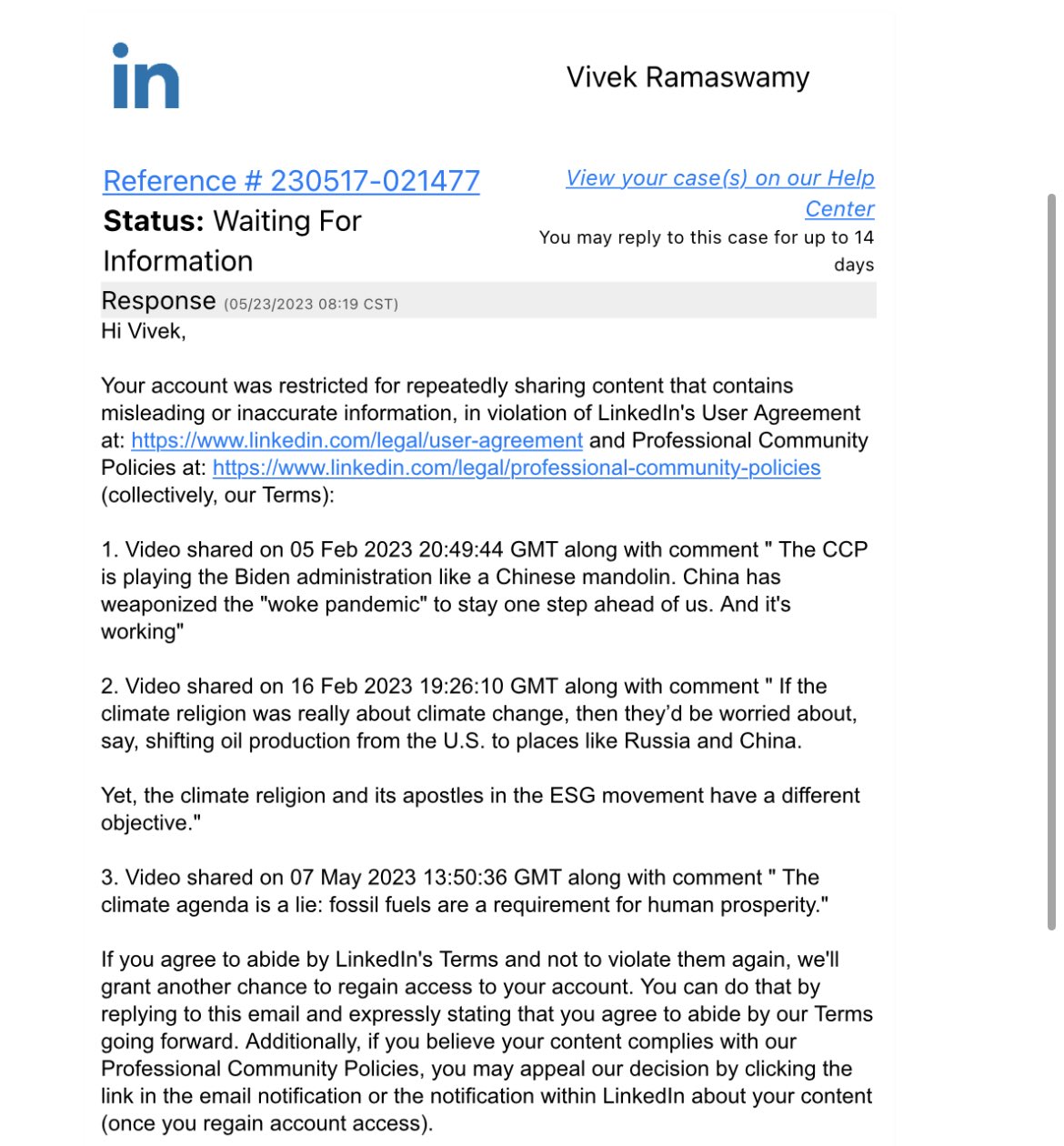 Ramaswamy, went on to say explain the excuse that LinkedIn gave: "Your account was restricted for sharing content that contains misleading or inaccurate information," Ramaswamy said. "They said what it was one video, a video where in the video I said the CCP [Chinese Communist Party] is playing the Biden administration like a Chinese mandolin. China has weaponized the woke pandemic to stay one step ahead and it's working."
Ramaswamy said his second offense was saying, "if the climate religion was really about climate change, then they'd be worried about shifting oil production from the US to places like Russia and China. Yet the climate, religion and its apostles and the ESG movement have a very different objective."
And Ramaswamy's third offense on the Microsoft-owned platform was saying that, "the climate agenda is a lie. Fossil fuels are a requirement for human prosperity."
Ramaswamy, a notable biotech entrepreneur turned political candidate, is no stranger to controversy and was little fazed by the censorship for himself. But he talked about how he's more prominent and other people likely won't be so lucky when they get censored by tech giants.
"Now, I gotta kick out of this, I'm gonna be honest. I'm sure that we're gonna get this escalated because I'm a US presidential candidate," he said. "We have the connectivity to the people that we need to talk to to be able to get my LinkedIn account back. But I'm not bringing this about because it's about me. I'm bringing this up because if they can do it to me, they can really do it to anybody for making statements about the climate change movement and agenda in this country that are grounded in fact, and then express an opinion based on those facts to make a statement about Biden's relationships with China and criticize his China policies as a result."
Ramaswamy's outspoken views on issues such as big tech, and identity politics have drawn both criticism and support. However, it's his commentary on climate change that has landed him in hot water with LinkedIn, the world's largest professional networking platform.
Microsoft is currently facing scrutiny for its lack of transparency with its partnership with the Global Disinformation Index, a controversial censorship network with state ties. Microsoft is dragging its feet regarding requests for transparency about how it operates its censorship practices and what ties it has to state-backed groups when doing so.