One of the defining aspects of the Johnny Depp-Amber Heard defamation trial was the way audiences embraced independent creators' coverage of the trial. YouTubers such as ThatUmbrellaGuy, LegalBytes, and Rekieta Law covered the trial daily and got hundreds of thousands, sometimes millions, of views on their videos. And many YouTubers who covered the trial challenged the mainstream media's pro-Heard narrative and agreed with the jury's final verdict in favor of Depp.
The mainstream media noticed this trend but instead of considering that the media's refusal to critique Heard and accept the jury's final verdict was one of the reasons viewers preferred independent creators' coverage of the trial, many mainstream media outlets lashed out, attacked creators, and doubled down on their pro-Heard narrative.
The Washington Post's Taylor Lorenz claimed that the creators who supported Depp during the trial were driven by "economic bias." Yet she had no questions about her own outlet's pro-Heard bias, even though The Washington Post published the Amber Heard op-ed that was the subject of the defamation trial.
Lorenz also claimed that "as more people turn to online creators for information, misinformation flourishes." However, within hours of publishing her post, she issued a correction admitting that she had shared inaccurate information in the original version of her article.
These inaccuracies included the false claim that ThatUmbrellaGuy and LegalBytes, "did not respond to requests for comment" which was removed after both creators called Lorenz out and said they hadn't received an email from her.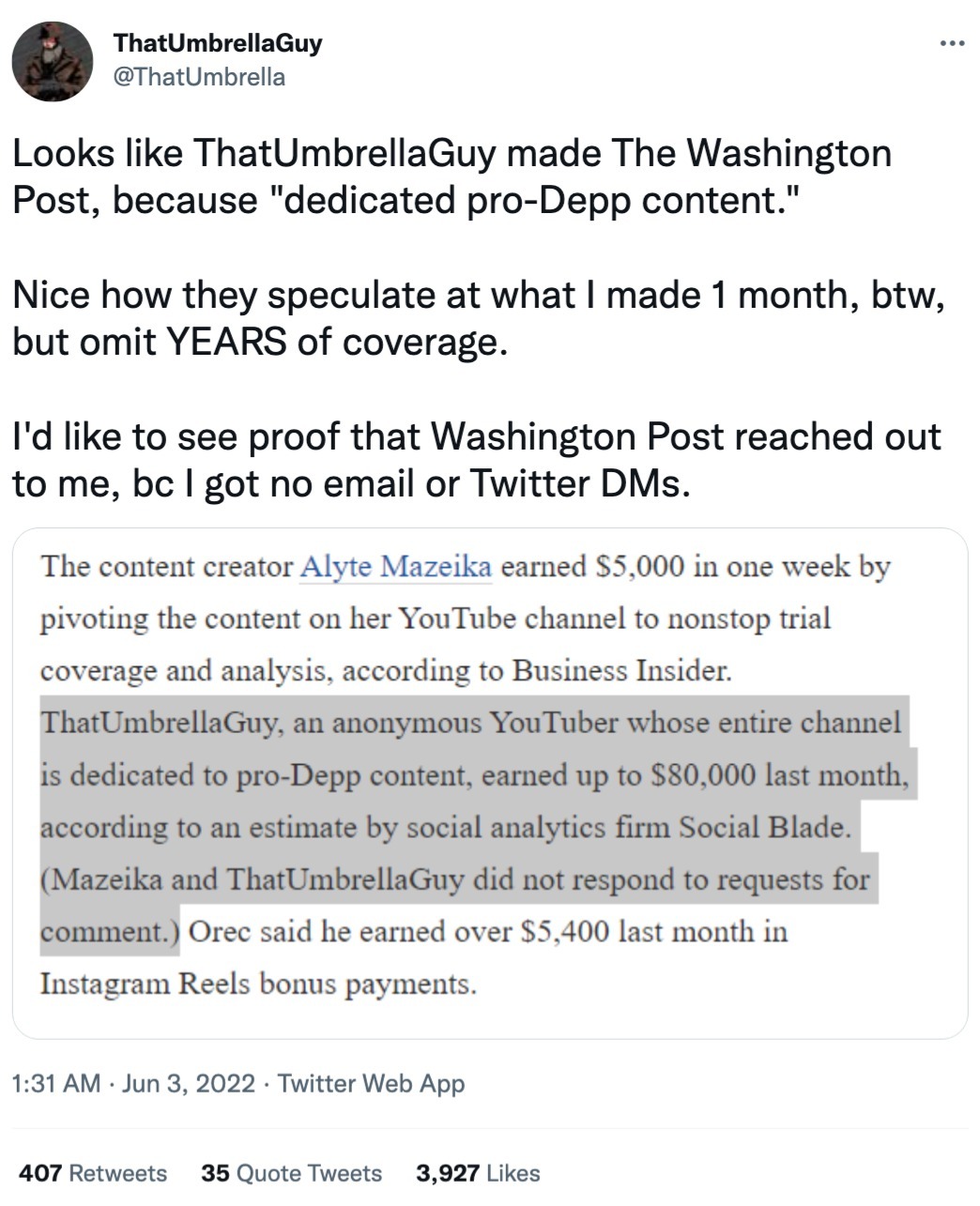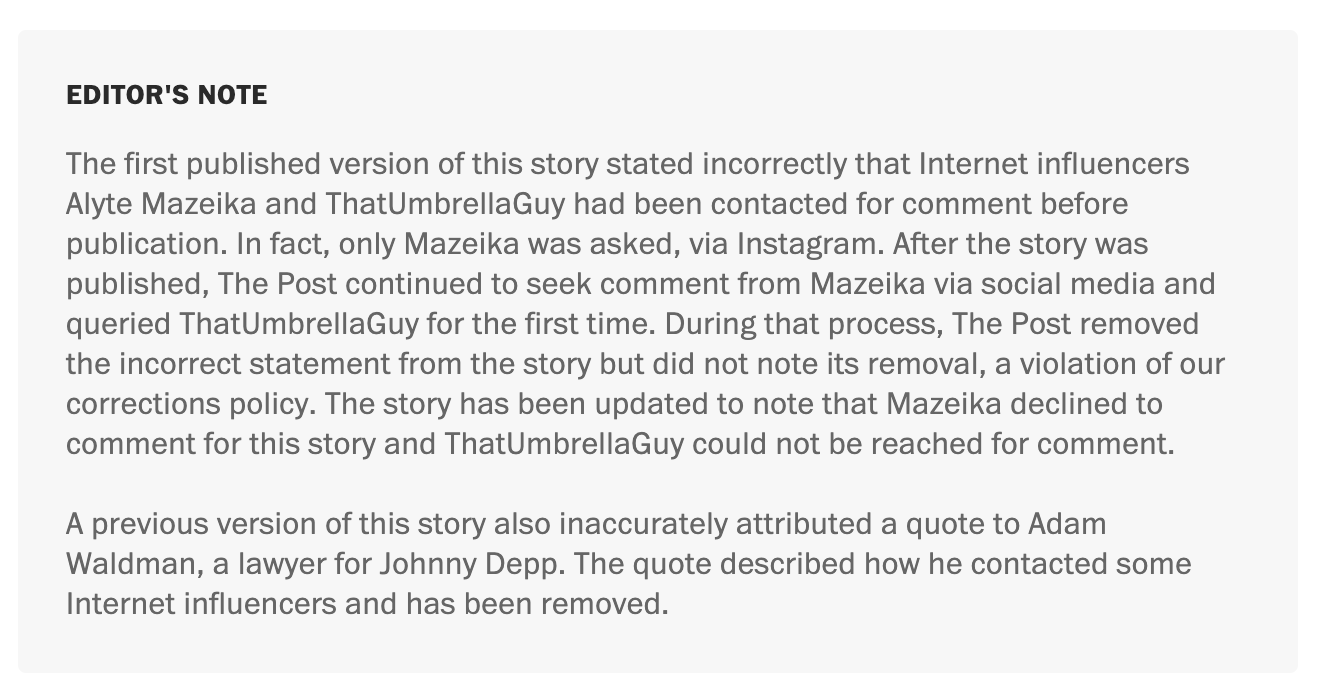 The initial correction was buried at the bottom of the article before being moved to the top of the article and then upgraded to an Editor's Note. But even this Editor's Note appeared to contain inaccurate information about these requests for comment. The Editor's Note claimed that LegalBytes was contacted for comment before Lorenz's article was published yet LegalBytes said she was only contacted by Lorenz after the article was published.

NBC tech and culture reporter Kat Tenbarge complained that viewers and readers believe independent creators are more trustworthy than mainstream media and took aim at creators by claiming that they "aren't beholden to any editorial standards or journalistic norms." She continued by claiming that creators are incentivized to break these norms and that social media incentivizes "conspiracy theories" and "harassment."
The Independent invoked GamerGate, a 2014 movement that challenged corruption and a lack of ethics in the gaming industry and is often cited by journalists as the supposed cause of harassment or violence during events that have nothing to do with video games or the original GamerGate movement, and the "alt-right." It also claimed that popular hashtags and memes criticizing or mocking Heard were part of a "coordinated campaign."
Related: ? Big tech's little helpers: How the mainstream media enable and encourage big tech censorship
While mainstream media outlets are taking aim at creators and insisting that those who dare to challenge their pro-Heard narrative are spreading misinformation, the creators are pointing out what this is really about – mainstream media outlets attempting to cling to their gatekeeping power by shutting down independent creators.
"The Washington Post and other media outlets attack independent journalists Because they NEVER saw us coming," ThatUmbrellaGuy tweeted. "Imagine the EGOS, with them thinking locking out the truth about Amber Heard would suppress it."
Legal Bytes noted that The Washington Post was keeping "the facts in the dark" so that it can continue the "self-serving narrative" that it's "more virtuous than independent content creators."
And Reikieta Law tweeted that journalists fear audiences increasingly trusting independent creators more than the mainstream media because "their narrative control is slipping to (what they consider to be) a commentary underclass."