Louisiana's and Missouri's Attorneys General Jeff Landry and Eric Schmitt have amended their complaint against the federal government for colluding with social media companies to censor Americans. They added 47 new defendants, making the total number of defendants 67.
We obtained a copy of the complaint for you here.
The Attorneys General also plan to file a motion asking the court for permission for the depositions of key defendants.
"Missouri and Louisiana filed a landmark lawsuit, seeking to expose that the federal government has worked hand-in-hand with social media companies to censor freedom of speech on their platforms. Our lawsuit has done exactly that – we've found a staggering 'censorship enterprise' that extends to a multitude of federal agencies and implicates government officials at the highest levels of government, but we're not done yet," said Attorney General Schmitt. "Now, we've added 47 additional defendants to our lawsuit, including several FBI agents and more top-ranking White House officials. We're also asking the Court to allow our offices to take depositions to question these officials under oath. We're only just getting started."
The new defendants include top officials at the CDC, FBI, and The White House.
The lawsuit alleges that communication between top government officials and social media companies resulted in more censorship.
"Such communications from The White House impose maximal pressure on social media companies, which yields the sought-after results. And federal officials are fully aware that such pressure is necessary to induce social media platforms to increase censorship of views that diverge from the government's. CISA Director Jen Easterly, for example, texted with Matthew Masterson about 'trying to get us in a place where Fed can work with platforms to better understand the mis/dis trends so relevant agencies can try to prebunk/debunk as useful,' and complained about the Government's need to overcome the social-media platforms' 'hesitation' to working with the government: 'Platforms have got to get more comfortable with gov't. It's really interesting how hesitant they remain.'"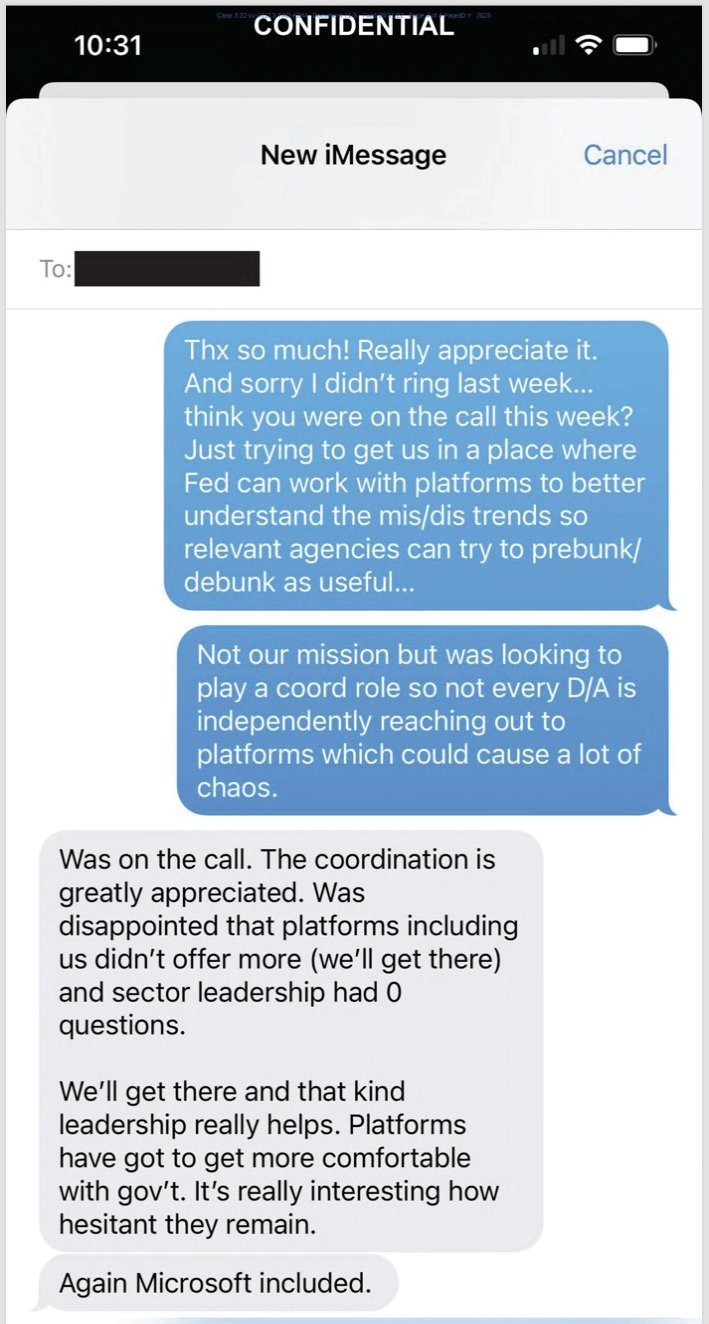 The complaint adds: "In fact, such pressure from government officials on social-media companies, along with the many public statements alleged in the Complaint, have succeeded on a grand scale.
"A veritable army of federal bureaucrats are involved in censorship activities 'across the federal enterprise.' There are so many, in fact, that CISA Director Easterly and Matthew Masterson complained in text messages that 'chaos' would result if all federal officials were 'independently' contacting social-media platforms about so-called misinformation… On information and belief, as alleged above, the 'Disinformation Governance Board' was created to impose a bureaucratic structure on the enormous censorship activities already occurring involving dozens of federal officials and many federal agencies."
"The amended complaint contains new defendants, and additional allegations based on discovery we've received over the past several weeks. The latest disclosures reveal that very high-ranking White House officials orchestrated censorship efforts by directly communicating with executives at the tech companies," Jenin Younes, Litigation Counsel for New Civil Liberties Alliance said in a statement.