Elon Musk is not a "free speech absolutist" after all. He refused to reinstate the account of conservative commentator Alex Jones.
On Friday, Musk said that some previously banned accounts would be reinstated. Right-leaning satirical website Babylon Bee's account was reinstated as well as comedian Kathy Griffin.
One Twitter user told Musk to "Bring back Alex Jones!!!!"
Musk flat out said "No."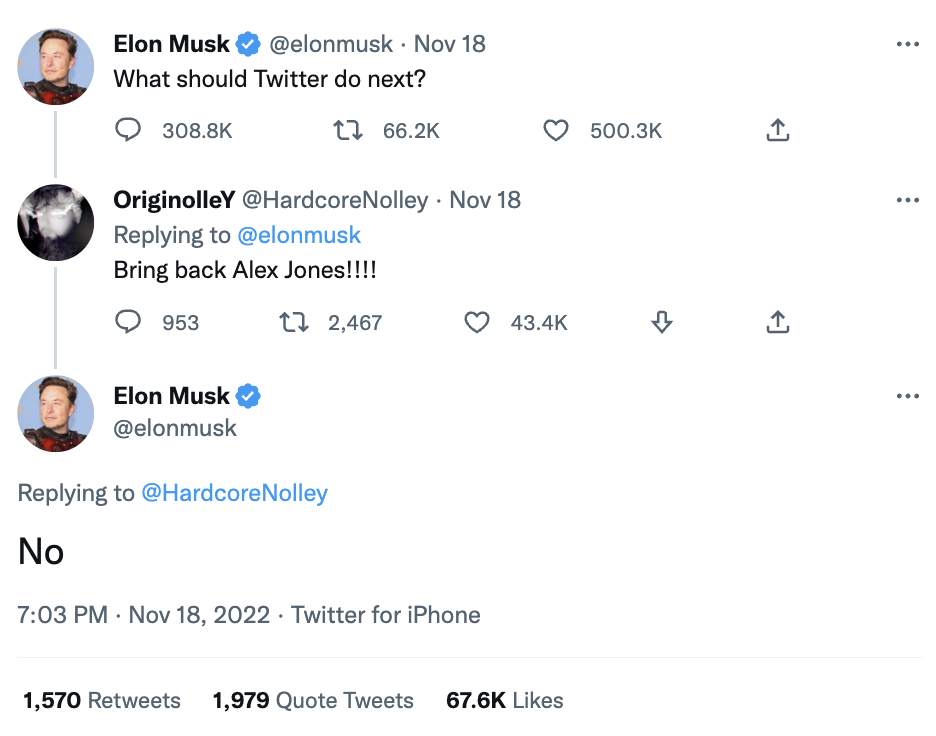 Jones, who once denied the Sandy Hook school shooting happened, and has since apologized, was banned from Twitter in 2018 over "abusive behavior."
The reply implies that Musk does plan some speech parameters for Twitter. On the same day, the billionaire tweeted:
"New Twitter policy is freedom of speech, but not freedom of reach. Negative/hate tweets will be max deboosted & demonetized, so no ads or other revenue to Twitter. You won't find the tweet unless you specifically seek it out, which is no different from rest of Internet."

It is not clear what Musk means by "demonetized," considering Twitter users do not earn money from ads.
Ads account for most of Twitter's revenue. Last year, ads made up 89% of Twitter's revenue.