"Independent fact-checkers" – i.e., third party companies contracted by Facebook, Twitter, Google and others to, all too often arbitrarily decide what is true and what is false, are at it again – this time taking on two Oxford scientists.
Their article about a study looking at the effectiveness (or lack thereof) of face masks when worn to prevent coronavirus infection, originally published in The Spectator, the world's oldest weekly magazine, and shared on Facebook, got flagged as "false information."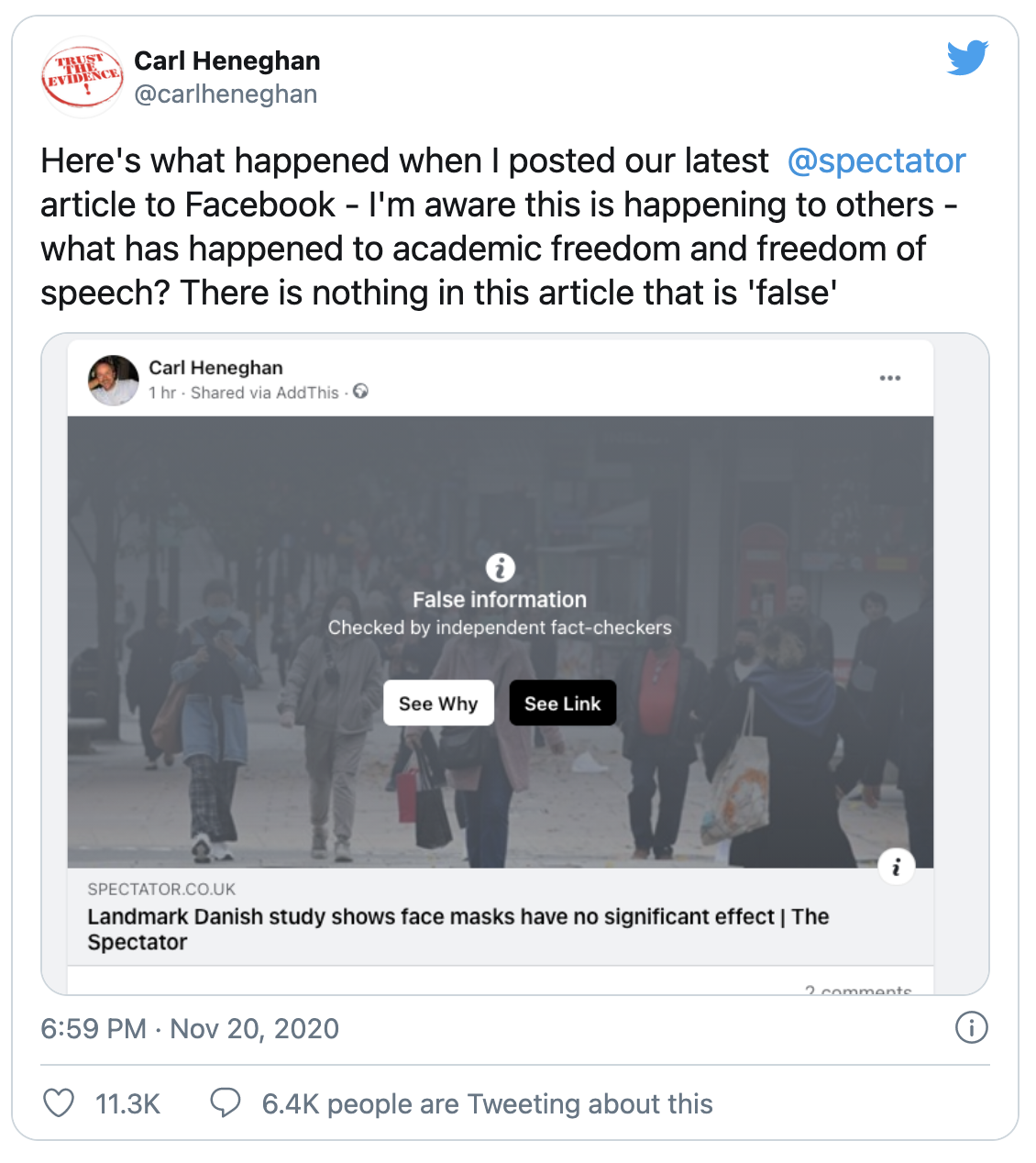 This happened to the consternation of its authors, one of them being Professor Carl Heneghan, who posted about the incident on Twitter where he has some 70,000 followers.
Heneghan said that no information contained in the article was false, indicating that he is aware a similar sort of censorship is happening to other Facebook users, and wondering, "What has happened to academic freedom and freedom of speech?"
What happened here has been happening since early in the year: giant social platforms' feverish censorship of information around the Covid pandemic, and this is not the first time that reputable scientists and doctors have fallen victim to it.
His co-author, Dr. Tom Jefferson was even more explicit in his statement for the Mail on Sunday, when he outright called this kind of behavior censorship, adding that it was "one of the reasons we face a global meltdown of free thinking and science."
Heneghan, who heads the Oxford University's Center for Evidence-Based Medicine and his colleague, Dr. Jefferson, wrote the article based on a recent Danish study, "Danmask-19," involving 6,000 volunteers, whose goal was to show whether wearing a face mask is efficient in protecting a person from contracting the virus.
What the study's authors discovered was that the difference in infection rates between those who wore the masks outside their home and those who didn't was 1.8 against 2.1 percent, making the result statistically insignificant.
For this reason, the Danish researchers said their study was inconclusive.
Heneghan and Jefferson reflected the findings in the title of the article shared (and then flagged) on Facebook, that said, "Landmark Danish study shows face masks have no significant effect."
But Facebook's shadowy fact-checkers apparently knew better than this pair of Oxford academics, and had their own take on the outcome of the Danish study, saying, "Danish face mask study did not find that masks were ineffective at reducing spread of Covid-19."