Pakistan is threatening to prosecute non-Pakistanis in foreign countries for breaking its blasphemy laws online. The country, which is no stranger to censorship, seems to be copying China, which also tries to prosecute foreigners found guilty of criticizing the Chinese communist party.
The decision seems to be focused on Ahmadis, an Islamic sect whose beliefs are considered blasphemous in Pakistan. The Pakistan Telecommunications Authority (PTA) sent a legal notice to the Ahmadiyya Muslim Community USA demanding that it shuts down its website, trueislam.com, or get charged with blasphemy, a crime that carries a ten-year prison sentence.
The Pakistan laws consider Ahmadiyya illegal and adherents are charged with blasphemy. However, the website trueislam.com is run by a US-based organization. So the legal notice is the government's way of saying that the Pakistan Blasphemy Laws can apply to non-Pakistanis and beyond the Pakistan territory.
Several people have blasted the Pakistan government over the legal notice the PTA sent the organization behind trueislam.com.
On January 14, the House Foreign Affairs Committee tweeted that it was "very concerning to see Pakistan using attempts to apply its controversial cybercrime laws —used to stifle expression within PK—to repress Americans' freedoms of speech and worship well outside of Pakistan's own borders."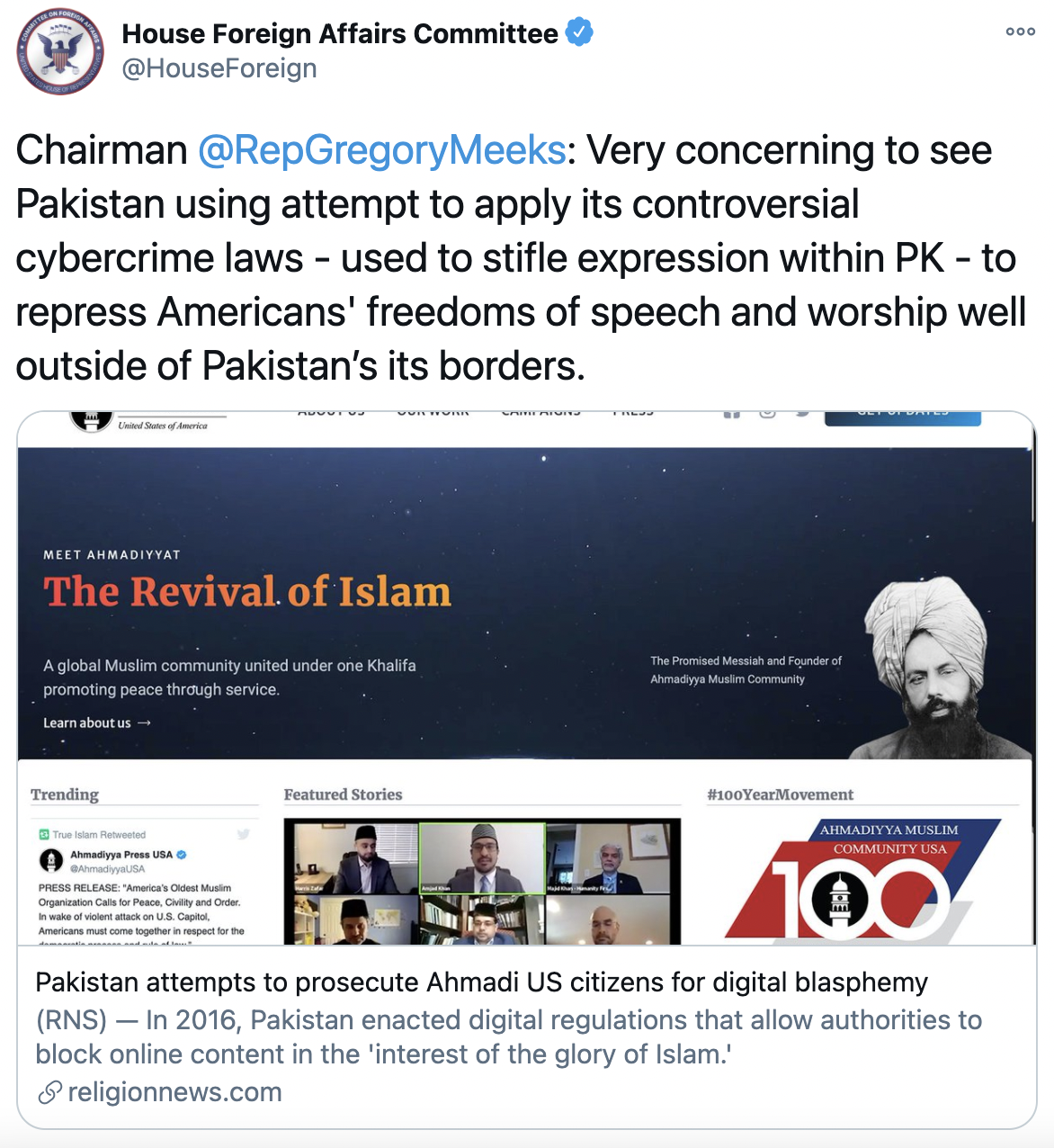 According to the lawyer representing trueislam.com, the legal notice by the PTA is "a malicious attempt to chill free speech and expression."
That the US government would extradite American citizens for breaking the ridiculous blasphemy laws is unimaginable.
However, people who break the law abroad could be arrested if they travel to Pakistan or any other country friendly with Pakistan, such as its neighboring Islam-majority countries. Additionally, relatives of people who were breaking the law abroad who live in Pakistan could be persecuted.
Like China, Pakistan also has strict internet censorship laws. The government blocks and censors any content online that is "immoral or indecent," or is critical of the government. The law also prohibits content threatening the "glory of Islam," a provision that makes Ahamdiyya illegal in the country.
However, this is the first time Pakistan has attempted to prosecute a foreigner for breaking the blasphemy law outside of Pakistan. That said, previously, the government had threatened taking legal action against Wikipedia and Google for publishing "blasphemous" content.