Paul Pelosi, the husband of House Speaker Nancy Pelosi (D-CA), bought Amazon's Call Options a few weeks before the Pentagon's decision to include Amazon in a new JEDI deal. Pelosi has also recently made several profitable deals in various Big Tech securities.
A call option is a financial contract giving the buyer the right, not the obligation, to purchase a financial asset within a predetermined time frame at a specified price. Late last week, it was revealed that Paul Pelosi had bought Amazon's call options on May 21.
A few weeks later, on July 6, the DoD announced the cancellation of Microsoft's $10 billion JEDI contract, which was awarded in 2019 at the expense of Amazon. However, the cancellation of the Microsoft contract favored Amazon, as the DoD announced its plans for a new version of JEDI, that would involve both Amazon and Microsoft.
"The Pentagon said in the press release that it still needs enterprise-scale cloud capability and announced a new multi-vendor contract known as the Joint Warfighter Cloud Capability. The agency said it plans to solicit proposals from both Amazon and Microsoft for the contract, adding that they are the only cloud service providers that can meet its needs," read a report by MSNBC.
Since the announcement of the new plan, Amazon's shares have soared.
According to a transaction filing made on July 2, Paul Pelosi bought Amazon call options priced at up to $1 million with a strike price of $3,000 that expire on June 17, 2022. On the same day, he spent $250,000 on Apple call options with a $100 strike price that expire on June 17, 2022.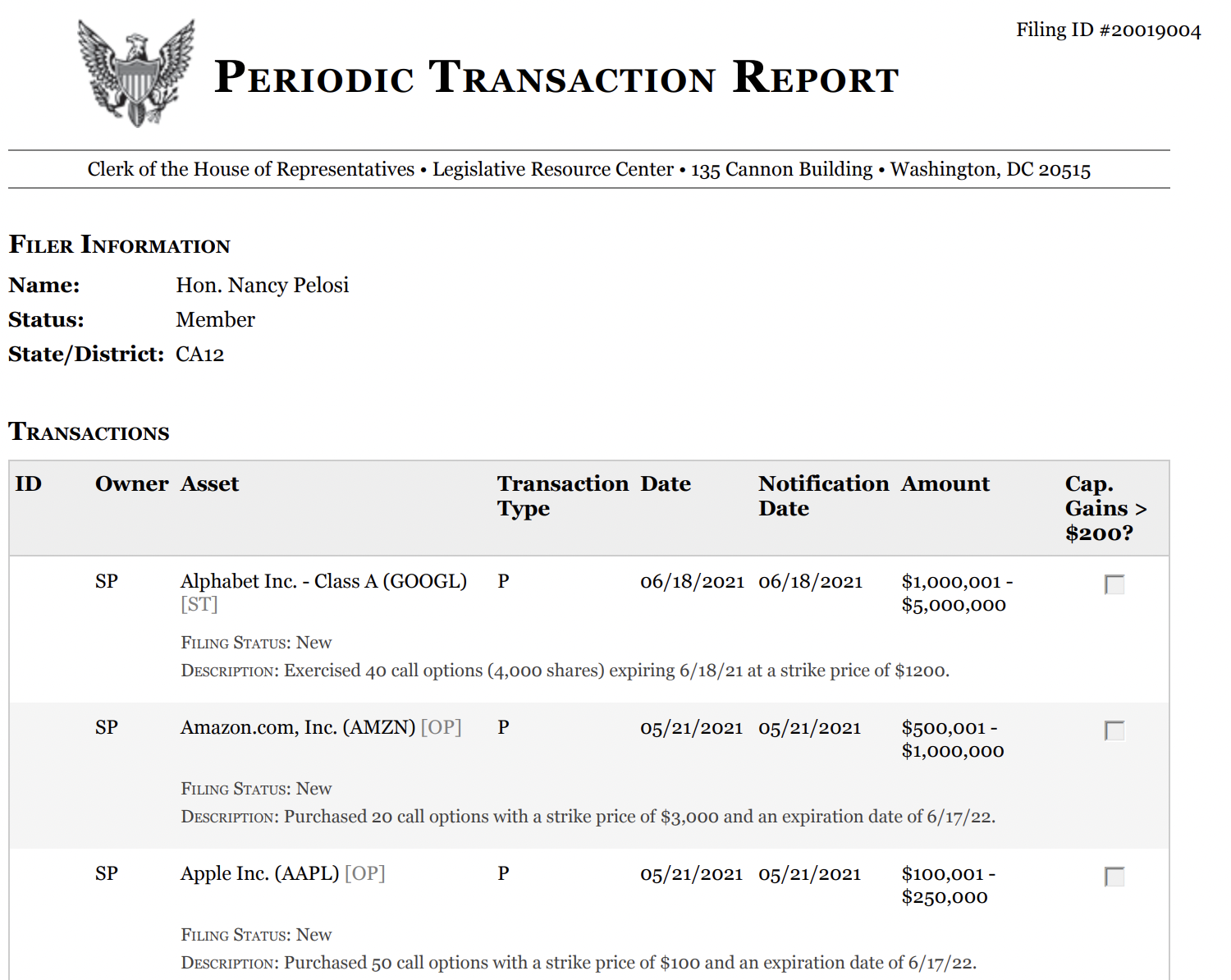 He also exercised his Alphabet call options on June 18, a move that gave him the right to buy 4,000 shares worth $4.8 million at $1,200 per share. Pelosi had bought the call options on February 27, 2020.
A report on Fox Business said, "The speaker has no involvement or prior knowledge of these transactions." The report also noted that, "The speaker does not own any stock."
Defending her Democrat colleague, former congressman Jill Long Thompson, from Indiana, argued that despite Paul being married to the speaker, he's not likely to "have any information that someone else wouldn't" because "members of Congress make it clear what their positions are on these issues and the fact that they're working on a piece of legislation that would be public information."
But, as noted by Fox Business, this was not "the first time that investments made by Paul Pelosi have been in close proximity to happenings in Congress."
Fox Business wrote: "Paul Pelosi in March exercised $1.95 million worth of Microsoft call options less than two weeks before the tech stalwart secured a $22 billion contract to supply U.S. Army combat troops with augmented reality headsets.
"In January, he purchased up to $1 million of Tesla calls before the Biden administration delivered its plans to provide incentives to promote the shift away from traditional automobiles and toward electric vehicles."