Rep. Tulsi Gabbard and Senator Ted Cruz's denouncement of the Netflix movie "Cuties" that sexualizes children has led to the accusations that they're supporting and legitimizing "QAnon."
Gabbard, a Democrat House Representative from Hawaii, has joined the thousands of people criticizing Netflix for distributing Cuties. She said the film promotes pedophilia and child sex trafficking. On Twitter, she wrote:
"@netflix child porn "Cuties" will certainly whet the appetite of pedophiles & help fuel the child sex trafficking trade. 1 in 4 victims of trafficking are children. It happened to my friend's 13-year-old daughter. Netflix, you are now complicit. #CancelNetflix."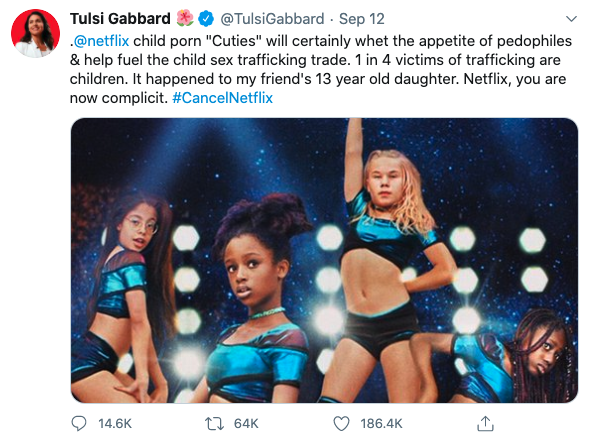 Cuties is a coming-of-age movie starring an 11-year-old Senegalese girl who migrates to the Paris suburbs and joins a twerking dance crew of girls who want to become famous. While the film is about rebelling the conservative Muslim upbringing, it does contain hyper-sexualization of young girls, thus the accusations of child porn.
People started taking issue with the movie after Netflix released the preview last month. The streaming service apologized for the poor marketing but still released the film worldwide despite the heavy criticism.
Those defending the film claim that the preview circulating on social media is out of context, and people should watch it before criticizing it, using the idea that the movie's message being overall against the sexualization of minors somehow justifies showing children in sexual acts.
An article in Slate said, "…weeks after a petition charging [Cuties] with being produced 'for the viewing pleasure of pedophiles' garnered hundreds of thousands of signatures, the movie finds itself at the toxic intersection of QAnon delusion and right-wing moral panic, with a smattering of leftist outrage on the side."
Gabbard's criticism of the film led to people accusing her of "going QAnon." Part of the QAnon movement is that it believes President Trump is fighting a ring of child sex traffickers led by Hollywood elites and high-profile liberals.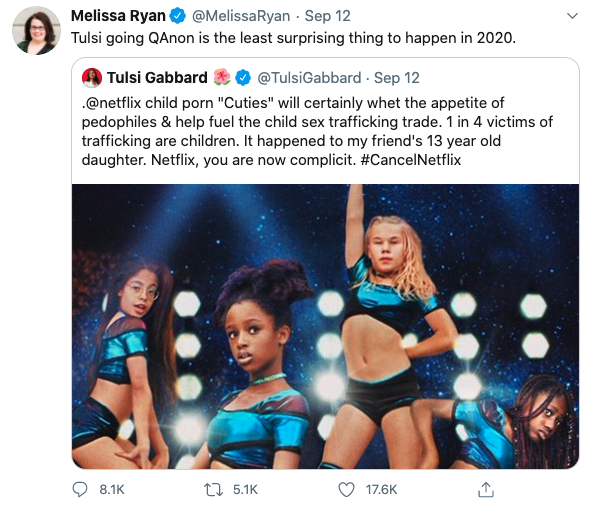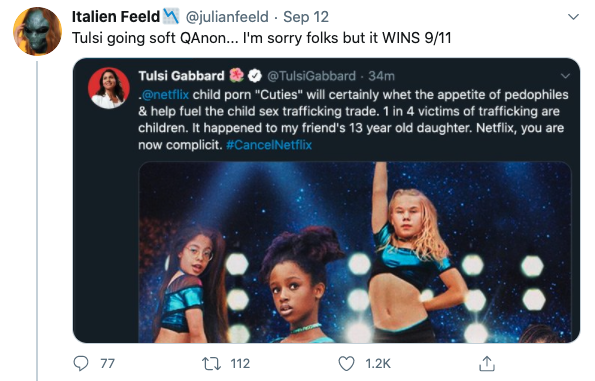 Senator Ted Cruz (R-Texas) has also been accused of subscribing to QAnon theories after penning a letter asking the DOJ to "investigate whether Netflix, its executives or the filmmakers violated any federal laws against the production and distribution of child pornography."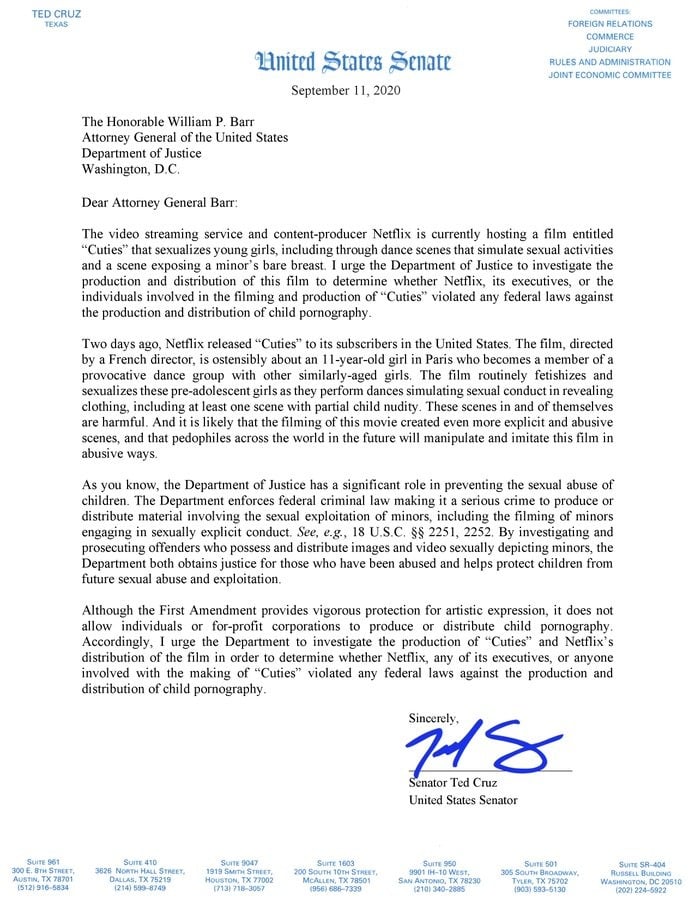 Recently, QAnon supporters began using the #SaveTheChildren hashtag, used to increase awareness on child abuse and other crimes against children. Facebook blocked the hashtag to prevent conversations about it.