President Trump has responded to Twitter's permanent suspension of his @realDonaldTrump account in a statement posted to the @POTUS Twitter account.
The statement was briefly available before Twitter censored it but we have obtained screenshots of it for you. Here is Trump's full statement:
"As I have been saying for a long time, Twitter has gone further and further in banning free speech, and tonight, Twitter employees have coordinated with the Democrats and the Radical Left in removing my account from their platform, to silence me – and YOU, the 75,000,000 great Patriots who voted for me.

Twitter may be a private company but without the government's gift of Section 230 they would not exist for long. I predicted this would happen.

We have been negotiating with various other sites, and will have a big announcement soon, while we also look at the possibilities of building out our own platform in the near future.

We will not be SILENCED! Twitter is not about FREE SPEECH. They are all about promoting a Radical Left platform where some of the most vicious people in the world are allowed to speak freely.

STAY TUNED!"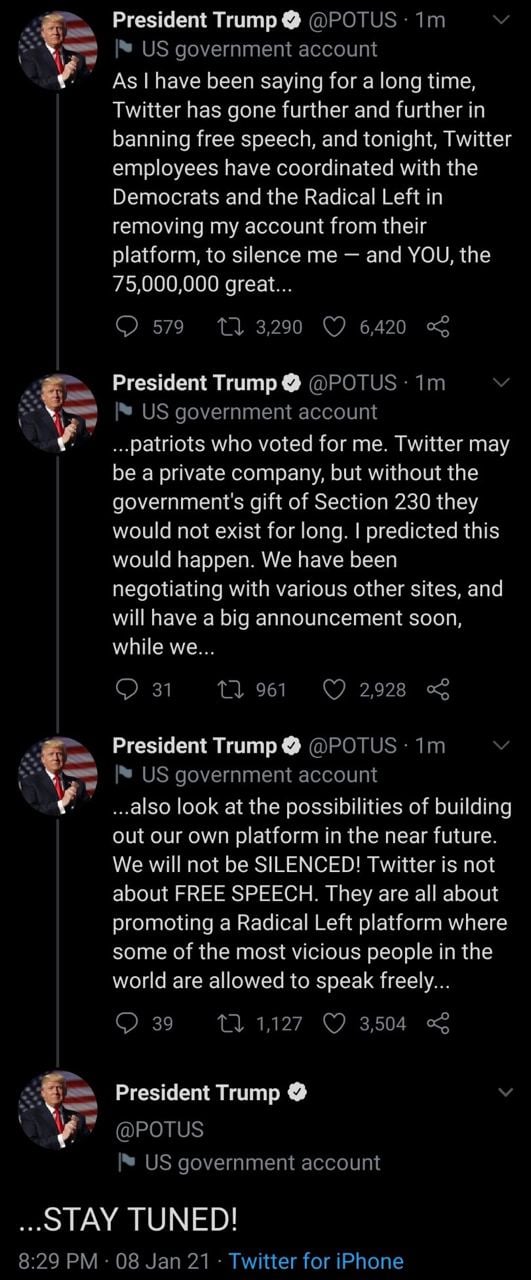 Twitter purged the @realDondaldTrump account after he sent two tweets – one thanking the 75 million Americans who voted for him and one announcing that he will not be attending the January 20 Inauguration.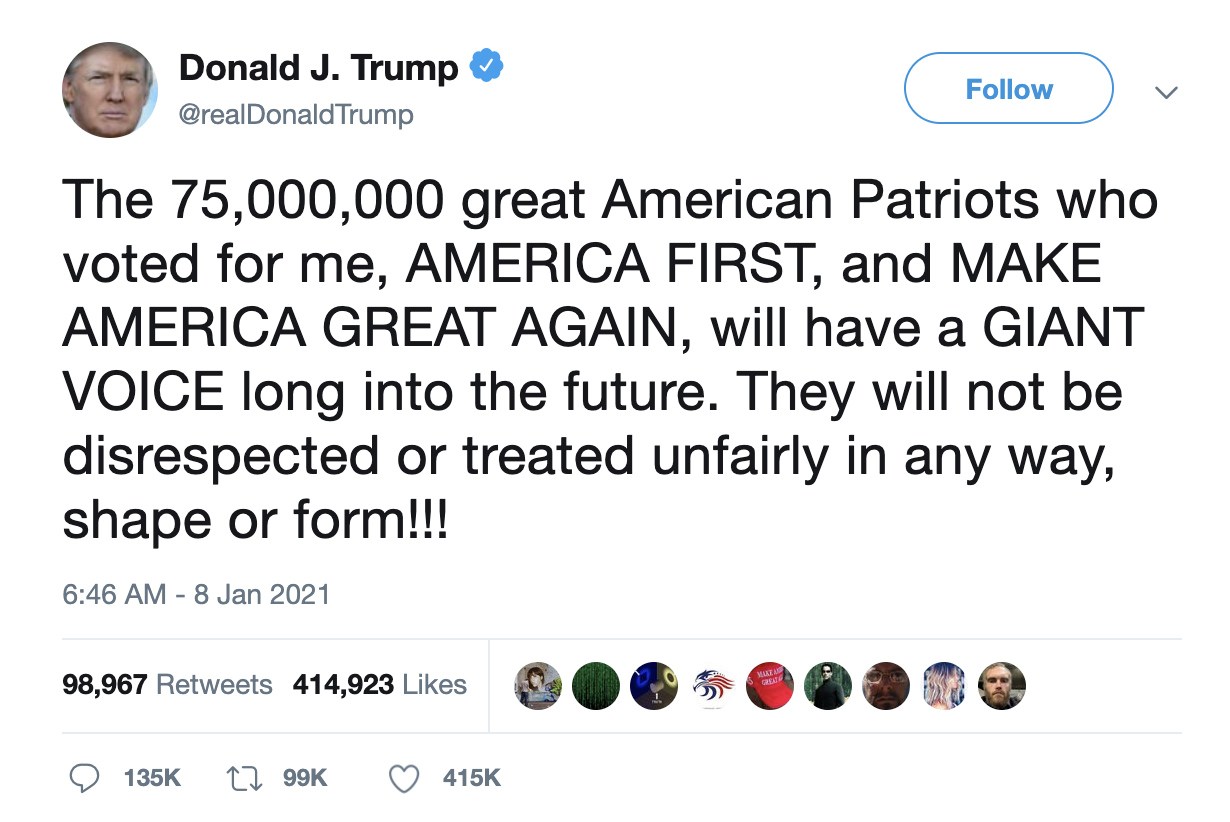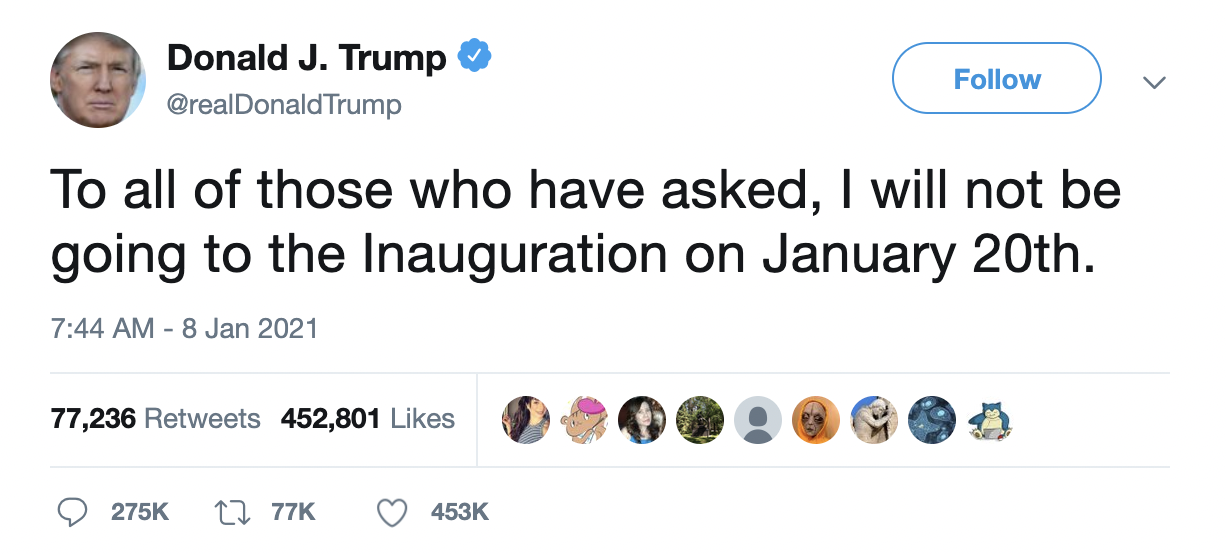 Twitter somehow deemed these tweets to be against its "Glorification of Violence" policy and permanently suspended Trump's account.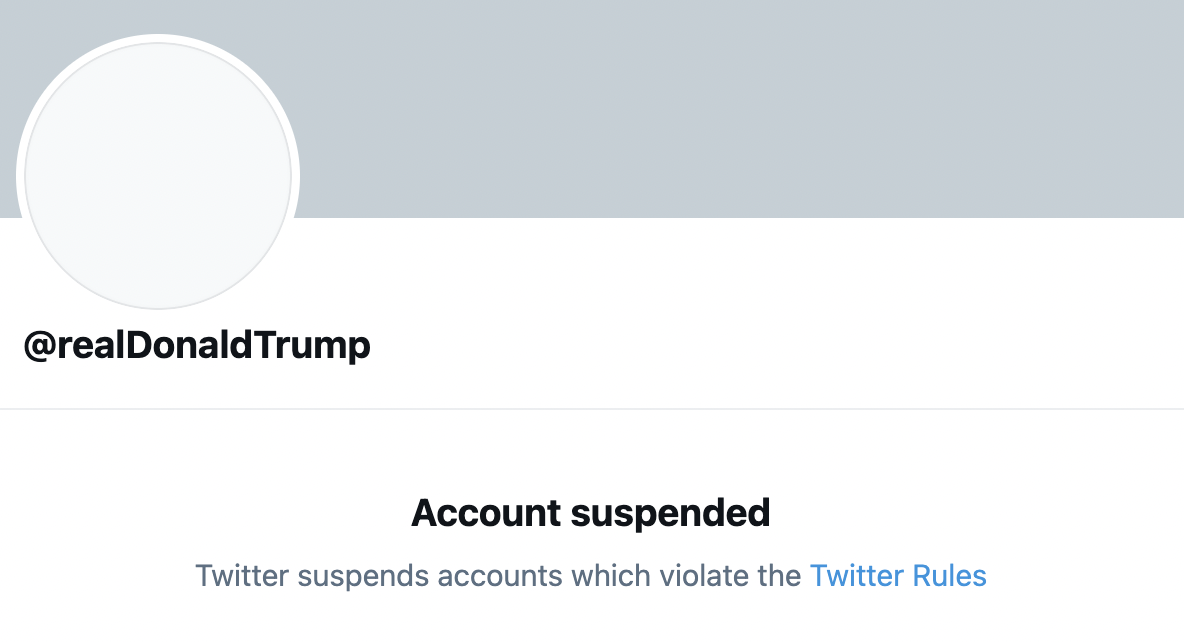 Not only does this mean that Twitter has taken the unprecedented step of permanently silencing the President of the United States but it has opened the door for any tweet, regardless of its content, to be flagged for its potential to "incite violence."
As we've reported previously, when other world leaders are accused of inciting violence with their tweets, Twitter frames it as "saber rattling" and says that their tweets don't violate its terms of service.
The ramifications of Twitter confirming that it's willing to permanently silence the President are significant. All that's stopping any politician or world leader from having this powerful communication tool ripped away from them is Twitter's subjective interpretation of whether a tweet is saber rattling or inciting violence.
The banning of the President follows Big Tech engaging in an all out censorship assault since Wednesday.
Countless user accounts have been banned over the last couple of days. Some of the many accounts that were purged from Twitter just today include:
Amazing Polly
Elenochle
General Flynn
GrrrGraphics
IET
InTheMatrixxx
MajorPatriot
PepeLivesMatter
Praying Medic
Ron Watkins
Qanon76
Qtah
Sidney Powell
SirWilliamScot5
SunQTzu
TRUreporting
X22 Report
Zach Haller
Alt-tech is also being threatened by the Big Tech app store gatekeepers Apple and Google. Google Play has banned free speech social network Parler from its Play Store while Apple has threatened to boot the app within 24 hours unless it censors "objectionable" content.