YouTube recently deleted an investigative report from Project Veritas which revealed that Google is using artificial intelligence (AI) to censor content that creates undesirable outcomes for Google. Now Project Veritas is fighting back and its attorneys have sent a letter to YouTube demanding that the video be reinstated within 24 hours.
Project Veritas argues that YouTube is obviously censoring its investigative report in order to prevent the public from learning about Google's biased AI under the guise of unidentified privacy complaints.
There's a lot of evidence to support Project Vertias' claims. Not only does Google own YouTube and have an inherent interest in censoring this information but the privacy complaints that led to the takedown of this investigative report were most likely filed by Google employees. Additionally, one of the employees featured in the investigative report made herself a public figure by responding to the Project Veritas report on Medium.
The letter demands that to address this censorship of journalism, YouTube either:
Reinstate the video to full accessibility within 24 hours
Provide a detailed reason how the video in question violated any privacy policies and what must be done to cure that
Here's the full letter Project Vertias' attorneys sent to YouTube: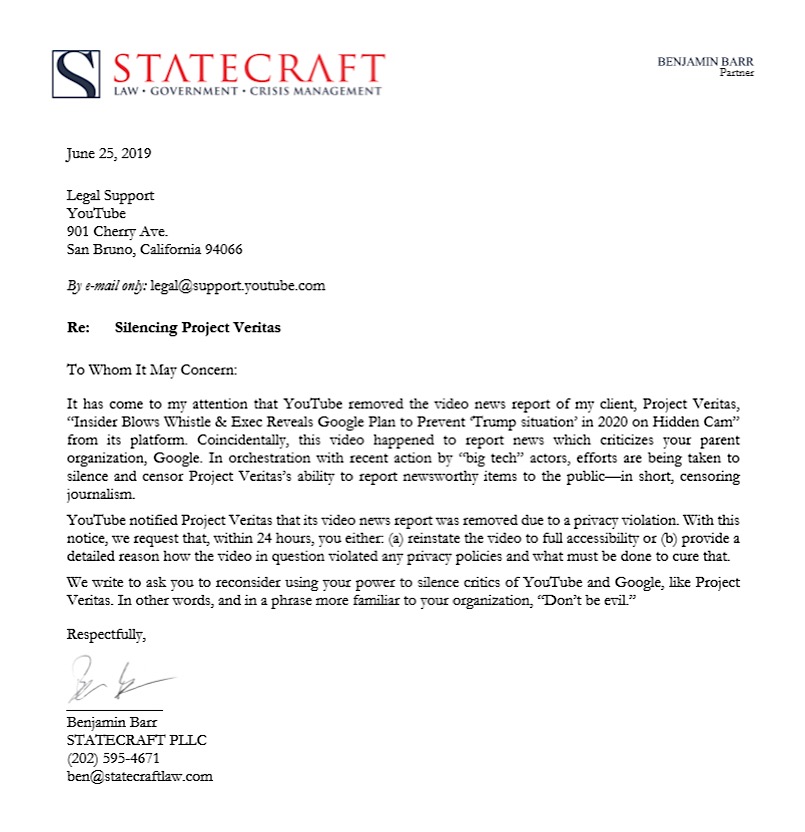 The fallout from this report and the subsequent censorship has been huge and the irony of Google censoring an investigative report on Google's censorship has generated a massive Streisand effect.
A similar phenomenon happened when Project Veritas released its previous investigative report into Pinterest's internal blacklists which were being used to censor Christian, conservative, and pro-life content. This report was censored by the tech giants Twitter and YouTube and the censorship turned it into a much bigger story. Project Veritas then sent a cease and desist letter to Pinterest saying that Pinterest was behind the attempts to censor the investigative report. Shortly after this cease and desist letter was sent, Pinterest appeared to walk back some of its censorship and remove some terms from its internal blacklist.
While the patterns surrounding the censorship of both reports are similar, the scale is much greater this time around and this investigative report into Google's biased AI is becoming an even bigger story.