YouTube channel RationalityRule announced on December 2 that YouTube had taken down one of the videos from their channel that's dedicated to debunking conspiracy theories.
Even though the channel did not receive a strike, its owner, clearly upset by this turn of events, said they were quitting "debunking" conspiracy theories over on YouTube – at least for the time being.
In a message explaining the decision, while addressing "Rationality Rules," Google's video giant said the reason was a violation of their medical misinformation policy. As YouTube remarked, the company bans content that explicitly disputes the efficacy of the rules imposed by local health authorities and the WHO.
Things got a little confusing when it emerged that the removed video was called, "The COVID-5G Conspiracy – Debunked." And a message to subscribers signed by "Steve" spells it out that the channel's goal is to fight against "misinformation" that is promoted by what he says are conspiracy theorists – but also to make a living. And that's something YouTube is making hard by demonetizing some videos flagged "for the very thing I'm fighting against" – and now removing one altogether.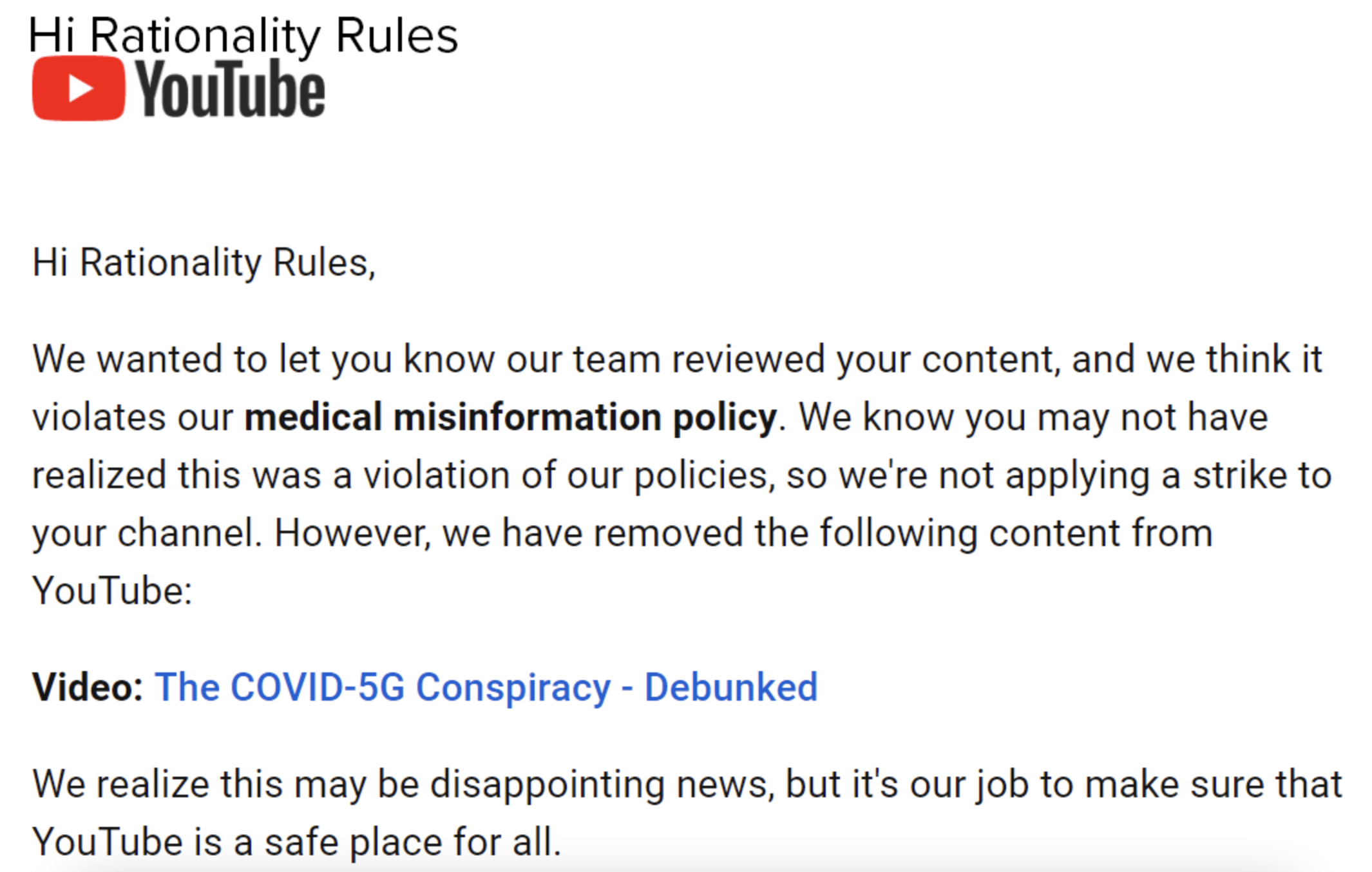 In a way, censorship is now "eating its own" as this is probably another in a long list of examples of how one of the biggest tech companies on the planet uses sub-par automated "moderation." The system has become too complex and too unsophisticated, and ends up hitting even those creators it is designed to nurture and promote.
Steve is not angry at YouTube, who he says is only trying to "cure" what he calls a pandemic of medical misinformation, and declares that he "understands why" if he gets thrown under the bus in the process.
But the post gets slightly contradictory, because a while later Steve says he also understood YouTube's message, and it is, "Don't expose conspiracies. Don't expose medical misinformation."
But Steve also inadvertently hits on another important point, when he says he wishes YouTube would dedicate more resources to fix the current system of flagging and censorship. But at a point when a company grows to a near monopoly, it no longer has any incentive to improve, innovate, or even explain itself.