As a champion for free speech and the exchange of ideas, renowned comedian and television personality Roseanne Barr has heaped praises on video-sharing platform Rumble, citing its commitment to free speech as an attractive feature in the wake of censorship by the tech giant YouTube.
Barr, whose ideas and bold statements have often sparked controversy, voiced her support for Rumble this week, adding that she had experienced censorship on YouTube.
"I'm so thankful for companies like @rumblevideo and @officialpsq (and post @elonmusk's @X)," Roseanne posted on X. "Before them we were silenced and throttled merely for not being stupid and insane and brainwashed. My podcast on CCP funded YouTube isn't even notifying my nearly 400k subscribers of new episodes."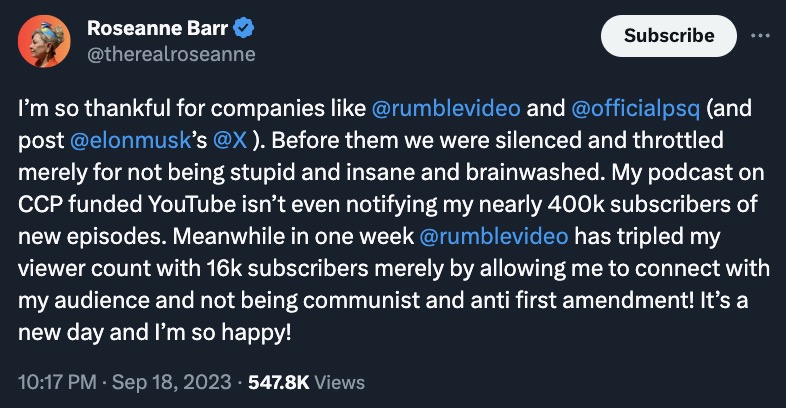 Barr praised Rumble for giving her a censorship-free platform. "Meanwhile in one week @rumblevideo has tripled my viewer count with 16k subscribers merely by allowing me to connect with my audience and not being communist and anti first amendment! It's a new day and I'm so happy," the comedian posted.
The comedian, a household name, has been responding to the recent heavy-handed approach taken by some Big Tech firms.
Barr's comments came just before fellow comedian Russell Brand was demonetized by YouTube following sexual assault allegations, and not for violating YouTube's content policy.
As a counterpoint, platforms such as Rumble are committed to allowing content creators the space to express and share their ideas without fear of arbitrary censorship. By championing free speech, they have established themselves as go-to enablers of democratic dialogue, positioned in contrast to what's being labeled the censorial approach of some prominent tech firms.
Barr's public endorsement of platforms like Rumble signals a growing trend amongst personalities and influencers using their influence to challenge the status quo. This trend could potentially act as a catalyst for change within an industry experiencing growing concerns around censorship.
This issue transcends partisan lines, relating more to the fundamental principles of free speech. Amid these concerns, censoring diverse viewpoints raises serious questions about the role and responsibility of tech giants in facilitating or hindering democratic dialogue.
As society becomes increasingly digital, access to various platforms is critical in the quest for knowledge, ideas, and diverse perspectives.