Big Tech woes deepen for British comedian and actor Russell Brand as the popular video-sharing platform YouTube extinguishes his monetization privileges in response to sexual assault allegations. However, Brand's demonetization isn't based on any of the content on the platform. YouTube has made the decision to punish the creator for off-site allegations that have yet to face a court of law.
A YouTube spokesperson said: "If a creator's off-platform behavior harms our users, employees or ecosystem, we take action."
Brand, a prolific commentator with an impressive following of 6.6 million subscribers has, in recent years, turned his attention to growing authoritarianism and the threats to civil liberties – surrounding the Covid pandemic and beyond.
His production frequency, averaging five videos weekly, has included critical social debates and commentary. With the demonetization in effect, Brand can still circulate his videos but is entirely stripped of all advertising profits. YouTube creators also often allege that demonetized videos don't get recommended as much in the algorithm, something that YouTube itself denies.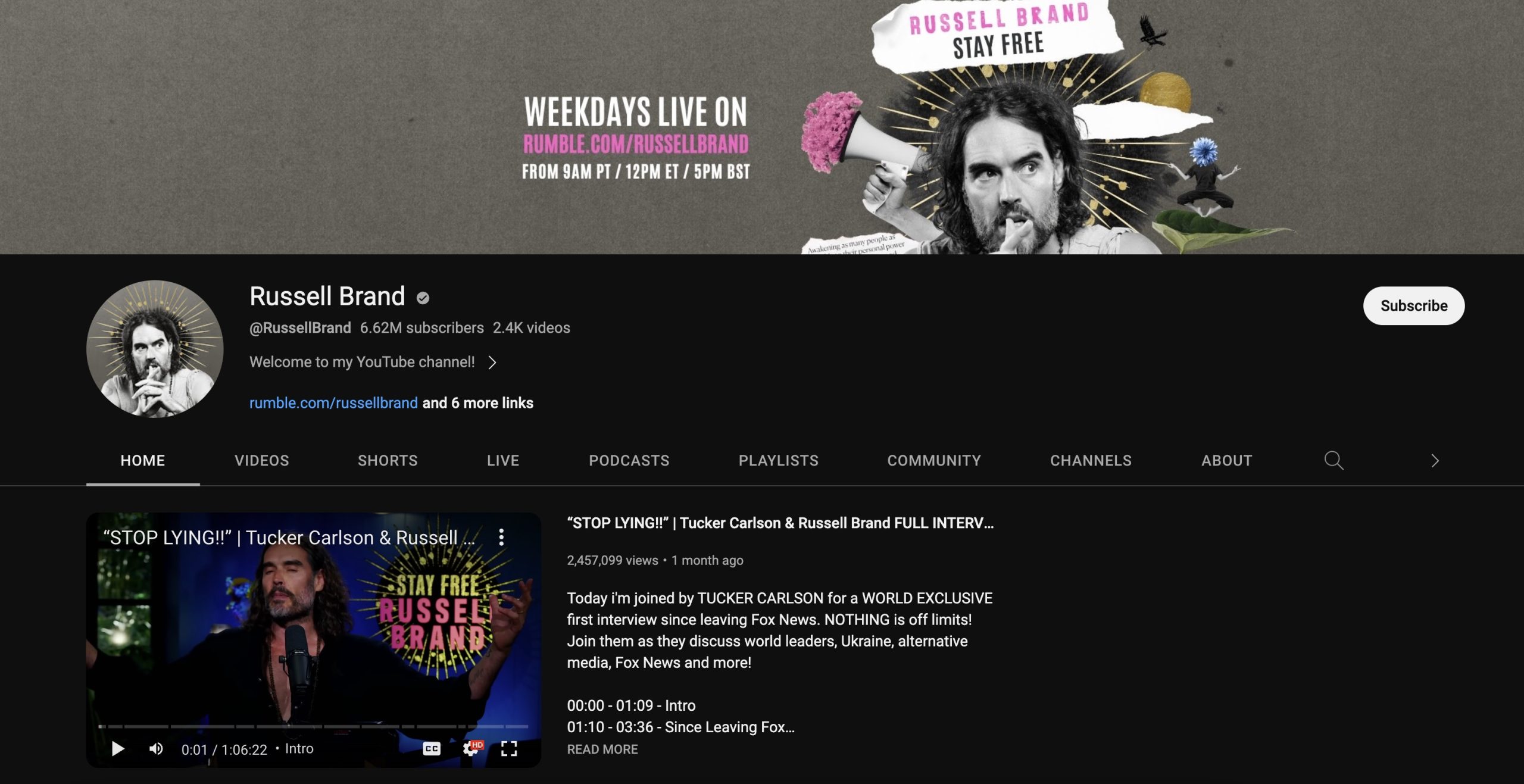 As the wealth yielded from advertising is divided with the video creators, the platform's suspension of Brand's channels could place a significant dent in his income, a move to temper his reach and influence.
A cadence of accusatory reports were presented from The Sunday Times and Channel 4's Dispatches against Brand's alleged behavior, including sexual and emotional abuse; accusations Brand firmly refutes, stating that his relationships have always been consensual.
The demonetization follows the mention in the Times report that several of the accusers, "said they felt compelled to do so given Brand's newfound prominence as an online wellness influencer, with millions of followers on YouTube and other sites."
The aftermath of these claims has witnessed the elimination of available shows featuring Brand on the BBC iPlayer, Netflix, and Channel 4 apps, initiating the suppression wave against the accused.
The comedian's promotional landscape covers an array of platforms, including a substantial presence on free speech platform Rumble, X, TikTok and Instagram.