Rumble CEO Chris Pavlovski has commented on the fact that YouTube took the position to dictate editorial policy to its community.
In fact, this has been going on for years, amplified and taken to unprecedented lows as YouTube enforced the policy and picked sides during 2020.
Positioning his platform as a YouTube competitor, Pavlovski vowed that it will not adopt this type of policy.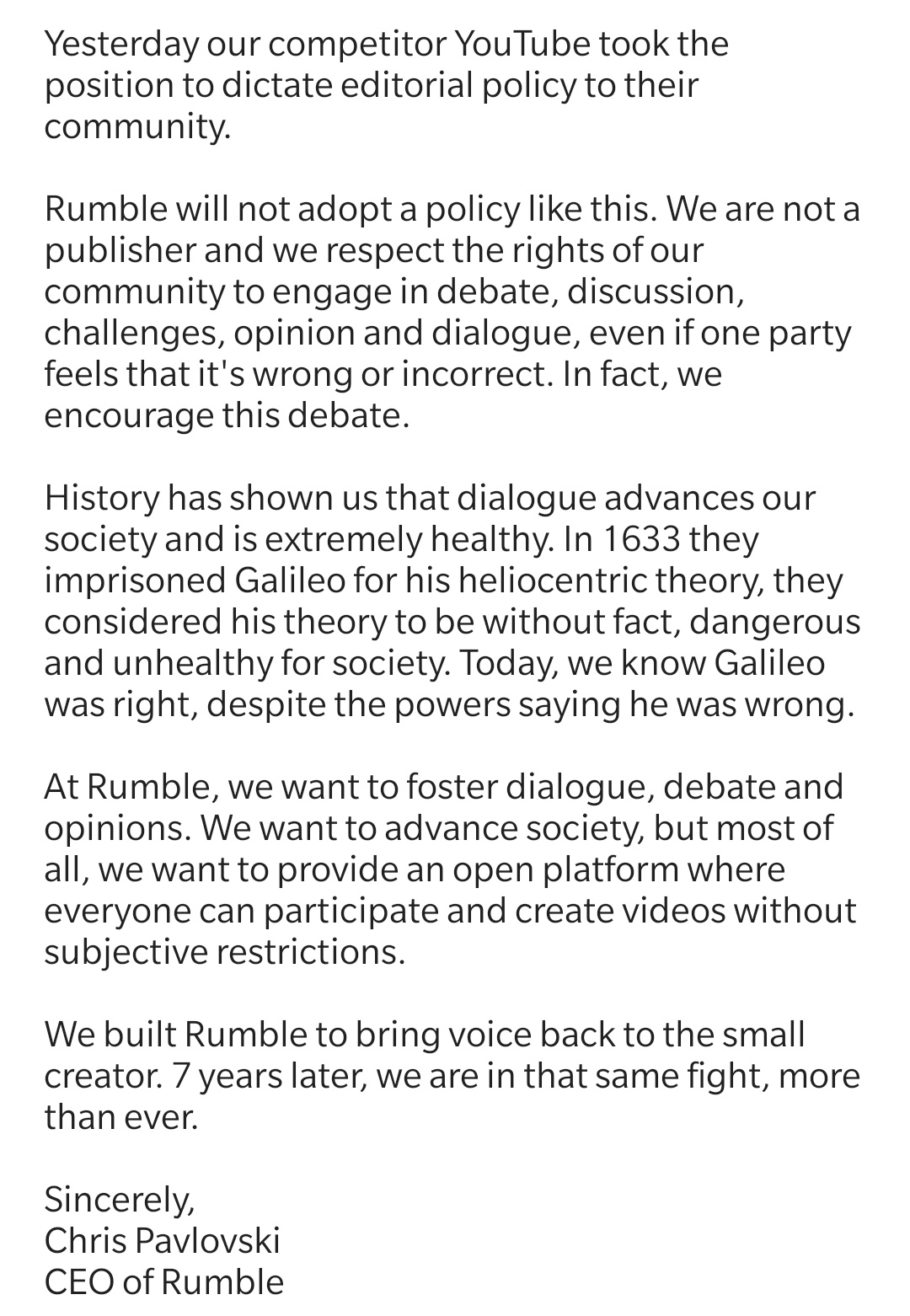 "We are not a publisher and we respect the rights of our community to engage in debate, discussion, challenge opinion and dialogue,even if one party feels that's wrong or incorrect," the statement said.
Contrary to YouTube, Pavlovski said that his platform in fact encourages such dialogue and debate.
What prompted all this was YouTube's latest bout of strict content censorship reinforcing an agenda the company has chosen and endorsed as its own: this time, it is the US election results, namely, the declared victory of Joe Biden. If creators post videos whose content disputes this, they will be removed.
Once again though, it looks like YouTube is caving under pressure from the outside to protect its business and standing at the same time breezily jeopardizing those who make the platform what it is: namely, independent creators and users.
YouTube has decided to remove what it calls "false claims" about elections: i.e., anyone saying that Biden's victory was not official, not least because President Trump's legal battle to prove election irregularities affecting the voting results are ongoing.
In rejecting this policy for his own platform, Rumble, Pavlovski invoked historical examples of censorship of dialogue, including the ostracizing and persecution of ostensibly one of the greatest scientists that shaped our civilization, Galileo, whose objective truths in the end prevailed, the mighty who went after him, and their censorship.
That is also the hope for the present-day suppressed truths, while Pavlovski reiterated Rumble's goal of being an open platform for dialogue that advances instead of hinders society. In particular, Rumble wants to give creators an open platform which isn't standing in their way with any subjective restrictions.
"We built Rumble to bring voice back to the small creator. Seven years later, we are in the same fight, more than ever," he wrote.