Amazon's payment system that's been in use since 2020 and relies on recognition of biometric data is now under scrutiny by a group of US senators, who are citing privacy concerns, but also those related to fair competition.
Three senators from both parties last week sent a letter to Amazon CEO Andy Jassy asking for a report to be compiled that will shed light on how the palm print recognition scheme, Amazon One, works – specifically regarding the way the retail and tech behemoth collects, retains, and monetizes customer data.
We obtained a copy of the letter for you here.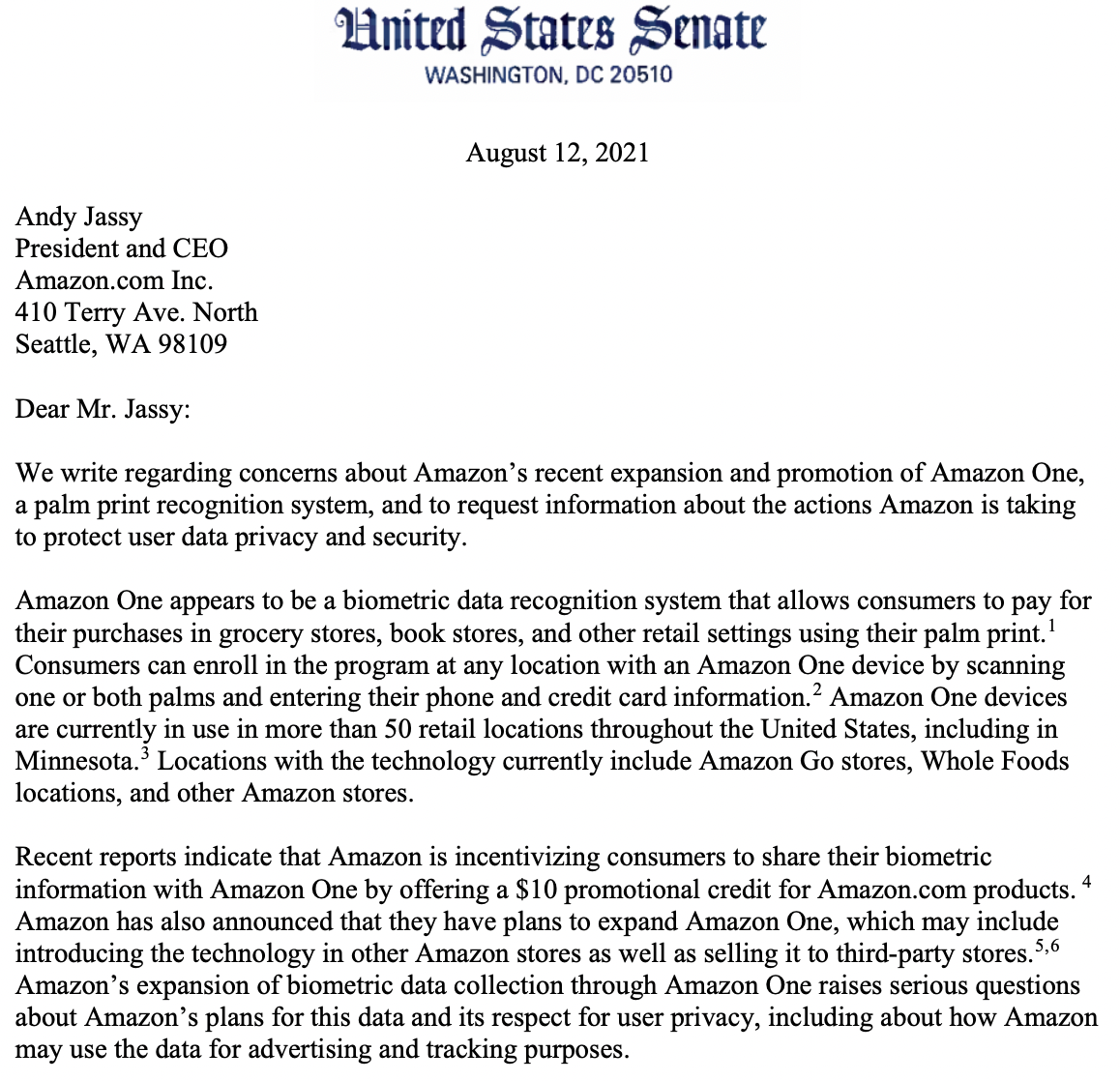 "Data security is particularly important when it comes to immutable customer data, like palm prints," senators Amy Klobuchar, Bill Cassidy, and Jon Ossoff said in their letter to Jassy.
Amazon One works by allowing customers to pay by placing their palm over the payment device, with palm prints that are unique to each individual linked to their credit cards. The technology is already used in nearly 60 Amazon locations, including Whole Foods, and recently, the company started to promote its use more aggressively, giving $10 credit to new sign-ups.
This gained some attention in the press, and apparently the interest of the lawmakers behind the letter was sparked by these reports. Their request is to have Amazon disclose by August 26 how many users Amazon One already has, how safe is their data – given that unique palm prints are uploaded to the cloud rather than kept on the local device – and whether the company intends to further monetize them through advertising and tracking.
Amazon has in the past claimed that the system is highly secure, and also revealed that it will become available to third parties, meaning that even biometric data belonging to non-Amazon customers could end up in its hands.
Another question the senators would like answered is if Amazon One data is correlated with other biometric data, such as that collected by Ring cameras and Echo speakers.
Besides the question marks around privacy, Amazon One's role in helping the giant start conquering the physical retail space (while doing away with workers such as cashiers) like it has managed to do online, is another issue that is giving observers pause.
"We are also concerned that Amazon may use data from Amazon One to further cement its competitive power and suppress competition across various markets," wrote the three senators.
Amazon is yet to comment on the letter.