The former commentator of the UK's weekly Soccer Saturday show, Matt Le Tissier, has faced outrage after a tweeting a meme about Anne Frank, which was used in response to a tweet where a police officer lashes out at a man who refuses to wear a mask.
Although Le Tissier was once relatively popular for his achievements in British football after his retirement, Le Tissier dedicated himself to what many ex-footballers do: to be a pundit in television shows, being popular on Soccer Saturday transmitted by the Sky Sports network.
The now former Sky Sports commentator, since he was fired from the company on August 26, has a long list of ruffling feathers for his online comments.
The most recent case was due to Le Tissier questioning the position that Sky Sports executives had with the Black Lives Matter movement since for him they were promoting a movement with a far-left ideology. He has also come under fire multiple times for his ideas suggesting that officials have overreacted to the COVID-19 pandemic.
Now, on September 4, in a tweet that currently no longer exists, Matt has once again caused controversy by sharing an image of Anne Frank, which was used by another user to respond to a video where it shows a police officer macing a man for not wearing a face mask in public.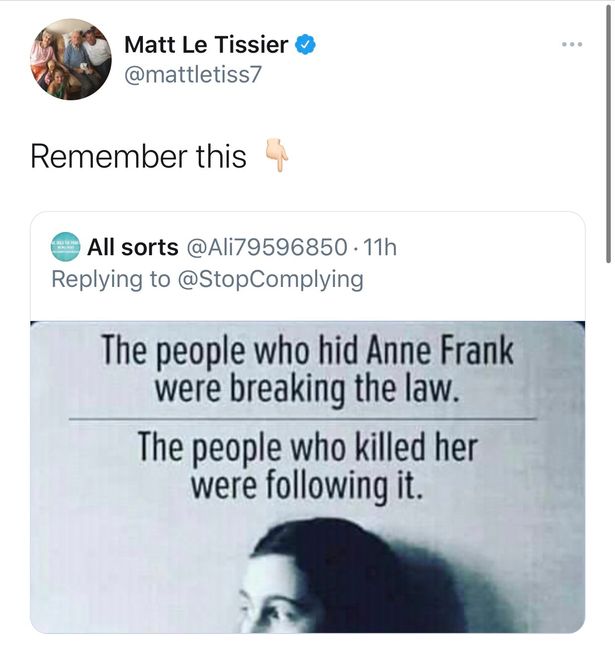 Le Tissier, like many others, was shocked at what they see as the overreach of the UK police during the incident, raising accusations of an increasing police state with the pandemic being used to reduce people's civil liberties.
Users on Twitter immediately attacked him for allegedly being a distasteful comparison between the Holocaust and the coronavirus pandemic.
The original image, posted by user @Ali79596850, shows Anne Frank with a message that reads "The people who hid Anne Frank were breaking the law. The people who killed her were following it".
Because Le Tissier retweeted this post, people immediately linked that he was comparing the pandemic to the Holocaust.
While Mr. Tissier responded to multiple users that he did not share the image to refer to the COVID-19 pandemic or his beliefs about the virus, this did not prevent users from harassing him.
https://twitter.com/TJCowboyHammer/status/1301978432063049729
Given the strong backlash he received, Le Tissier decided to delete the tweet to avoid further confusion. He also posted a video of almost two minutes in which he apologized and talked about how the COVID-19 pandemic could affect people's mental health, and that he has decided to start sharing information that could be useful about the virus.