Web hosting platform Squarespace has shut down the website of America's Frontline Doctors – a group of doctors who have come together to address what they describe as "a massive disinformation campaign."
Yesterday the group held a viral White Coat Summit press conference in DC where they discussed their experiences treating coronavirus patients and shared their views on the pandemic.
The press conference went viral on social media, accumulated tens of millions of views within the first eight hours of it going live, and was retweeted by President Trump.
But after media complaints, Facebook, Twitter, and YouTube then stepped in and censored the video, claiming that it was "sharing false information about cures and treatments for COVID-19."
Now Squarespace has also decided to censor these doctors by removing their entire website for "activity that's false, fraudulent, inaccurate or deceiving."
The group's founder, Dr. Simone Gold, a board-certified physician and attorney, wrote that the takedown of the site is "outrageous."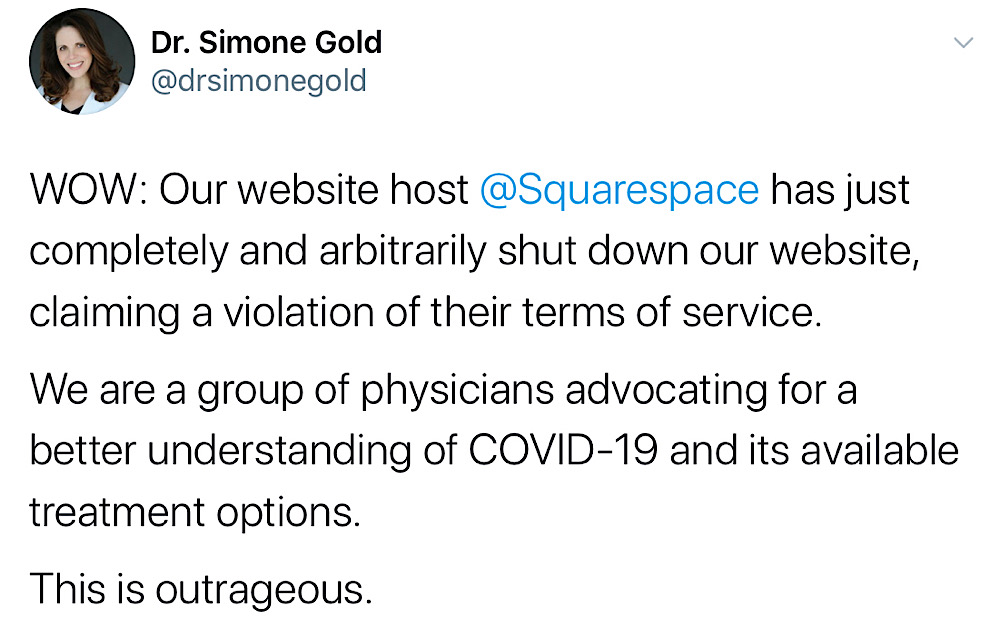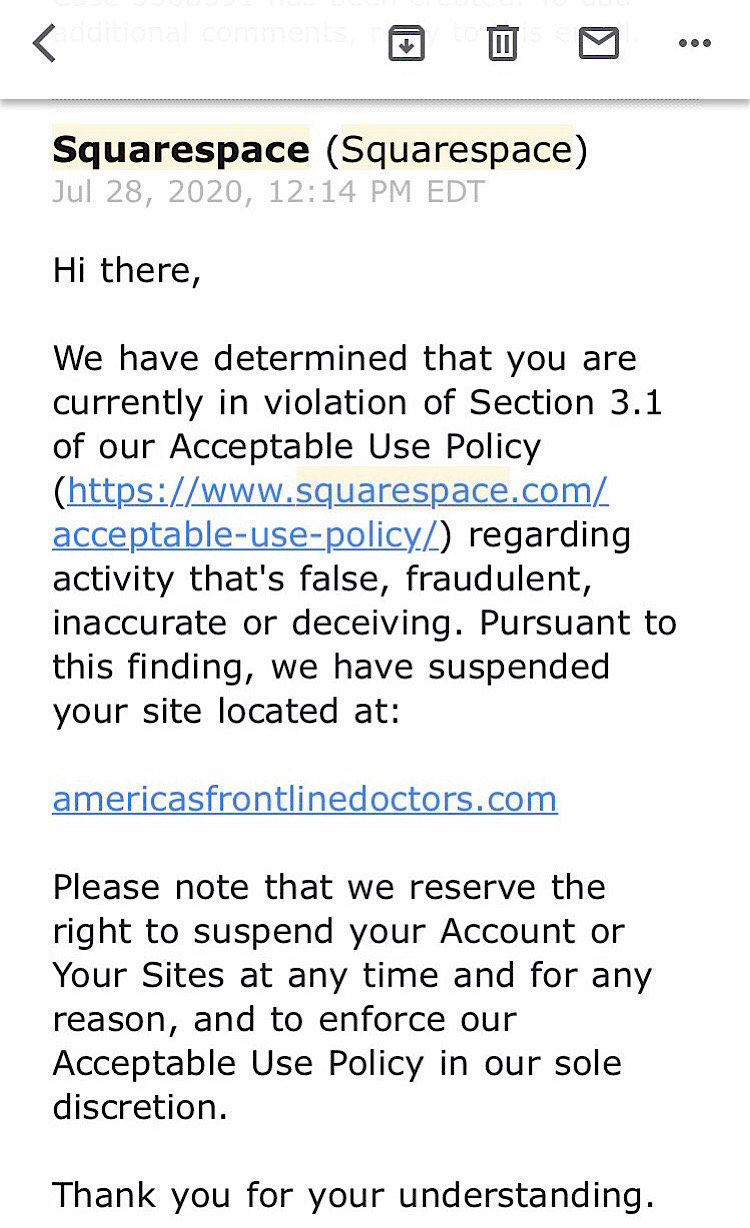 She also pushed back against the censorship of physicians by Big Tech platforms:
"There are always opposing views in medicine.

Treatment options for COVID-19 should be debated, and spoken about among our colleagues in the medical field.

They should never, however, be censored and silenced."
Related: ? How the term "misinformation" has been weaponized as an online censorship tool amid the coronavirus pandemic
The shutdown of America's Frontline Doctors is the latest example of US tech companies' creeping censorship of discussions about the coronavirus where information that doesn't align with mainstream talking points is branded "misinformation" and shut down.
Medical research center videos on ultraviolet (UV) light therapy, popular documentaries, and best-selling books are some of the many pieces of content that have been censored under tech companies' coronavirus rules.
Yet the mainstream media outlets are often given a pass when they share information about the virus that turns out to be wrong.
Some Big Tech platforms are even introducing rules that prioritize mainstream media coverage over the merits of what people are saying or their backgrounds in the field of medicine and only allowing censored videos from doctors to be reinstated if it gets news coverage.