Conservative commentator Steven Crowder's first live stream since he was given a one-week suspension by YouTube has become one of the most popular streams on video sharing platform Rumble and passed 90,000 concurrent live viewers.
YouTube gave Crowder's channel a strike and a one week suspension yesterday after his video titled "We Have Updates on the Trump Raid + Guest: Kari Lake" was flagged and removed for violating the tech giant's far-reaching "misinformation" rules.
This strike was the latest of many that YouTube has issued against Crowder's channel under its sweeping censorship rules.
"This really isn't about the fact that we've been suspended again," Crowder said. "It's that the show was suspended from YouTube and the policy says 'we think it may have violated the policies,' didn't tell us exactly where but inferred that it's because of someone we had on the show, Kari Lake, likely the future governor of Arizona."
He added: "This is the first time that I know of where a current gubernatorial candidate was banned, was suspended…for something they said about an election in which they are currently running."
YouTube infamously started restricting what creators are allowed to say about elections after the US Capitol riots last year. YouTube has also used other rules to censor several politicians and political candidates, including former President Trump, Senator Rand Paul, and Senator Ron Johnson.
While Crowder is blocked from live streaming on YouTube for the next two weeks, he's still streaming his "Louder With Crowder" show on Rumble, Blaze TV, and his MugClub subscription platform.
Rumble responded to Crowder's suspension suspension by stating: "We have his back."
Before Crowder went live for the first time since yesterday's YouTube suspension, Rumble urged its users to "show YouTube that Rumble will have more concurrents viewers on a single stream than any stream on their platform."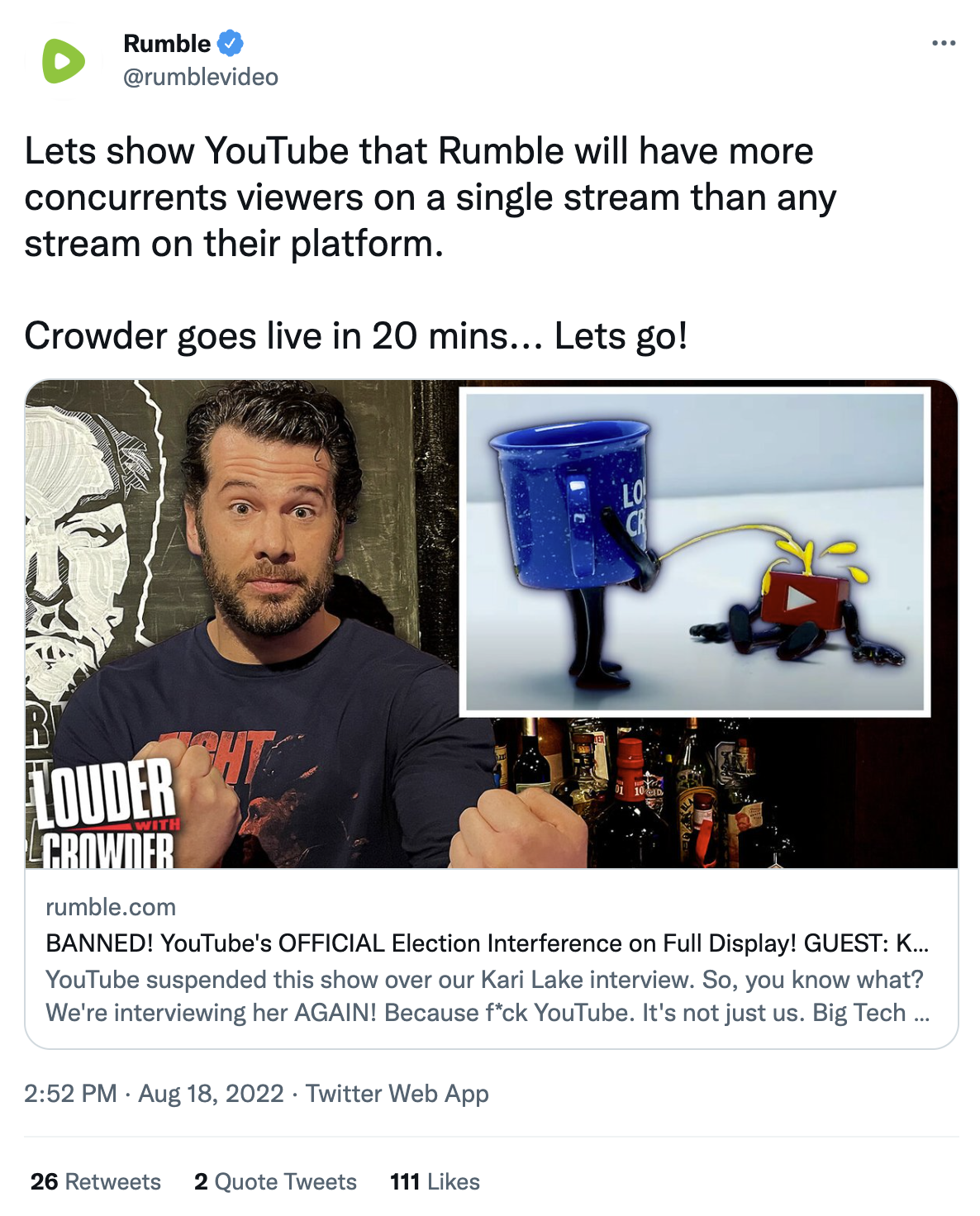 And after Crowder went live today, his Rumble live stream was a huge hit. At one point, it had over 91,000 concurrent live viewers and it maintained over 80,000 concurrent live viewers for most of the stream.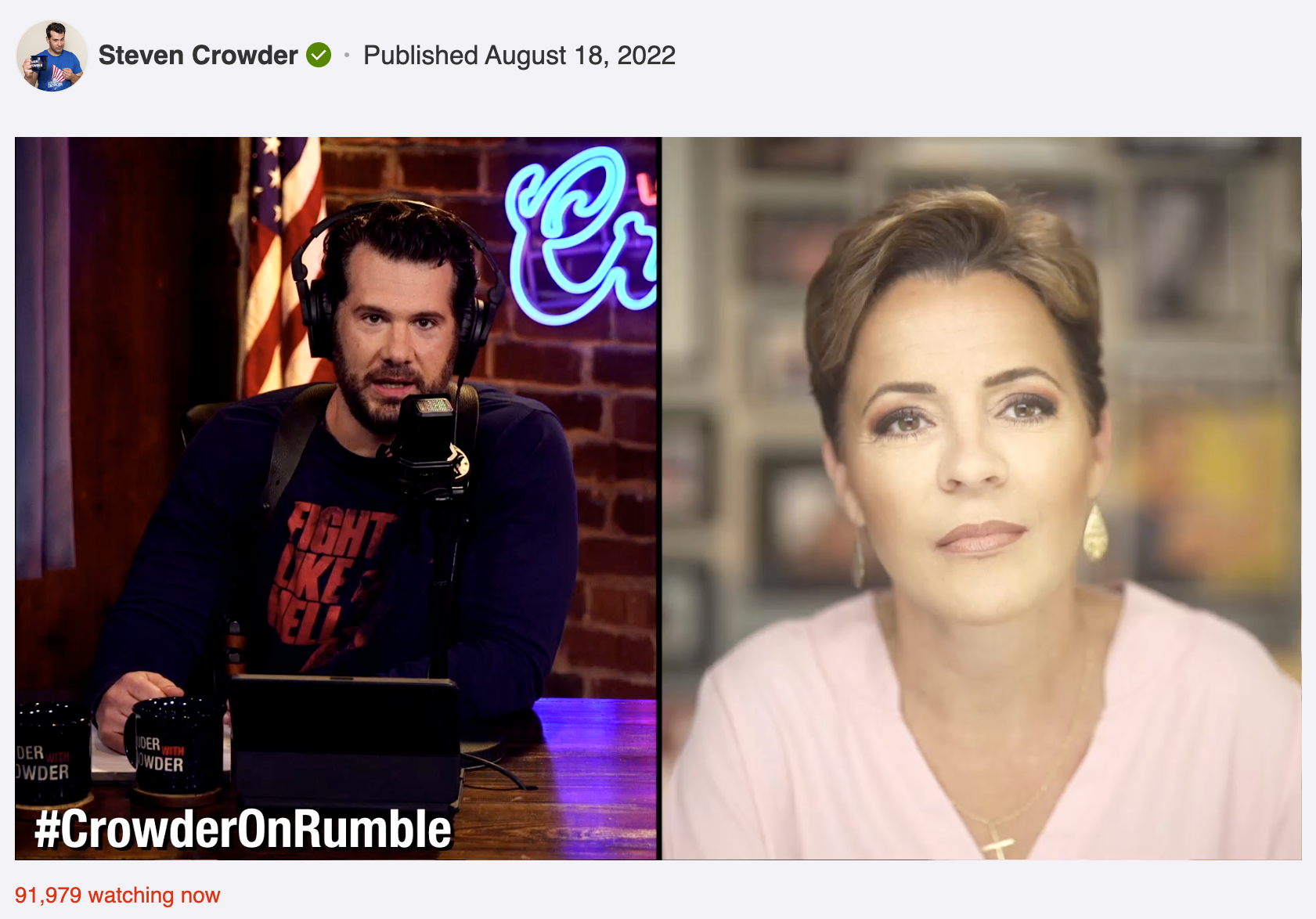 "#CrowderOnRumble is proving to the world YouTube needs him, and he doesn't need YouTube," Rumble tweeted.
Lake, who appeared for a followup interview on today's Louder with Crowder show after her appearance on yesterday's show was censored by YouTube, blasted YouTube and said it's "full of pro-censorship snowflakes."
She also denounced censorship and noted that "Rumble is great."
Crowder joined Rumble last year after facing persistent censorship and demonetization on YouTube. At the time, he praised Rumble for not censoring his content.
The popularity of Crowder's most recent live stream on Rumble reflects users increasingly embracing free speech platforms such as Rumble as YouTube continues to censor. Rumble has consistently set new traffic and user engagement level records over the last year and most recently set a new active user record in Q2 2022 with 76% year-on-year growth.
As YouTube has increased its censorship, Rumble has committed to allowing creators to speak freely and it recently published "open-source" free speech rules.
The free speech video sharing platform has also been steadily building out its live streaming features. It introduced free unlimited live streaming for creators this week and enabled ad monetization for live streams on the web earlier this month.