Update: Surfshark announced that it would be suspending its "fake news" warning feature temporarily on March 7.

Original story:
Virtual private network (VPN) provider Surfshark has introduced a new feature that inserts "fake news warning" (FNW) labels next to a wide range of links in the browser including search result links and links on the websites that you visit.
Surfshark VPN users that have these FNWs enabled will see a warning dialogue box in their browser whenever the feature identifies "links to websites that are likely to contain misinformation" on the page. Prominent red "YYY" labels will also be displayed next to the links that have been flagged.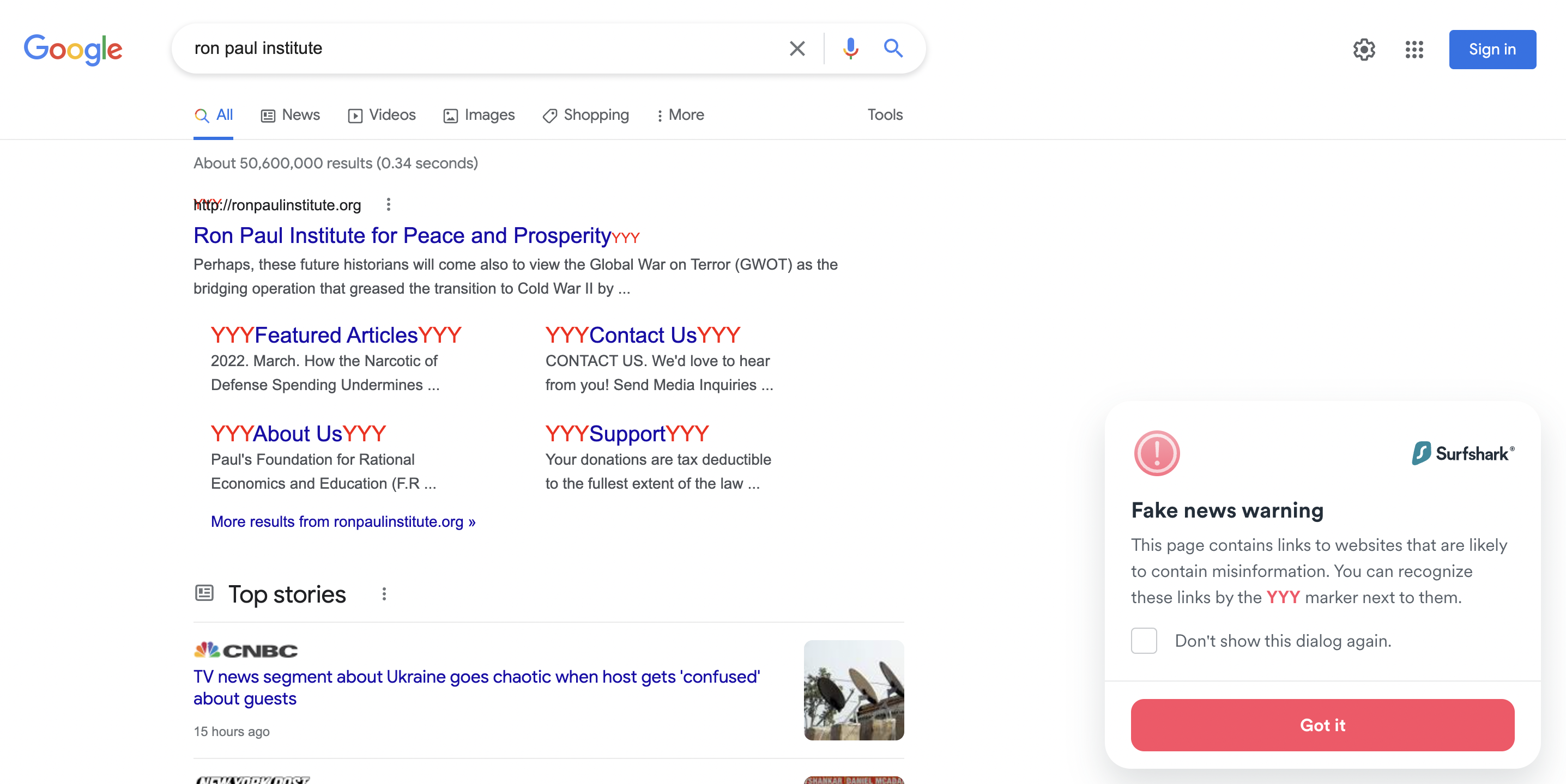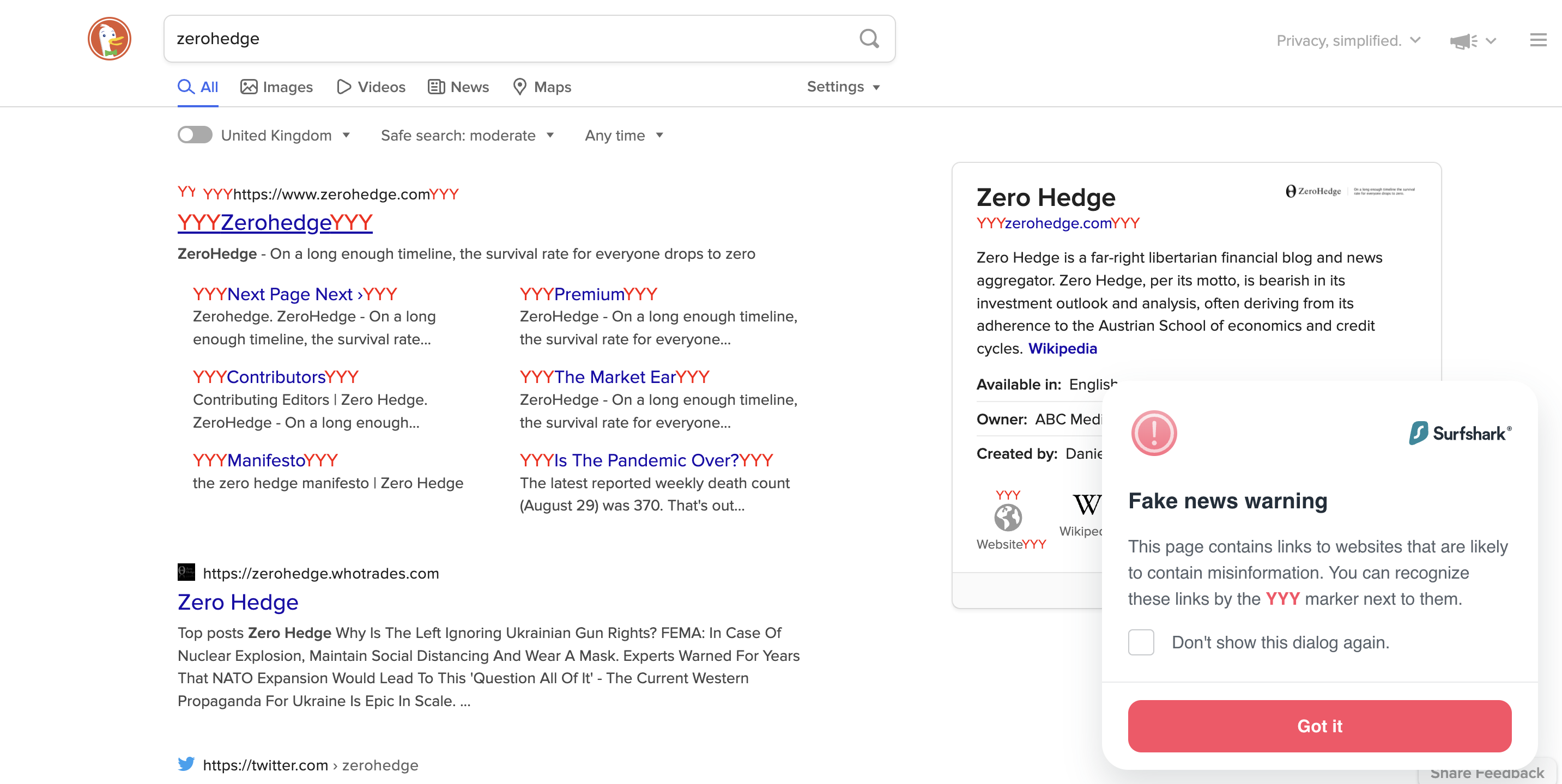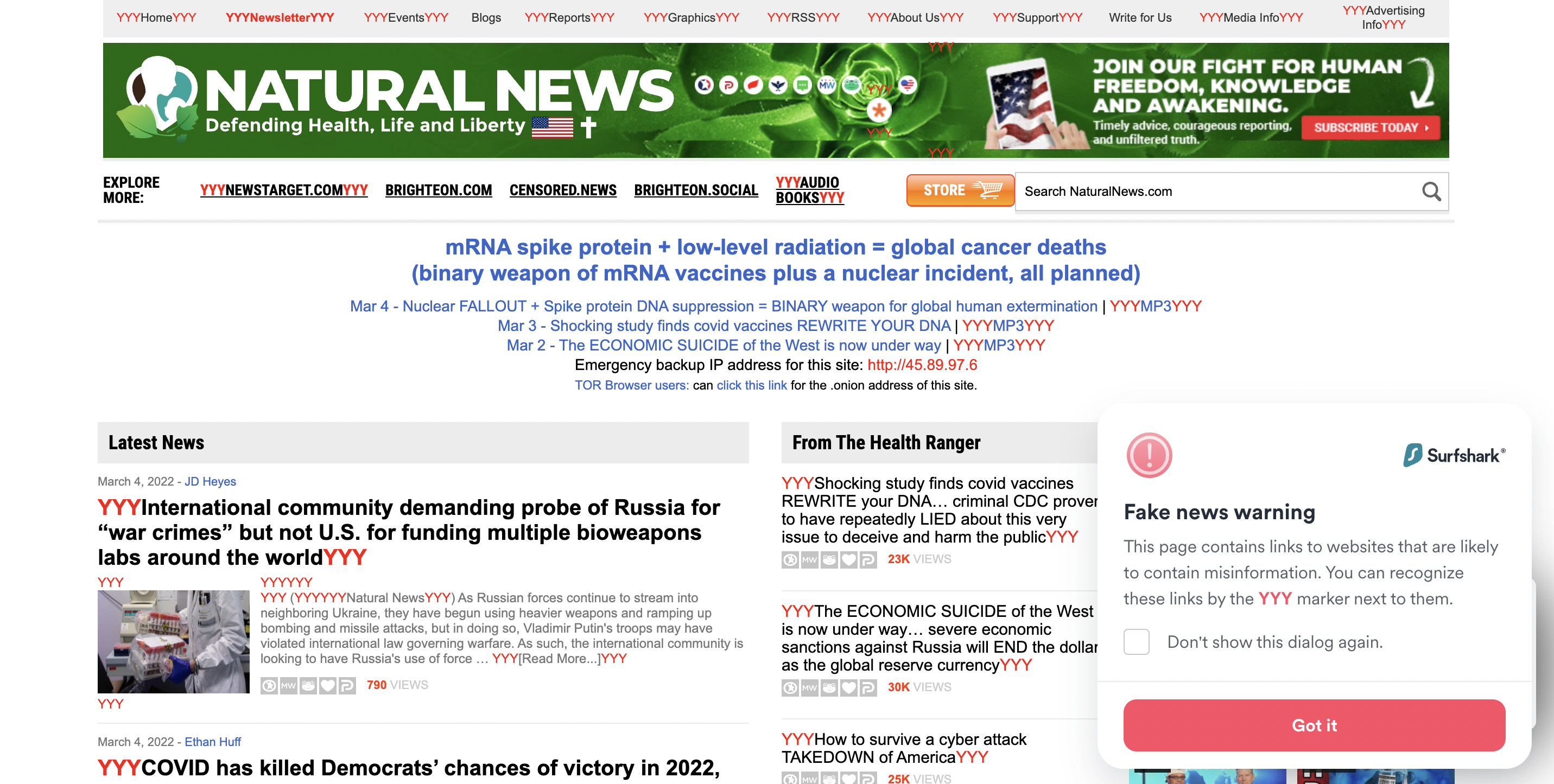 The feature is also available via Surfshark's Chrome and Firefox browser extensions.
In a blog post announcing the feature, Surfshark said that its list of "untrustworthy websites" that get flagged with FNWs was taken from "Is It Propaganda Or Not?" (a site that claims to help people "understand Russian influence operations targeted at US audiences," "identify propaganda," and "push back") and then reviewed by its security experts.
Surfshark added that it's "talking with security institutions worldwide to monitor and update this list, and iterations of it will roll out after the initial release."
Currently, Ron Paul Institute, ZeroHedge, Infowars, Natural News, and others sites are being flagged with Surfshark's FNWs.
Free speech video sharing platform BitChute said that it was also being flagged with Surfshark's FNWs when the feature was rolled out. However, after BitChute tagged Surfshark on Twitter and told it that "a VPN company should not try to be a nanny," BitChute stopped being flagged with FNWs and Surfshark said it "will be updating this feature to make sure there are no false positives."
Based on an analysis of the sites that are being flagged, this FNW feature appears to be using two lists from Is It Propaganda Or Not? – a list titled "sites that reliably echo Russian propaganda" that was published in November 2016 and a list of outlets that it accuses of producing "large amounts of original propaganda content" that was published in  March 2017.
The March 2017 list links to a "Review Article" and an example of "Absurd Pro-Russia Content" for each outlet on the list. Several of the review articles and examples it links to are no longer online. Most of the review and example articles that are still online are between 5 and 14 years old.
Surfshark cited "recent events in Ukraine" that "have thrown our world deeper into turmoil and confusion" when announcing the FNW feature and said the feature will "help anyone avoid false information on the internet."
Surfshark added in a tweet that it had created the FNW feature "to give everyone (including non-Surfshark users) access to the internet uncensored."
The practice of flagging online misinformation is controversial because the sources that get to define misinformation often change their definitions. For example, numerous social media users had their content and accounts censored for suggesting that COVID-19 may have originated in the infamous Wuhan Institute of Virology before it was finally admitted that this may be a possibility.
Regardless, these "misinformation" warnings have proliferated across the internet and are now added to browsers, social platforms, podcasts, and more.
The experiences of BitChute, which has consistently been flagged by these types of labels, demonstrates the friction these types of labels can create when browsing the internet.
Whenever Twitter users attempt to visit BitChute, they're presented with a full-page warning that claims "this link may be unsafe" and forces them to confirm that they want to continue.
Some Danish internet service providers (ISPs) also temporarily blocked access to BitChute and displayed a misinformation warning to Danish users who attempted to access the site.