We recently published a story about how ubiquitous false copyright claims are on YouTube and how they've been weaponized and used as a harassment tool due to YouTube acting on them without verifying their validity.
One YouTuber notorious for abusing this feature is Suzy Lu.
In March 2019, YouTuber MarkAfterDark who had about one fifth of the subscribers that she did at the time, used footage of Suzy crying after playing a VR game and saying, "I wanna spend the rest of my life like that". The footage was edited to remove the gameplay and added some visual and audio effects for humorous effect, which isn't uncommon today and is arguably what "meme culture" is based on.
Suzy Lu, however, despite being a YouTuber known for reaction videos where she reacts to the content of others, decided to file a copyright claim against the video to have it taken down. Lu said that she owns the copyright to her face.
This, of course, caused a backlash against her from the community.

Suzy Lu was featured in YouTube Rewind 2019, based on the success of her reaction videos.
Today, however, her YouTube channel was terminated for copyright violations. Lu had been uploading anime such as Naruto and "reacting" to it on facecam, which was the basis of some of her recent content. It was this that Lu says was the reason for her channel suspension.
Unlike the meme that MarkAfterDark made, her usage of anime footage is non-transformative as it was uploaded as-is without any editing. 
Her channel had been reported by a Japanese company TV Tokyo that owns the copyright to the anime.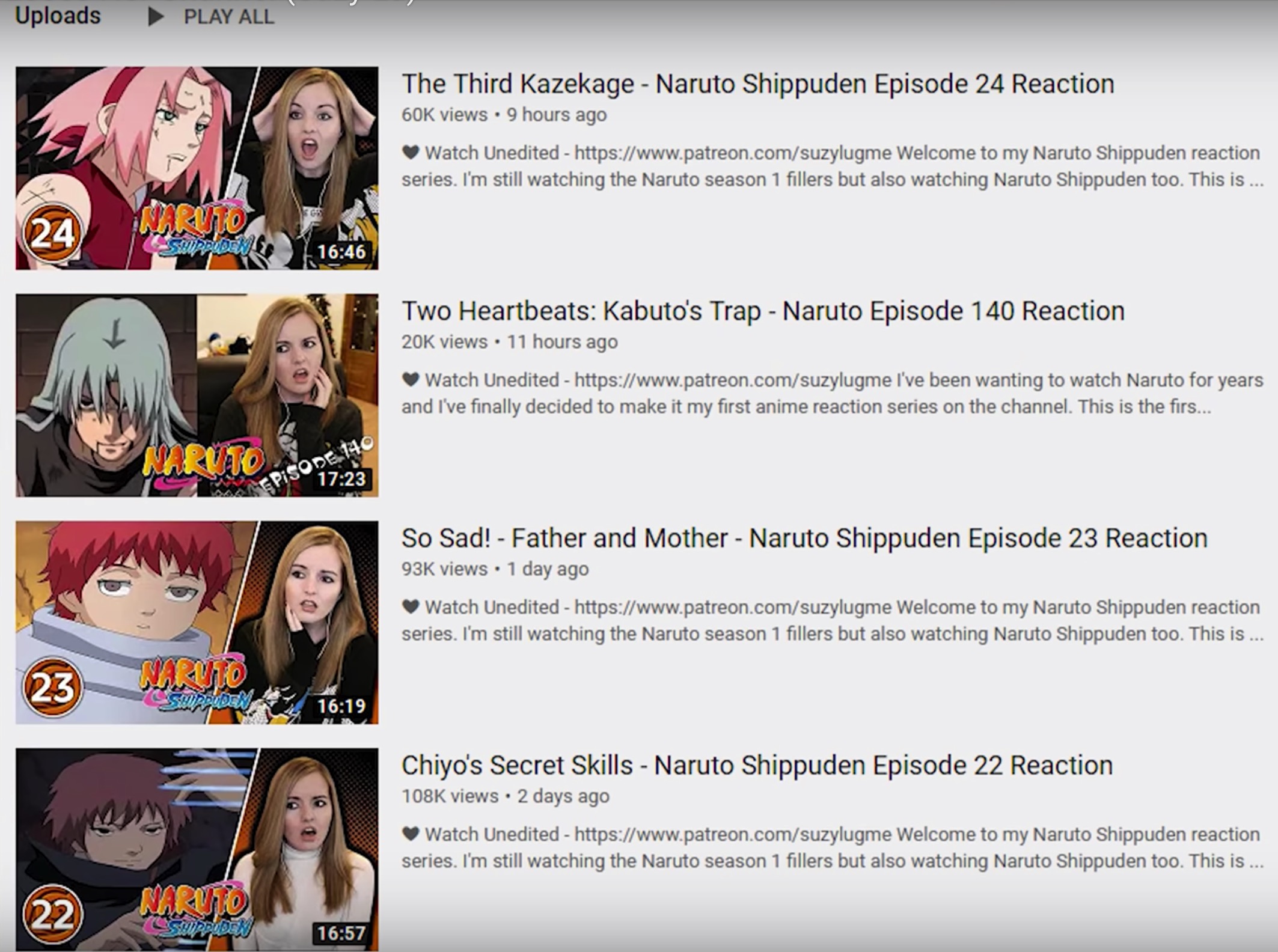 In a statement on Patreon Lu said, "This week I had a bunch of strikes come off my channel and I was able to upload again which was great. Yesterday I posted an update talking about the situation and how I hoped it was all going back to normal. Unfortunately I woke up this morning to 'Channel Suspended'."
https://twitter.com/SuzyLuGME/status/1211065804978032640
Lu said that the termination was because she was "hit by the same bot again."
To her Patreon fans, Lu said that she has a "manager" at YouTube who was supposed to be on holiday until next week but has apparently returned to the office to help her, and is "investigating why this happened and how we can fix it."
Lu expects to be back up again at some point in the future, adding that "I will no doubt have to delete all my Naruto videos as I can't trust I won't keep getting caught in this bot."
Lu said that she will avoid uploading any Japanese anime in the future – not because it's copyrighted content but because – "they clearly don't consider laws outside of their own country."
Update – Jan 2, 2019: Lu's channel has been restored.