In recent months, cancel culture has gone into overdrive with many people losing their livelihoods, reputations, or jobs for expressing their opinions online.
This usually happens after activists target individuals over their online posts, find out where they're employed, and then bombard the employer with messages and phone calls until they're terminated.
In many cases, just a single tweet, statement, or video is all it takes for an individual to be targeted and subject to a pressure campaign that results in them losing their job.
After licensed Hearing Instrument Specialist Tabitha Morris from Paducah, Kentucky posted a three minute Facebook video on June 9, where she stated that she doesn't support the Black Lives Matter movement, she not only lost her job but continued to be targeted after being fired and ended up having her GoFundMe mass reported and taken down.
Morris told Reclaim The Net that she posted the video after feeling frustrated about the then-recent riots, lootings, and "the senseless murders of other innocent black Americans amid this chaos," including the murder of black former Police Chief David Dorne who was shot and killed by looters while attempting to protect a pawn shop.
In the June 9 video, Morris said that she doesn't support the Black Lives Matter movement and won't apologize or bow down for being white.
"The problem is not white people, the problem is not police officers," Morris said in the video.
She then cited crime statistics about police officers killing more white Americans than black Americans and the overall crime rates of black Americans compared with white Americans, a sentiment that has also since caused others to lose their jobs, and students to be expelled from colleges.
Morris told Reclaim The Net that after she had posted the video, many online users started sending her "death threats and vile messages of hate" and pressured her employer, Baptist Health Hospital, to terminate her.
"They found out where I was employed and made an organized effort to have me terminated. Over 1000 calls and emails were sent to the HR department, that either they fire me, or they would riot and protest," Morris told Reclaim The Net.
Morris then made a second video on June 10 where she discussed the threats and organized efforts to get her fired and said that she doesn't support Black Lives Matter because "they don't care about all black lives" and instead, "the only thing they concentrate on is black lives that are killed by white people or white police officers."
She added: "I have worked at that job for 20 years and I have treated white kids, black kids, Mexican kids, all different races, and I love each and every one of them. But it doesn't matter what I say, it doesn't matter what I do, you're gonna spread this and you're gonna call me a racist anyway, and you're gonna ruin my life."
On June 11, Morris said she was told by the HR department that she was terminated effective immediately because of the attention her Facebook video had received and the threats of protest.
The online activists who had targeted Morris demanded a public statement which was posted to the Baptist Health Hospital Facebook page on the same day:
"Our mission at Baptist Health is to provide high-quality, compassionate care to all our patients. Baptist Health does not tolerate disrespectful conduct or discrimination of any form. It has come to our attention that an employee recently made statements on social media which do not reflect the values of Baptist Health and have caused disruption to our ability to carry out our mission to our patients and employees. This individual is no longer employed by Baptist Health."

But Morris' firing and the public statement from Baptist Health Hospital didn't stop some Black Lives Matter supporters from continuing to target her.
On June 12, Morris appeared on the Todd Starnes Radio Show to tell her side of the story and was advised by Starnes to set up a GoFundMe account for financial support.
But after setting up her GoFundMe, some of the Black Lives Matter supporters organized again, promoted a Change.org petition to have her fundraiser stopped, and succeeded in having her GoFundMe shut down and all of the money refunded.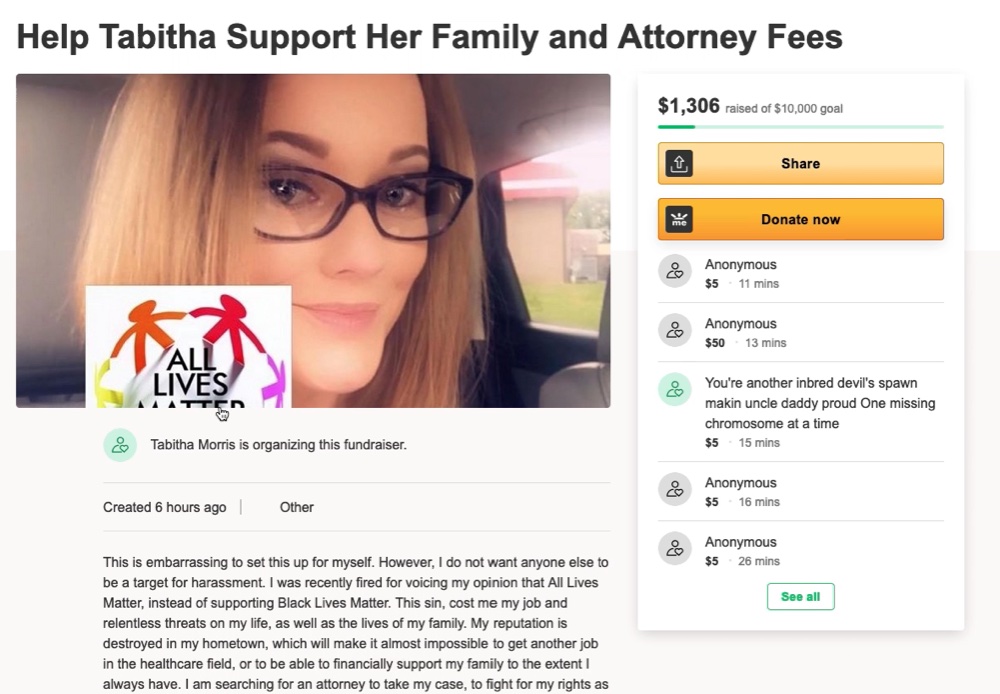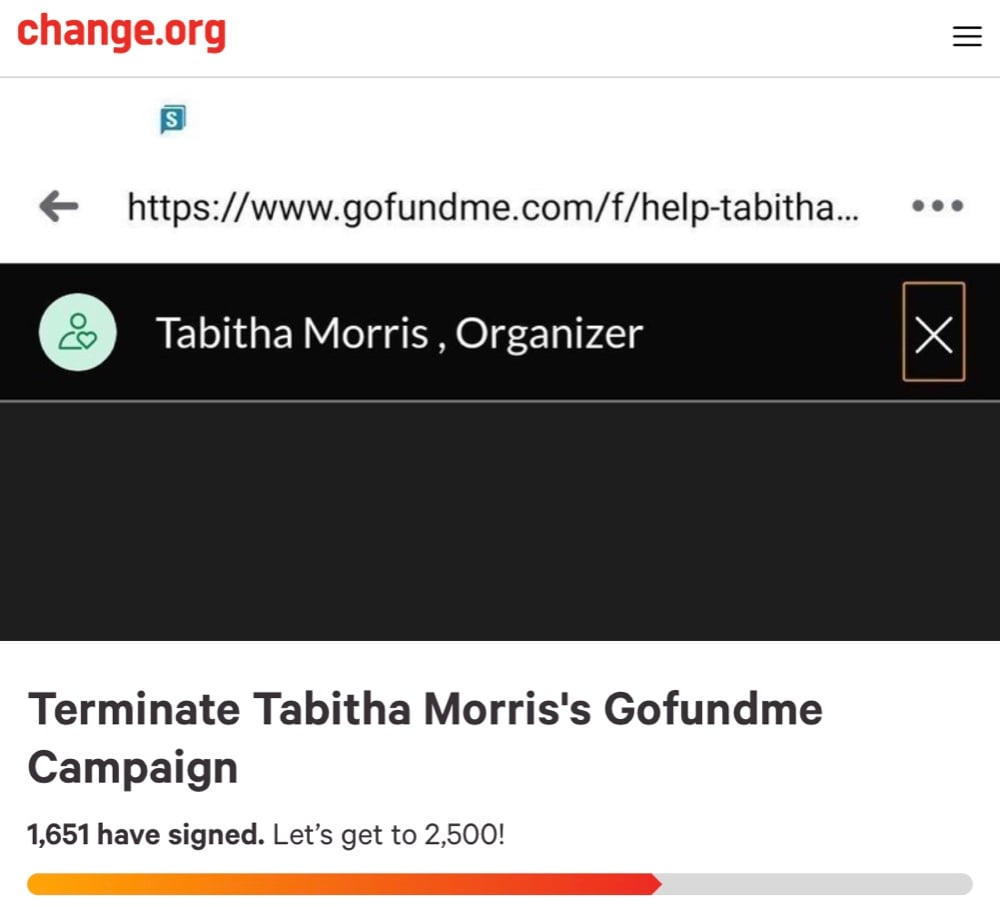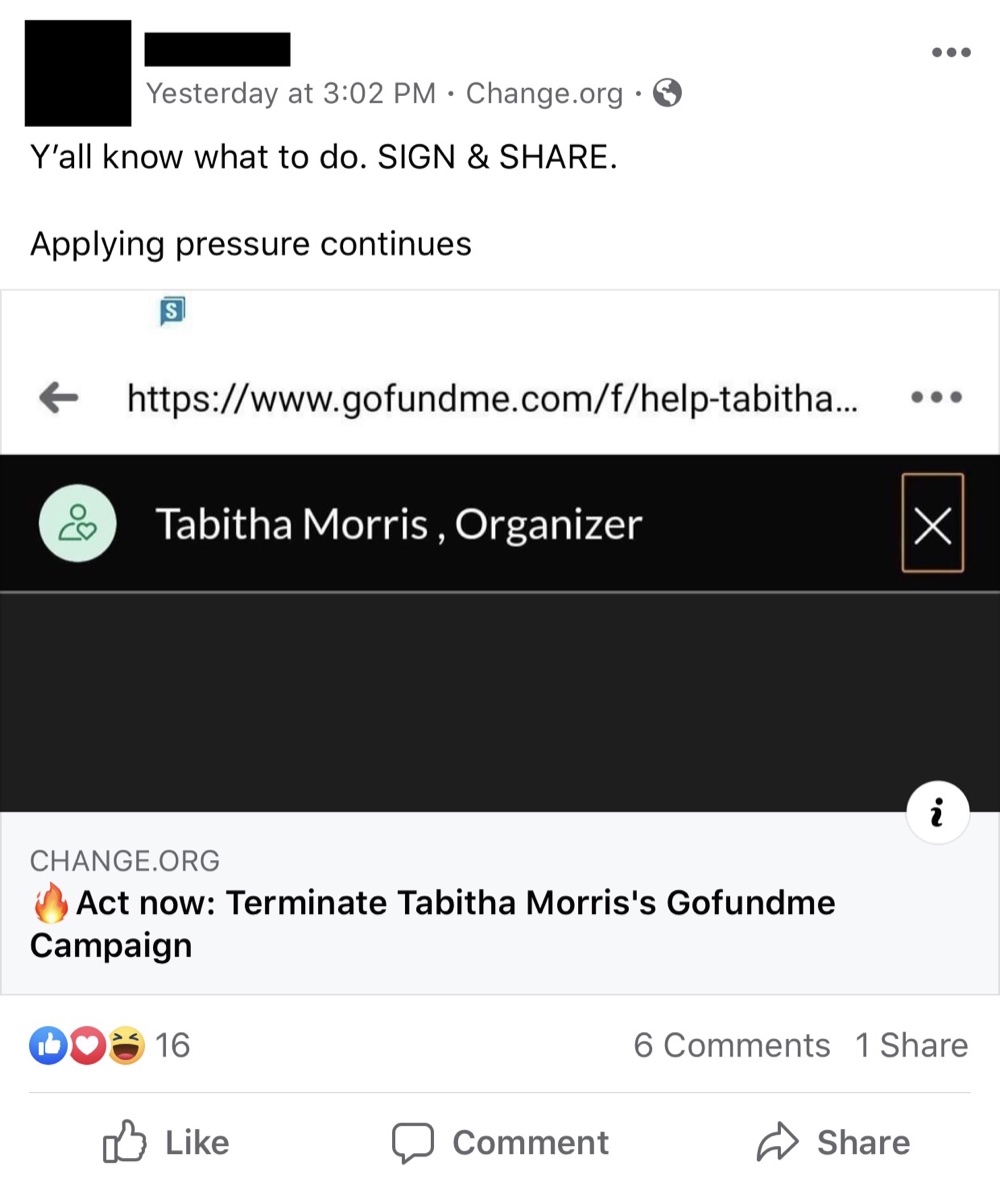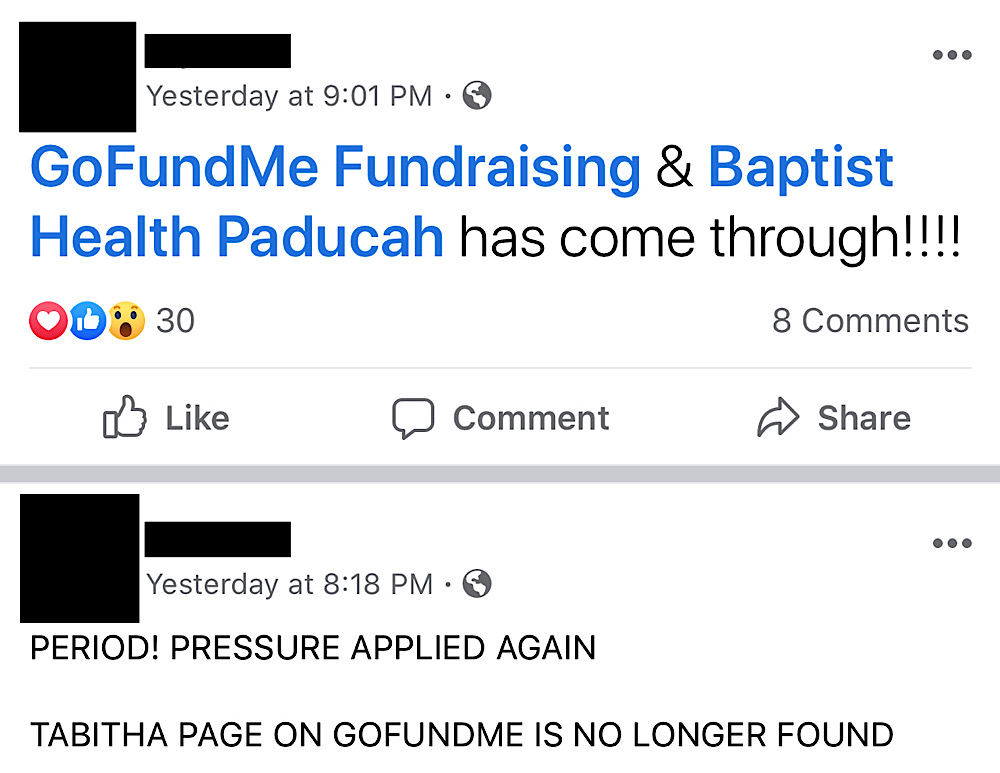 "I was told that no matter what I did to financially support my family, they would stop it," Morris told Reclaim The Net. "They will make sure that I never get another job in healthcare again."
Before the GoFundMe was taken down, some Black Lives Matter supporters also continued targeting Morris through her campaign's contact form and told her that they would be flagging the campaign until it was taken down.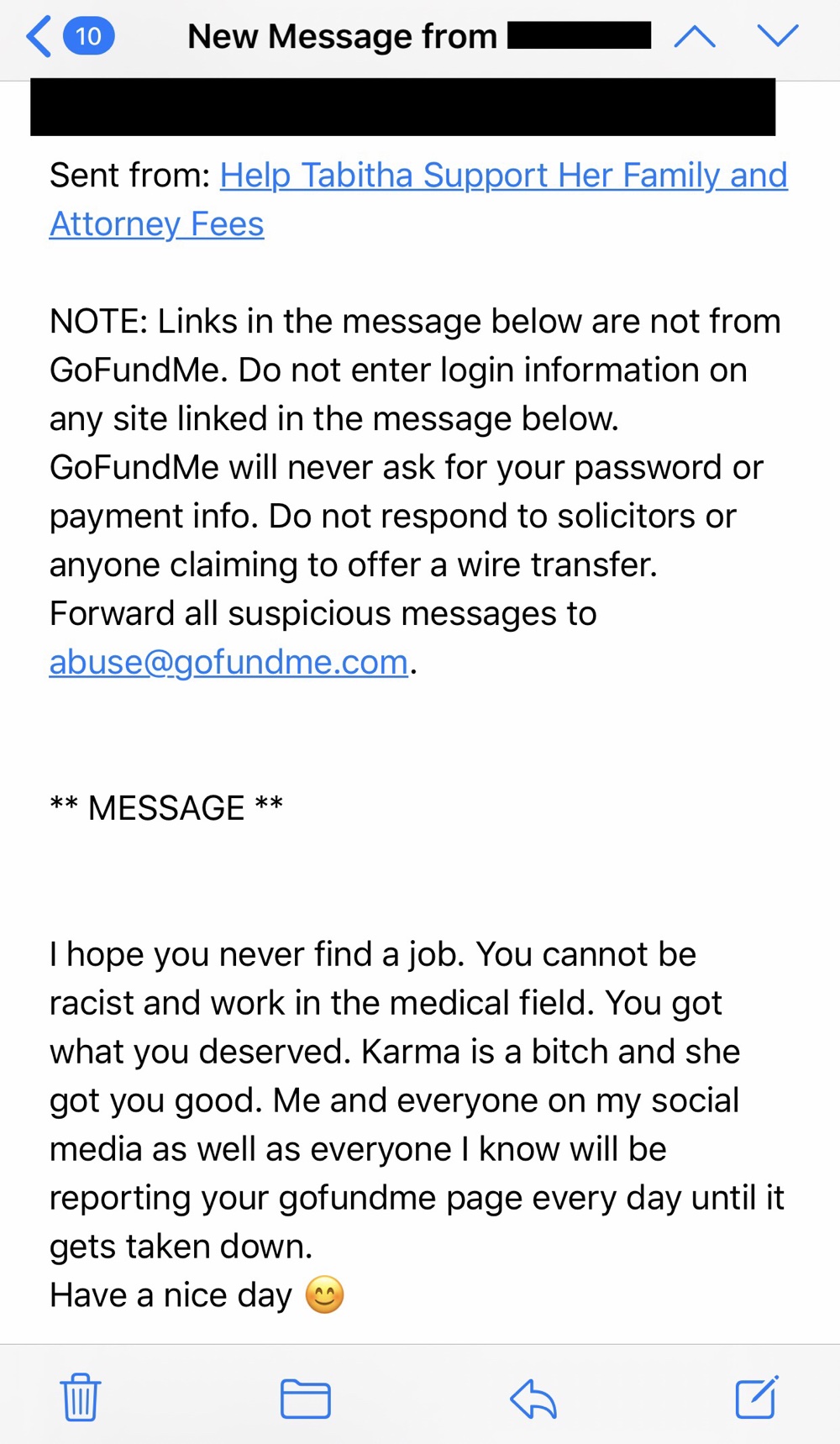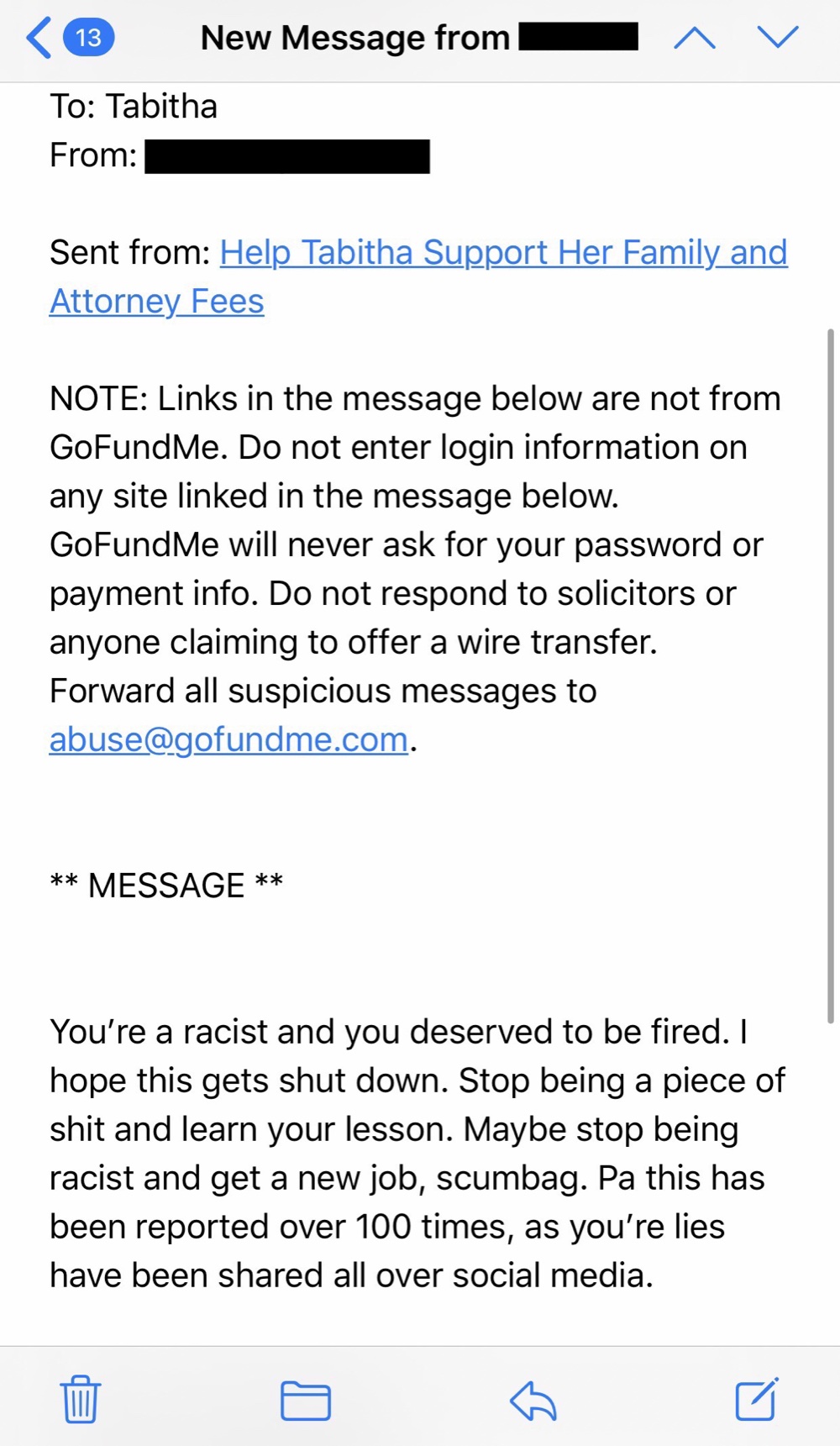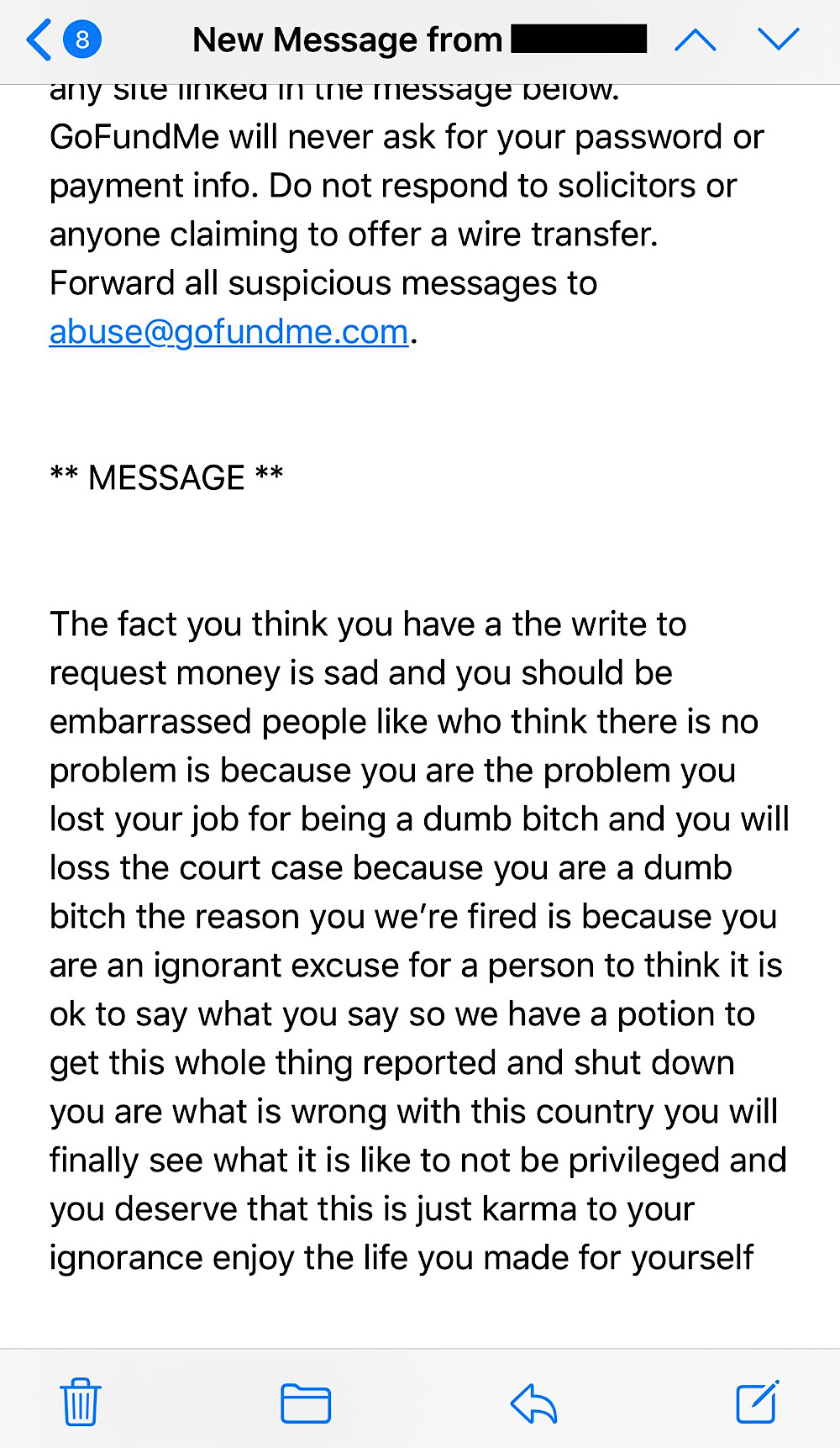 Morris also told Reclaim The Net that the threats have extended to anyone who supports her and that people are "terrified to speak out against this organization, for fear of retribution, loss of business, termination from employment, or any other way this organization can destroy your life."
Morris added that she's contacted attorneys to defend her position but her search has been futile:
"What has happened to me and others, should never be allowed to happen to anyone else. I do not have a degree. I spent the last 20 years at this practice, starting at minimum wage, and worked my way up, with hard work, continued education, and dedication…All of that has been taken from me, over a 3-minute video, stating I did not support a movement, and would not apologize for being born white."
Morris' experience is one of many similar stories where people have been targeted and punished for voicing their opinions, often losing their jobs, online accounts, or quitting their careers because of their social media posts.