UK's antitrust watchdog, the Capital Markets Authority (CMA), is investigating a requirement on Apple's App Store for web browsers. Telegram CEO Pavel Durov said he hopes that "regulatory action will follow" the investigation.
The requirement forces developers to use Apple's own WebKit to develop browsers for iPads and iPhones. The CMA said it had "concerns" about Apple not allowing browsers that do not use WebKit on iPhone as it harms competition.
"Apple bans alternatives to its own browser engine on its mobile devices; a restriction that is unique to Apple. The CMA is concerned this severely limits the potential for rival browsers to differentiate themselves from Safari (for example, on features such as speed and functionality) and limits Apple's incentives to invest in its browser engine," the CMA said in a press release.
Durov supports the CMA's argument, noting that Telegram has also noted issues with iOS Safari that the iPhone manufacturer "has been unwilling to fix or improve for years."
"I think it's an accurate summary [by the CMA] and hope that regulatory action will follow soon. It's sad that, more than ten years after Steve Jobs' death, a company that once revolutionized mobile web turned into its most significant roadblock," Durov wrote on his Telegram channel.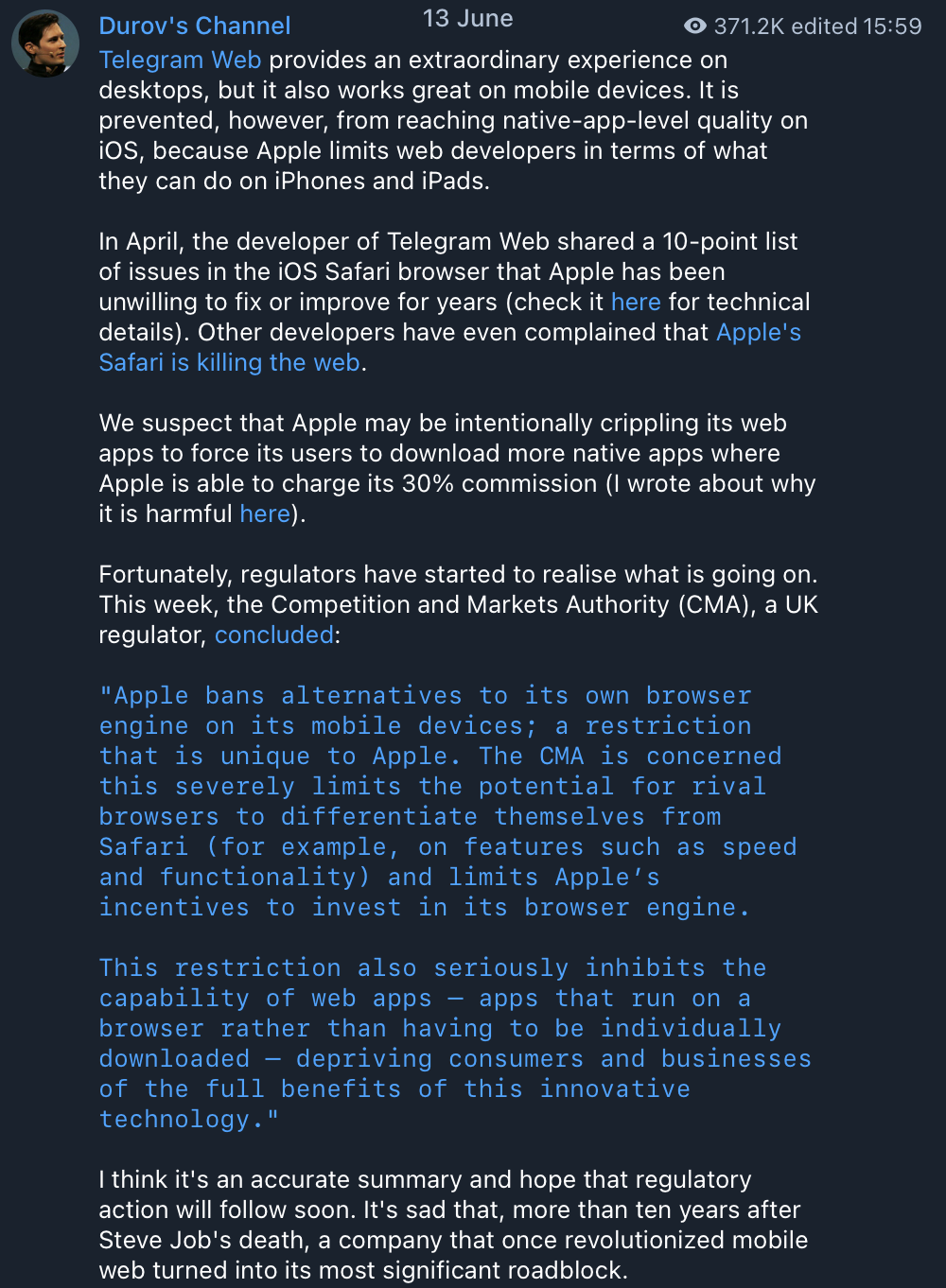 In the Telegram post, Durov asserted that Apple refuses to allow non-WebKit browsers to make sure developers only use the App Store so that they can get the 30% commission it charges for transactions.
"We suspect that Apple may be intentionally crippling its web apps to force its users to download more native apps where Apple is able to charge its 30% commission," he said.