Parler relaunched on Monday, after finding a new web hosting provider, Los Angeles-based SkySilk. The new web host said that while it "may disagree" with some of the content posted on the platform, it is committed to protecting free speech.
"SkySilk is well aware that Parler has received an aggressive response from those who believe their platform has been used as a safe haven for some bad actors," SkySilk's CEO Kevin Matossian said, speaking to NPR. "Let me be clear, SkySilk does not advocate nor condone hate, rather, it advocates the right to private judgment and rejects the role of being the judge, jury, and executioner."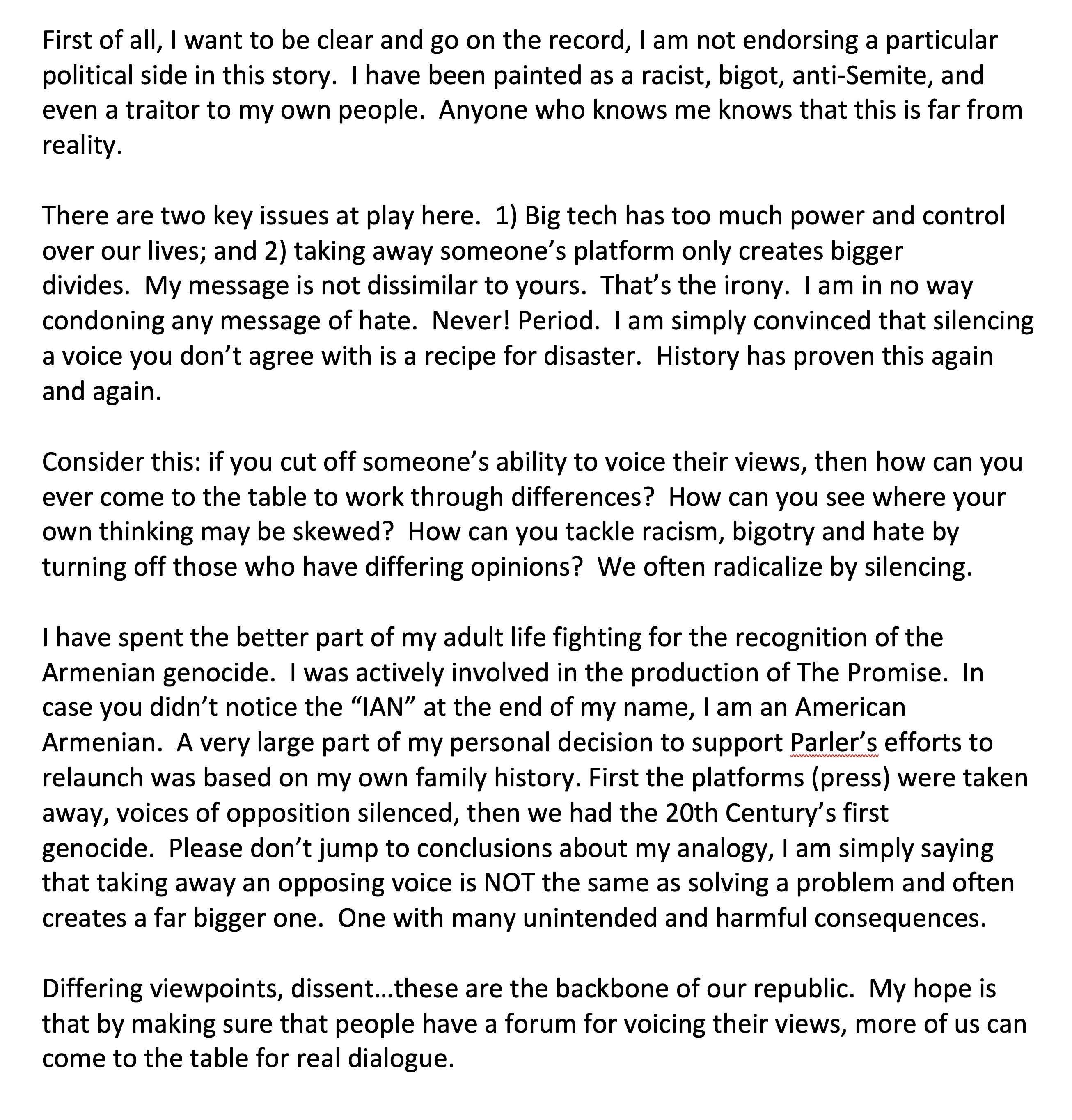 Matossian added that though his company might not agree with some of the content posted on the Twitter alternative, he believes that it is taking the "necessary steps" to moderate content.
Parler released new content guidelines on Monday, which include a "privacy-preserving process" that will use AI and human moderators to review content that potentially incites or threatens violence. Users will be given the chance to appeal if they feel their content was removed in error.
The new content guidelines will also not condone content that promotes crime. In an effort to moderate "hateful" content, the platform will use a "trolling filter" for posts that attack other users based on religion, gender, sexual orientation, and race. But those who want to view the hateful content can still do so by clicking on the filter.
Parler was booted from the internet by its previous web host, Amazon Web Services (AWS) for refusing to remove content that allegedly incited violence. Consequently, Apple and Google delisted Parler from their respective app stores.
SkySilk's CEO threw shade on these Big Tech companies for cutting ties with Parler.
"Once again, this is not a matter of SkySilk endorsing the message, but rather, the right of the messenger to deliver it. SkySilk will support Parler in their efforts to be a nonpartisan Public Square as we are convinced this is the only appropriate course of action," Matossian said.
"Unfortunately, too many of our fellow technology providers seem to differ in their position on this subject," he added, saying their response was "aggressive."
Unfortunately, Parler's relaunch has not been smooth. Its mobile app is not really working, while its website is loading extremely slowly.