End-to-end encrypted email provider Tutanota is being blocked by Three UK, a United Kingdom (UK) internet service provider (ISP).
According to Tutanota, the block has been in place since November and it has had "constant complaints from ThreeUK mobile users who were unable to access their encrypted Tutanota mailbox."
Tutanota said that other email services have not been blocked by Three UK, despite the ISP's claim that "any email account that you generate needs a 18+ confirmation."
Tutanota said that when it first contacted Three UK on November 11, the ISP told Tutanota that its email service had been placed behind an 18+ filter based on UK law and the European Union's General Data Protection Regulation (GDPR) and that Three UK users would have to contact the ISP individually to get the block lifted.
According to Tutanota, this didn't solve the issue and it contacted Three UK again on November 11. During this November 11 chat, Three UK's support again told Tutanota that users would need to contact Three UK individually and verify their age to get the block lifted. Tutanota said this solution still didn't work and that Three UK users told Tutanota they were still unable to access their mailbox.
On December 9, Tutanota made the issues they were having with Three UK public on Twitter. Three UK replied to some of these tweets by asking Tutanota to email Three UK if the filter had been applied to Tutanota incorrectly.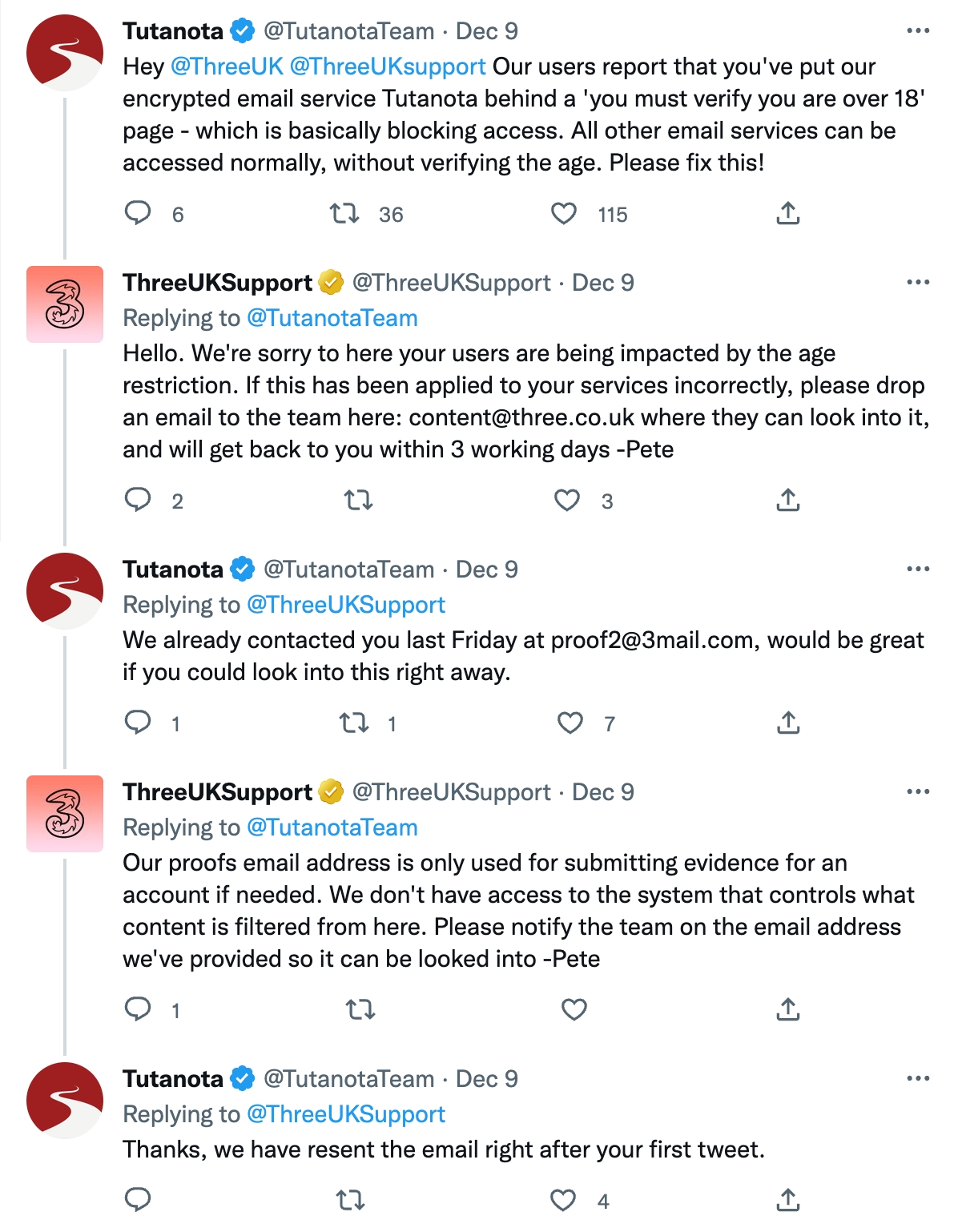 However, after these tweets, Tutanota said Three UK stopped responding and the block remained in place.
"ISPs must not have the power to decide which online services users can or can not access," Tutanota wrote in a blog post.
The privacy-focused email service added: "As ThreeUK has not fixed the issue more than one month since we first raised the issue with them, we are reaching out publicly in the hope of getting the attention of the right people at ThreeUK."
Tutanota is advising Three UK users that can't access Tutanota to use a virtual private network (VPN) or the Tor Browser to access their mailbox.
Related: Open-source, no-logs, VPN providers
This is the latest of several blocks Tutanota has faced from internet infrastructure providers and tech giants. The service was blocked in Egypt in 2019 and blocked in Russia in 2020. It was also temporarily blocked by the United States (US) ISP AT&T for mobile users in 2020. Additionally, Microsoft Teams and streaming service Crunchyroll blocked Tutanota users from registering accounts this year. The Crunchyroll block was subsequently partially lifted.