Tibetans, Uyghurs, and other activists held a protest outside Apple's flagship store in the Carnegie Library, Washington DC this week to protest Apple's censorship at the behest of the Chinese Communist Party and call for the company to protect free speech and human rights.
The protest was organized by the international consumer group SumOfUs and activist group Students for a Free Tibet. It took place one day after Apple CEO Tim Cook testified to Congress during a hearing on antirust laws.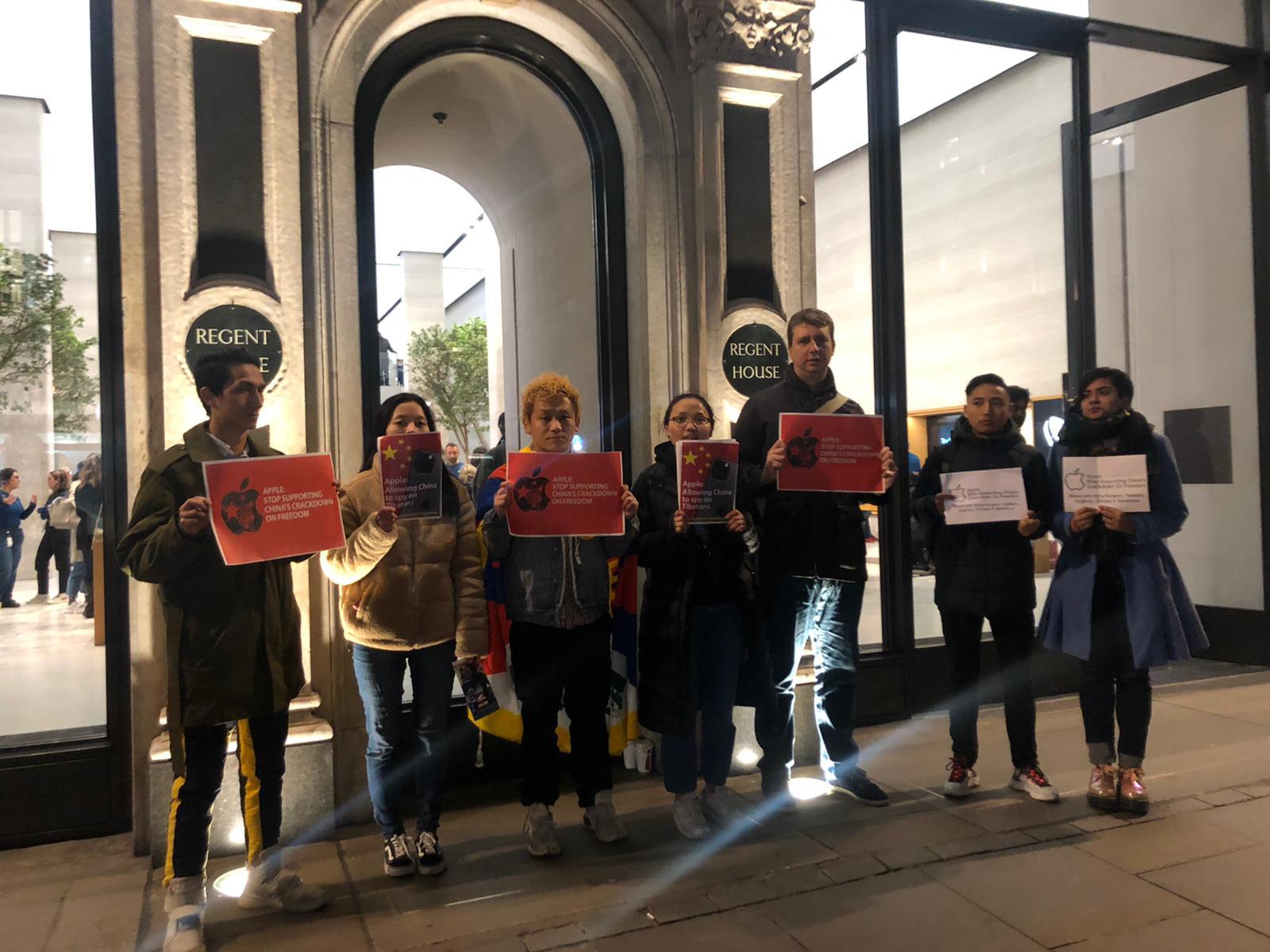 Protesters held banners and wore face masks containing an Apple logo that had been adapted to resemble the logo of the CCP and also held banners calling for Apple to protect human rights in China.
The protestors criticized the tech giant for deleting more than 1,000 virtual private networks (VPNs) from China's App Store at the request of CCP in recent years and wrote that Apple's censorship of VPNs has resulted in "Tibetans, Uyghurs, Hong Kongers and other human rights defenders unable to protect themselves from government surveillance and repression."
The protestors also expressed "solidarity with the people of Hong Kong as the draconian National Security Law is implemented."
Additionally, the campaign's organizer, Sondhya Gupta, blasted Apple for removing other types of apps from China's app store including news and podcast apps. Gupta said that "years of coddling by corporations like Apple" is emboldening the CCP into "expanding its unprecedented censorship machine."
Campaign Director Pema Doma added: "Apple's actions today will impact the privacy and digital security of billions of people for generations to come, especially in places like Tibet that are ruled by authoritarian regimes. If Apple wants to be recognized as a responsible global leader, it needs to start respecting the rights of all its consumers and stop kowtowing to dictators."
Irade Kashgary from the Uyghur American Association, who attended the protest, said:
"Companies like Apple can't continue to claim to the American public and Congress that they support freedom and privacy, whilst at the same time enabling the CCP's surveillance and oppression.

We ask that everyone speak up against companies that suppress freedom of expression in China. As we stand here beside allies who have also faced immense persecution at the hands of the CCP, we trust that our voices are getting stronger and louder, as we continue to work together so that censorship and oppression will never be tolerated in China or internationally."
Related: ? Apple's history of censorship: 10+ years of crackdowns on news, apps, music, and more
In February, protest organizers SumOfUs put forward a motion for Apple to publicly declare freedom of expression a human right. 40% of votes were cast in favor of the motion but it was ultimately rejected.
Apple has faced heavy criticism for its mass censorship of apps in mainland China at the behest of the Chinese government – a country where it admits the app takedowns far-outweigh those in other countries.
In addition to the censorship, digital rights groups and human rights activists have slammed Apple for ignoring the CCP's human rights violations against Uyghur Muslims.
US lawmakers have asked Apple to testify on privacy and censorship concerns regarding China twice but Apple has ignored both of the requests.