ToTok, a video chat app that works for both iOS and Android devices, has been removed from the Google Play Store and Apple app due to allegations that the app is helping the United Arab Emirates government to spy on users.
This is the second time that the app was pulled from the Google Play Store.
Google first pulled ToTok from its Play Store in December 2019 for the same reason.
It was then reinstated in January after the developers introduced an update to the app which brought in a dialog box that asked users' permission to access and sync their list of contacts.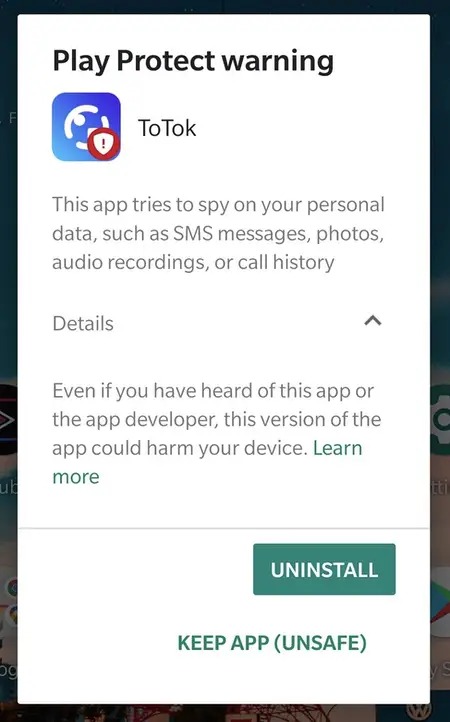 Google again pulled ToTok from the Google Play Store this week.
Google also warned users who have already installed the app on their device through a warning box that appears when they open the app.
The warning says that the app spies on users' data such as SMS messages, photos, audio recordings and even call history.
It further warns that any version of the app is not safe for users and offers the option to uninstall the app should the users want it removed from their device.
Responding to the removal of their app from Google Play Store and Apple App Store, ToTok couldn't help but be concerned and disappointed.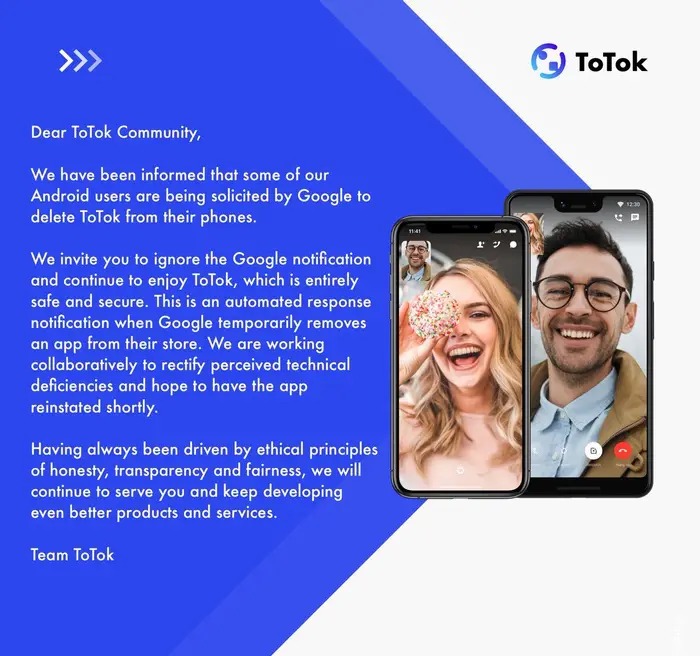 The company thinks that it is another attack against them by the more powerful and dominant market players.
Questionably, ToTok also said that their app is still available in the Samsung, Huawei, Xiaomi, and Oppo app stores.
ToTok urges users to ignore Google notification and instead continue to enjoy using the video chat app.
Security expert Graham Cluely said:
"I'm not sure, however, that I would feel terribly comfortable using ToTok right now. If Google says the app is spying on users, it's a brave person who ignores the warning and carries on using it regardless. It's not as though there aren't other methods of communication out there."