John Gibson, the CEO of video game publisher and developer Tripwire Interactive, has stepped down after a tweet from his personal account triggered a mass online cancel campaign that resulted in the company losing contracts, its games being review bombed, and calls to boycott its games.
On September 4, Gibson tweeted his support of the US Supreme Court affirming the Texas law that bans abortions for unborn babies with a heartbeat and noted that he felt it was important to "go on the record as a pro-life game developer" because there are "so many vocal peers on the other side of this issue."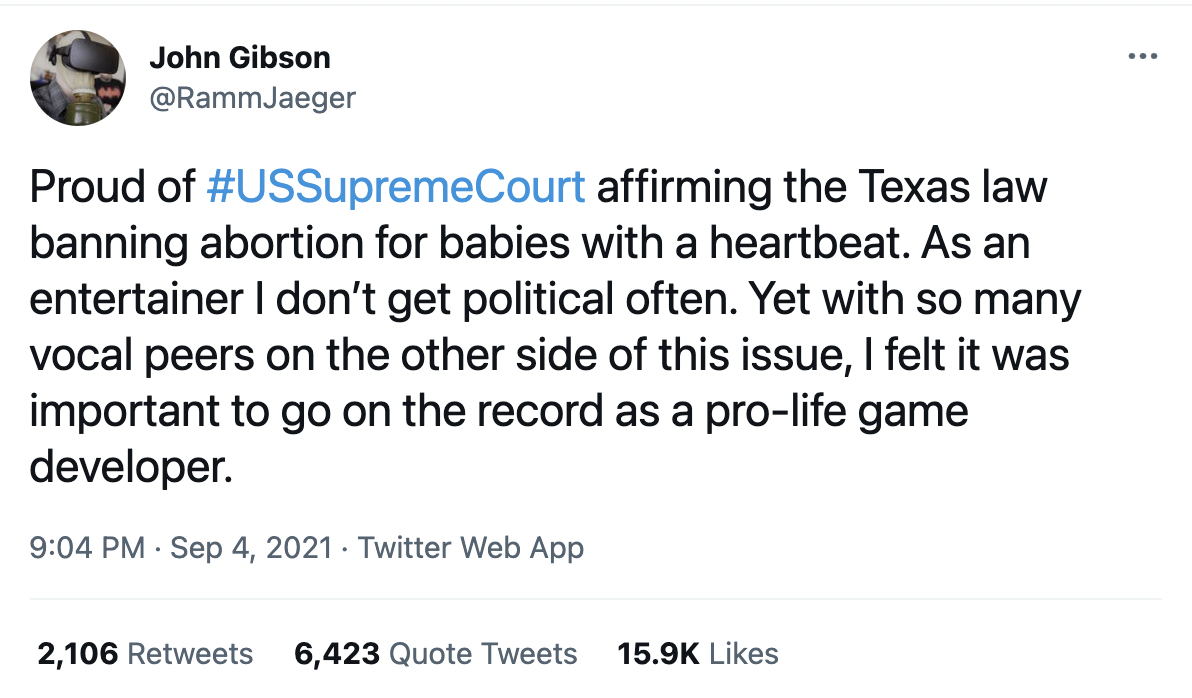 A day later, Shipwright Studios, a company that provides co-development services for the game industry and has contributed to the Tripwire games Chivalry 2 and Maneater, announced that it would be cutting ties with Tripwire in response to Gibson's tweet.
"While your politics are your own, the moment you make them a matter of public discourse you entangle all of those working for and with you," Shipwright Studios tweeted in response to Gibson.
Shipwright Studios continued by describing its decision as "regrettable" and announcing: "We cannot in good conscience continue to work with Tripwire under the current leadership structure. We will begin the cancellation of our existing contracts effective immediately."
On September 6, Torn Banner Studios, the developer of Chivalry 2, which was published by Tripwire, also spoke out against Gibson's tweet.
"We do not share the opinion expressed in a recent tweet by the president of Tripwire, publisher of Chivalry 2," Torn Banner Studios tweeted. "This perspective is not shared by our team, nor is it reflected in the games we create. The statement stands in opposition to what we believe about women's rights."
But the pushback against Gibson's tweet didn't end with canceled contracts and condemnation from Torn Banner Studios.
Several of Tripwire's games, including Maneater and Killing Floor 2, were also bombarded with negative Steam reviews that took aim at Gibson.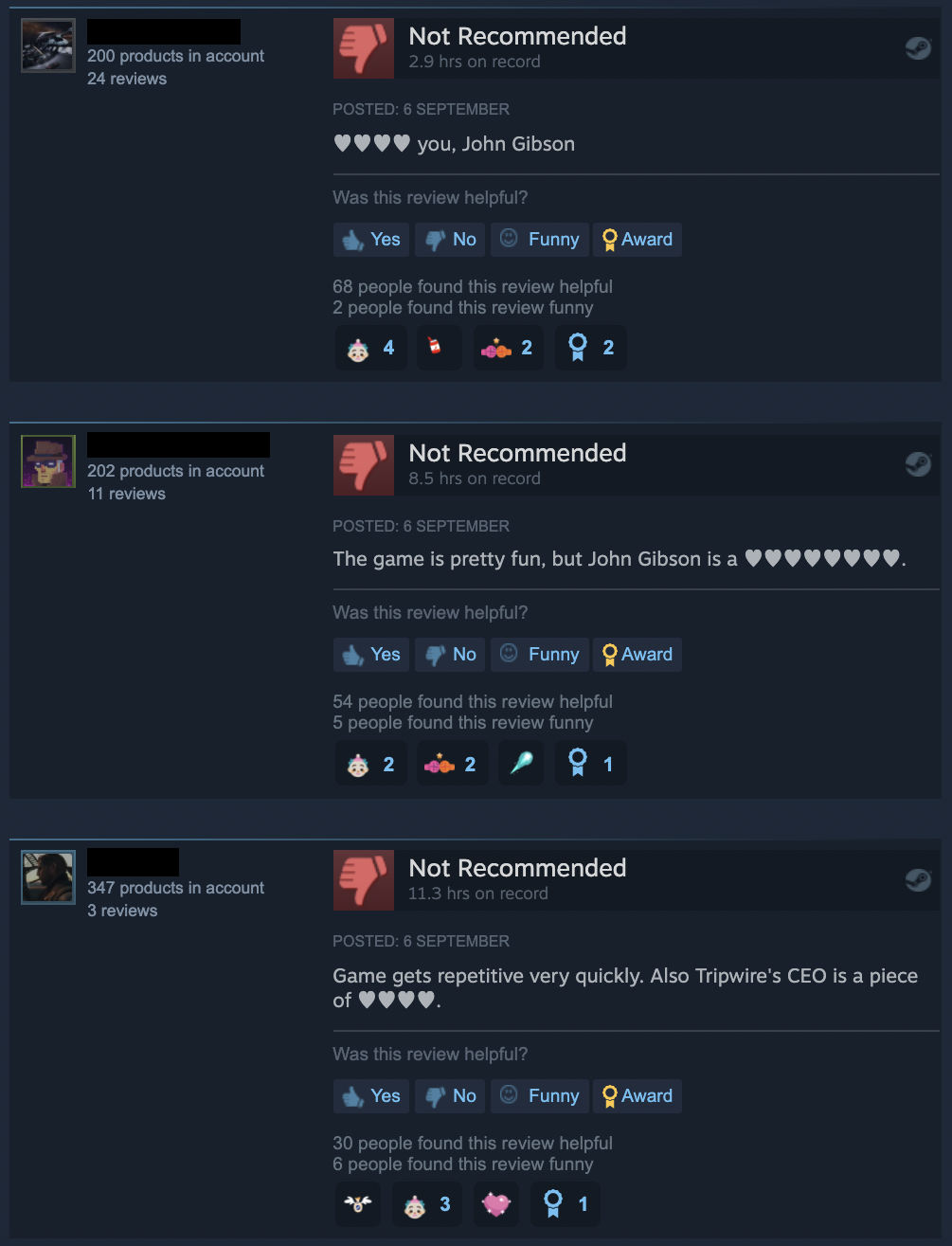 In the case of Killing Floor 2, the recent negative reviews were enough to give the game a "Mixed" recent rating, even though the game has an overall rating of "Very Positive."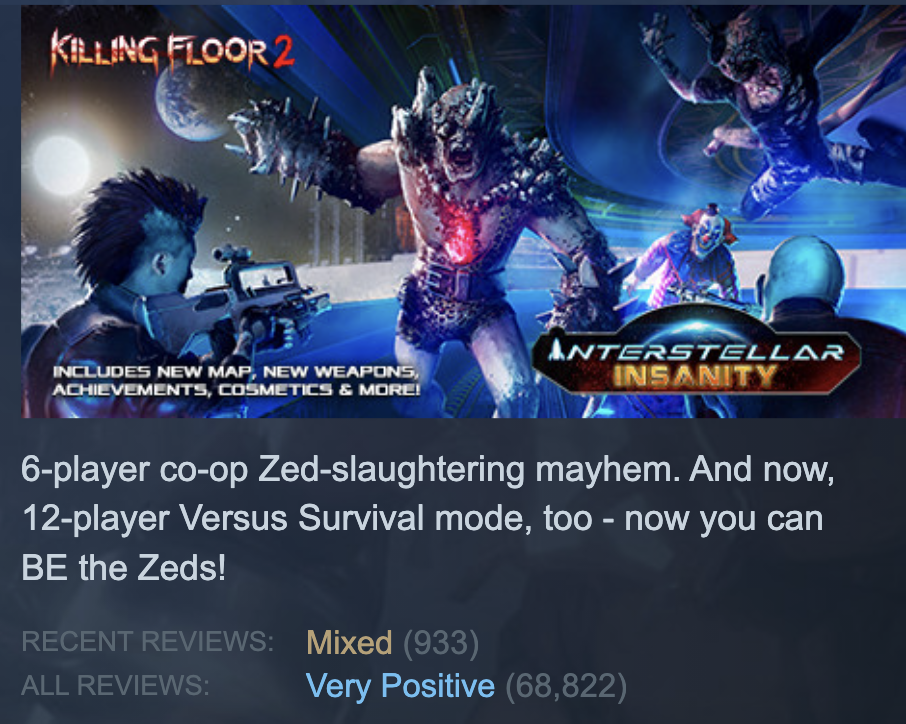 And on Twitter, there were numerous calls to boycott the company and even ban it from doing business in the US.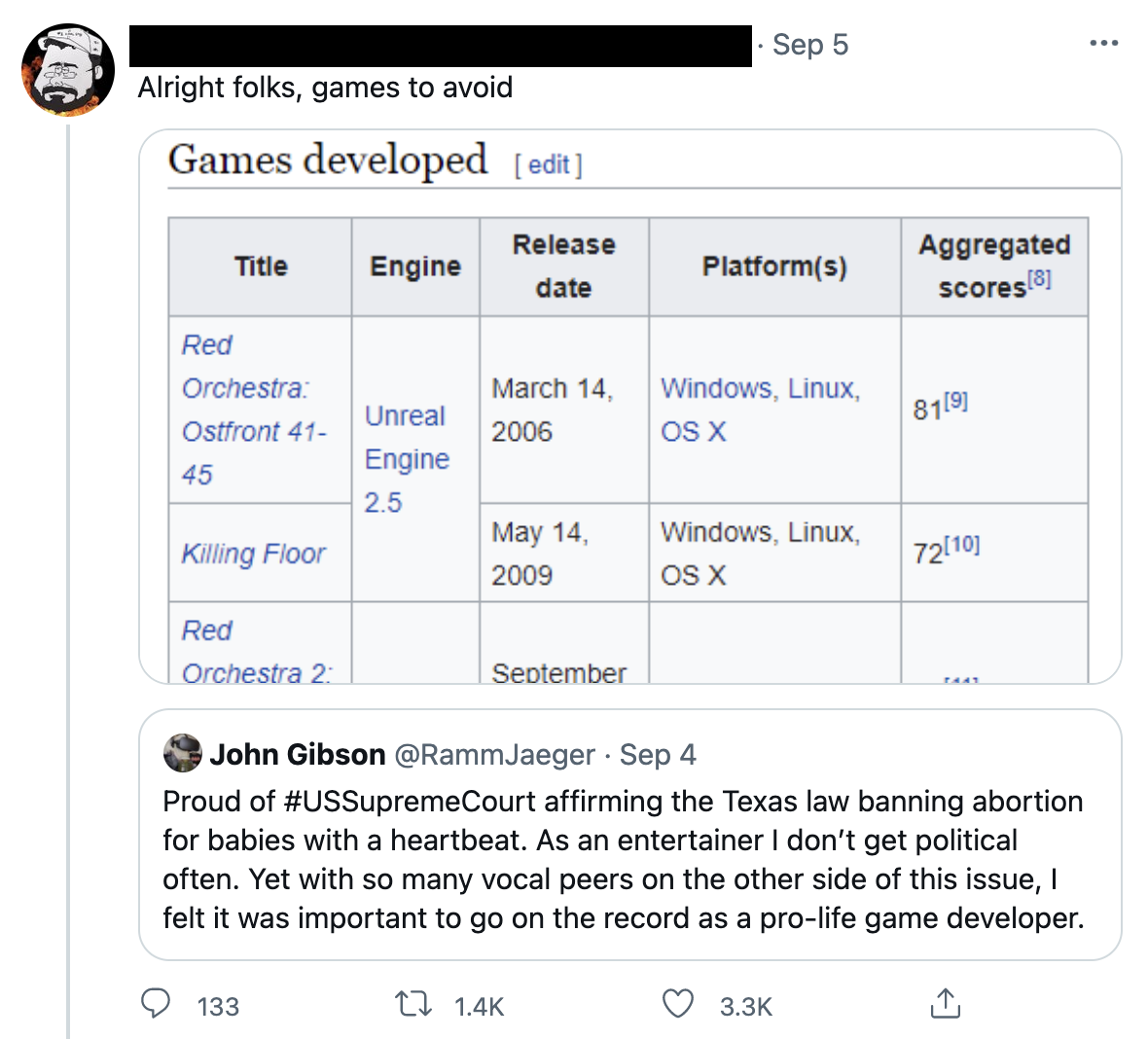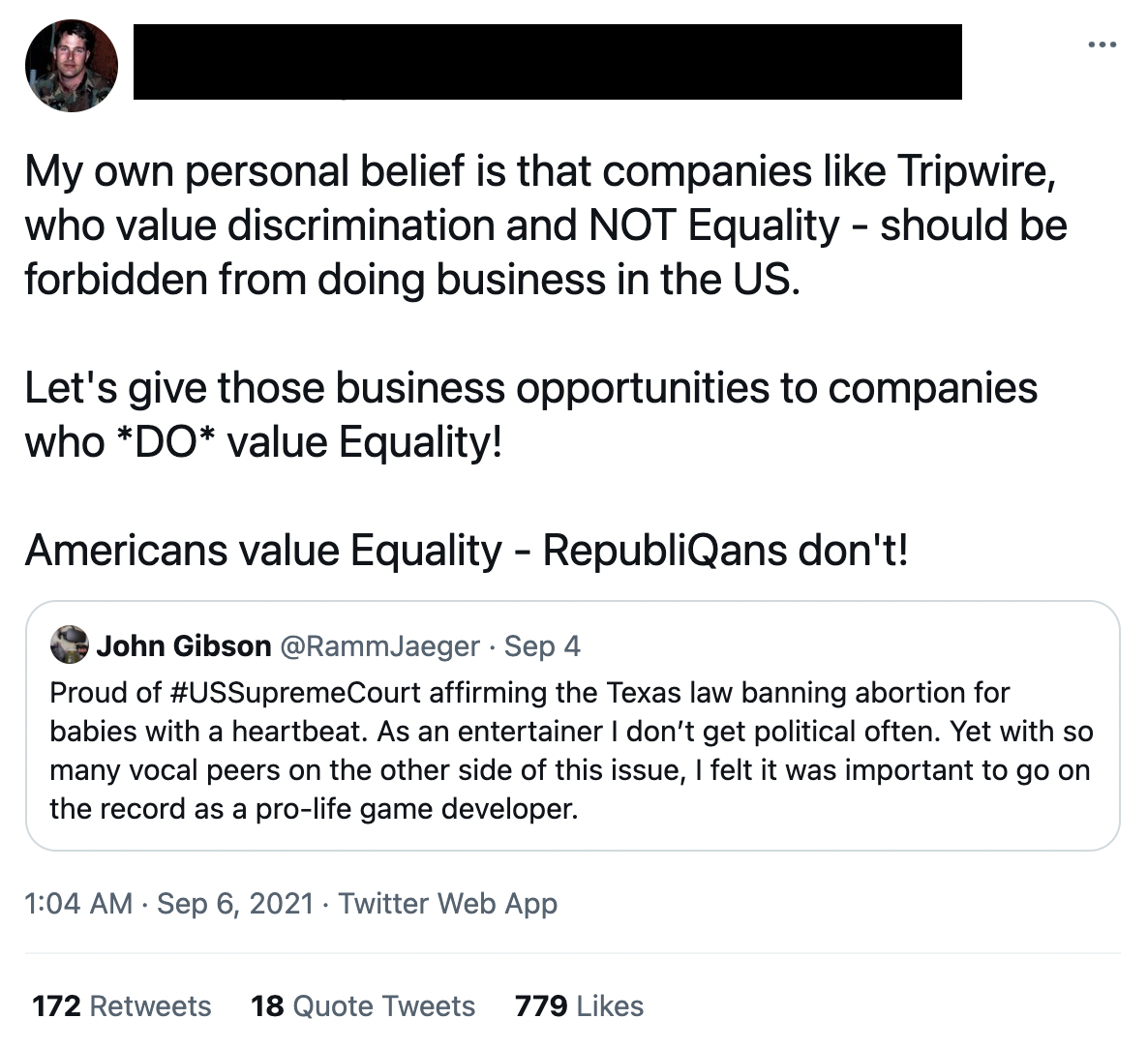 Less than three days after Gibson sent the tweet, the mounting pressure on Tripwire culminated with the company announcing that Gibson had stepped down and that co-founder and current Vice President Alan Wilson will take over as interim CEO.
"The comments given by John Gibson are of his own opinion, and do not reflect those of Tripwire Interactive as a company," Tripwire said in a statement. "His comments disregarded the values of our whole team, our partners and much of our broader community. Our leadership team at Tripwire are deeply sorry and are unified in our commitment to take swift action and to foster a more positive environment."
Ironically, Tripwire also claimed that the new interim CEO Wilson would be promoting "open dialogue" at the company as it announced Wilson would be leaving his role over a tweet:
"Alan will work with the rest of the Tripwire leadership team to take steps with employees and partners to address their concerns including executing a company-wide town hall meeting and promoting open dialogue with Tripwire leadership and all employees. His understanding of both the company's culture and the creative vision of our games will carry the team through this transition, with full support from the other Tripwire leaders."
As with many online cancel campaigns, Gibson losing his job, Tripwire losing contracts, the recent review score for some of Tripwire's games tanking on Steam, and users threatening to boycott the company, still isn't enough for some.
Now, several Twitter users are taking issue with Gibson potentially still making money from Tripwire and one of interim CEO Wilson's LinkedIn profile pics where he was holding a gun.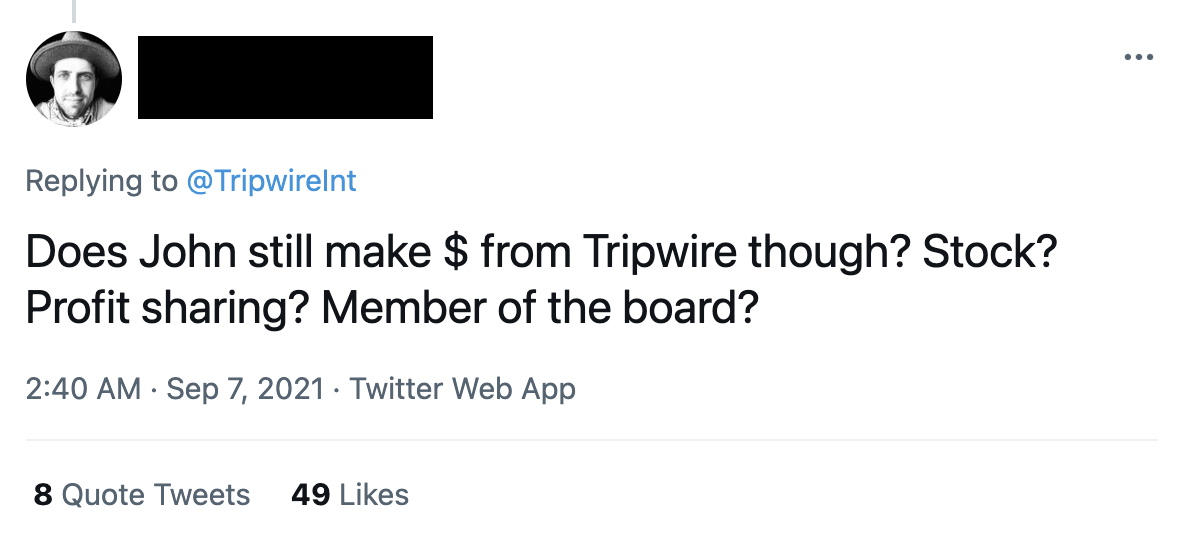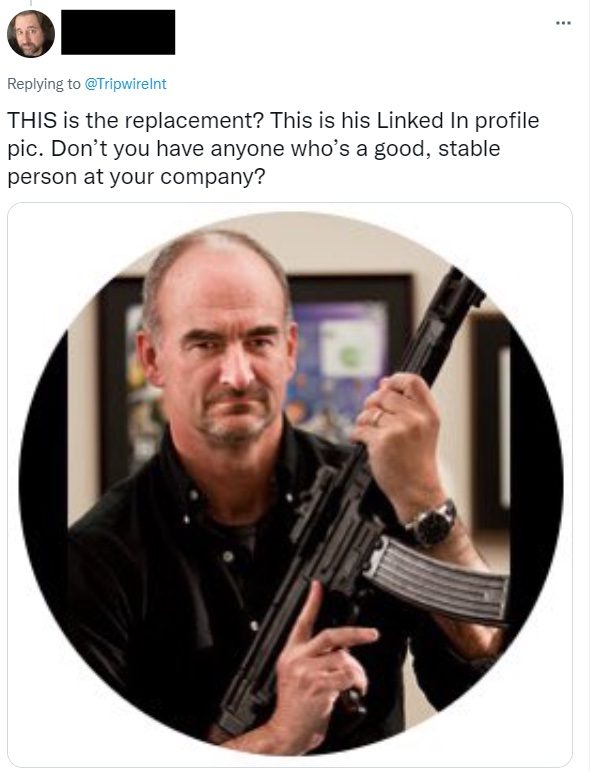 This cancel campaign is reflective of many that have gone before, where an individual has lost their job for posts on their personal account. Some recent examples include Barren Magazine's former poetry editor Danielle Rose parting ways with the magazine after tweeting that the general population has "no interest" in poetry and Catholic chaplain Father David Palmer being dropped by the University of Nottingham over pro-life views that he expressed on social media.