President Trump's viral meme featuring former President Obama reacting to 2020 presidential candidate Joe Biden's comments about children has been blocked on Twitter after a questionable copyright claim from Warner Chappell Music.
The meme, which racked up 14.9 million views on Twitter before it was blocked, adapts an Allstate Insurance commercial featuring the company's spokesman Dennis Haysbert where he and his friends are watching a baseball game and then react to a commercial featuring Haysbert.
In Trump's meme, Obama's head is placed on Haysbert's body and he and his friends react to a 2017 clip of Biden where he said "the kids used to come and reach in the pool and rub my leg down" and "I love kids jumping on my lap."
Obama squirms uncomfortably while the others watch the clip in shock and turn to Obama before he says "What?"
The meme closes with a Trump-Pence 2020 graphic and a brief clip of the track Let Me Clear My Throat (Old School Reunion Remix '96) from DJ Kool.
The music that plays for just 10 seconds, is being used in the context of parody, and appears to meet many of the factors for fair use – a provision in copyright law that allows limited use of copyrighted work without permission from the copyright holder.
When determining fair use, judges will consider whether the use of the copyrighted work is transformative, the nature of the copyrighted work, how much of the original copyrighted work is used, and the effect of the use of the copyrighted work on the potential market.
According to attorney Rich Stim, parody often allows for a "fairly extensive use" of the original work:
"Judges understand that, by its nature, parody demands some taking from the original work being parodied. Unlike other forms of fair use, a fairly extensive use of the original work is permitted in a parody in order to "conjure up" the original."
But despite the music only being used briefly and being used in the context of parody, Warner Chappell Music filed a Digital Millennium Copyright Act (DMCA) notice which resulted in the meme being blocked on Twitter.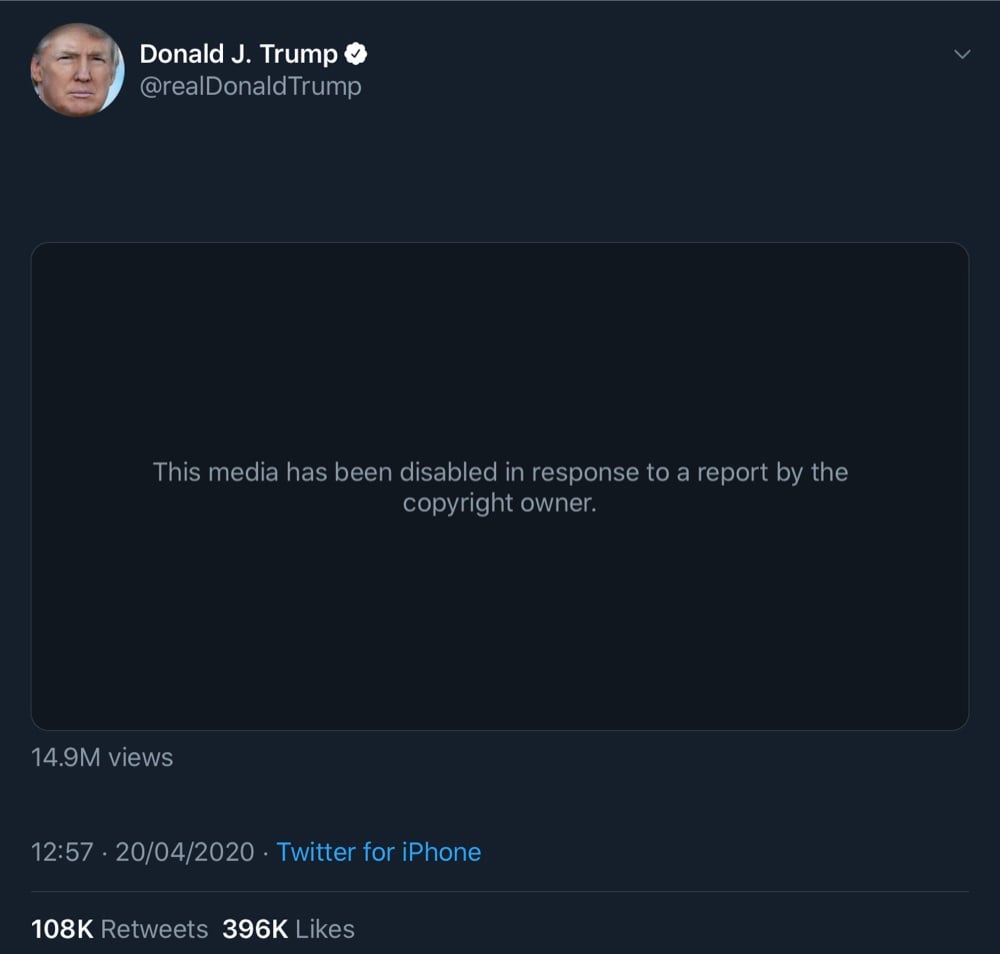 The DMCA notice was filed after DJ Kool posted a now-deleted Instagram video where he addressed the use of his music in the Trump meme.
"I didn't have a damn thing to do with that. I got my people on top of that situation right now," DJ Kool said. "I had nothing to do with the music that was being played in that Trump Twitter post and I'm trying to get something done about that as soon as possible."
While this is a meme, some have argued that it serves as an unofficial campaign ad.
Political campaign videos and ads aren't usually protected under these fair use laws and require greater legal permissions to use copyrighted music which could give Warner Chappell Music the legal justification to keep the meme down.
This is the latest of several viral Trump memes that have been blocked via copyright claims since he became president, with previous examples including:
The takedown of yet another Trump meme on copyright grounds epitomizes the state of the internet's broken copyright laws where even the President of the United States can have his content blocked for using a tiny fraction of a song in a meme that appears to meet all four of the factors for fair use.