Data from SensorTower has shown that President Donald Trump's TRUTH Social has overtaken Twitter on the iPhone App Store in the US.
Elon Musk, who won his bid to acquire Twitter on Monday pointed out the massive growth of the TRUTH Social Platform, likely highlighting that people are crying out for free speech in an age of massive social media censorship.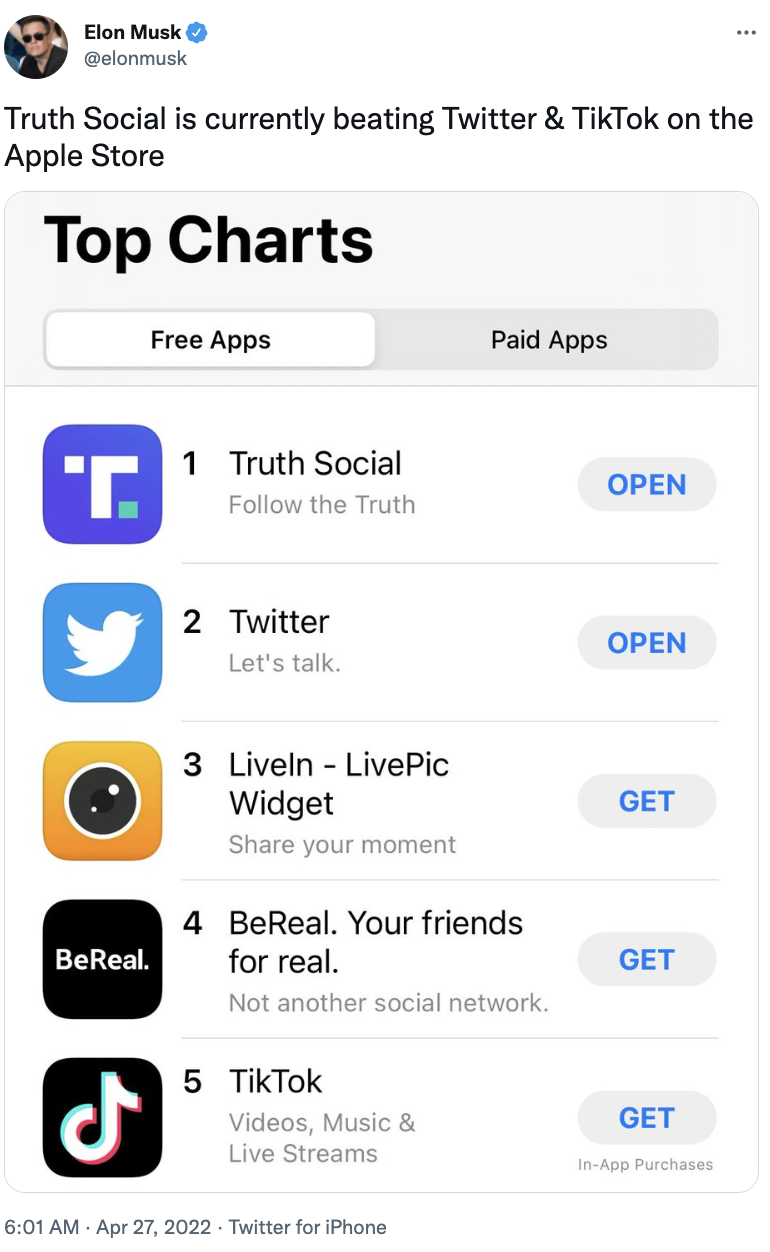 Some ten months after he was excluded from major social media sites while still the sitting US president, Donald Trump launched his own social media platform earlier this year. The app was initially popular but most users had been stuck on a waiting list.
However, last week, it was confirmed that TRUTH Social was now powered by Rumble Cloud, the cloud services product from rapidly growing video platform Rumble that is branching out into more product offerings.
TRUTH Social's partnership with Rumble gave it the infrastructure and stability it needed to start onboarding those who were on the waiting list and has enabled many more people to use the app – likely the reason for it shooting to the top of the App Store again this week.
Even if Twitter's new owner Elon Musk reinstates his account, former President Donald Trump will not rejoin Twitter, he says. Instead he will begin using his own TRUTH Social. That's according to an interview with Fox News.
In the interview, the former president said he will begin using his own social media app in the next week.
"I am not going on Twitter, I am going to stay on TRUTH," Trump said. "I hope Elon buys Twitter because he'll make improvements to it and he is a good man, but I am going to be staying on TRUTH."
"We're taking in millions of people, and what we're finding is that the response on TRUTH is much better than being on Twitter," Trump continued. "Twitter has bots and fake accounts, and we are doing everything we can."
"The bottom line is, no, I am not going back to Twitter."
Responding to a question of whether he views Twitter as a competitor to TRUTH Social, Trump said: "I think it is good. We want liberty and justice and fairness in our country, and the more we can have open, the better. But no, I don't view that as a competition for what I am doing.
"This is a platform for my voice. TRUTH is a platform for my voice and for my supporters. But I want everybody to come over to TRUTH – conservatives, liberals, whatever."
The former president explained that Twitter "became very boring because conservatives were thrown off or got off the platform when I left."
"It became boring because there was no interaction," Trump added. "The interaction on TRUTH has been amazing. We want everybody."
On Monday, after Twitter announced it would be acquired by Musk for $44 billion, Musk reiterated his stance on free speech, tweeting: "I hope that even my worst critics remain on Twitter, because that is what free speech means."