Twitter has banned another account set up to back journalist Julian Assange in his plight as a political prisoner.
Following a familiar pattern when it comes to censorship of political topics, Twitter has not yet given any explanation for the move.
Redacted Tonight head writer and host Lee Camp tweeted about this, interpreting it to mean that the social media platform is trying to slow down support for Assange, who he said is one of the most famous political prisoners in the world.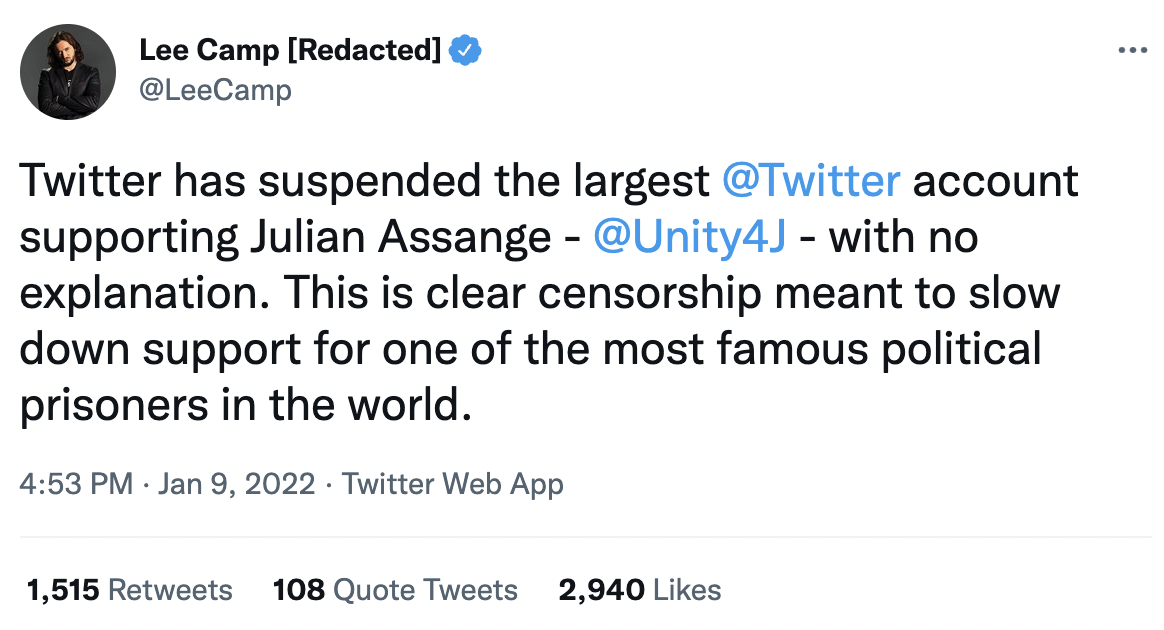 A look at the archived content tweeted by the now banned account, @Unity4J, does not seem to provide any clues as to what Twitter may consider its guidelines or policies violated – unless supporting Assange is banned per se.
The WikiLeaks founder, journalist, and publisher remains in danger of being extradited to the US from the UK, where he is jailed.
If put on trial and found guilty in the US, he could spend the rest of his life in prison for engaging in what supporters say were his own and his site's practices that amount to standard investigative journalism.
In the past, @Unity4J posted messages calling on everyone who believes in journalism to take Assange's side in the legal affair, criticizing elites for wanting to lock him up, and announcing interviews with high profile figures like Noam Chomsky, among other similar content.
This is not the first time @Unity4J has been in trouble on Twitter. In July 2019 the account got banned with no explanation and notice for at least several days. The only message @Unity4J operators could see is that it had been suspended.
At the time, those behind the account tried appealing the ban, but initially received no response.
Founder ElizabethVos said in a tweet that although Twitter was silent regarding the reasons for the ban, the activists who run it were certain that what they called "horrendous censorship" was an attempt to silence a leading online hub for information regarding events and activities organized to support Assange, WikiLeaks, Chelsea Manning and others.
ElizabethVos also stressed that the account was not violating Twitter's policies, and is "an activist account supporting a journalist who's been silenced or 'disappeared'."
"So this suspension is an extension of that suppression," they wrote in the summer of 2019.