Following a string of undercover exposés into how CNN injects bias into narratives, Twitter has suspended Project Veritas's founder, James O'Keefe.
Project Veritas has, for several years, been releasing exclusive undercover video footage that exposes the biases of TV networks, the media, and Big Tech.
The Project Veritas account had already been suspended by Twitter earlier this year for a video confronting Facebook's Vice President of Integrity about political bias the platform had been partaking in. Twitter said the confrontation video showed "private information."
The censorship of Veritas was brought up in congressional hearings about Big Tech's legal liabilities and shields in March.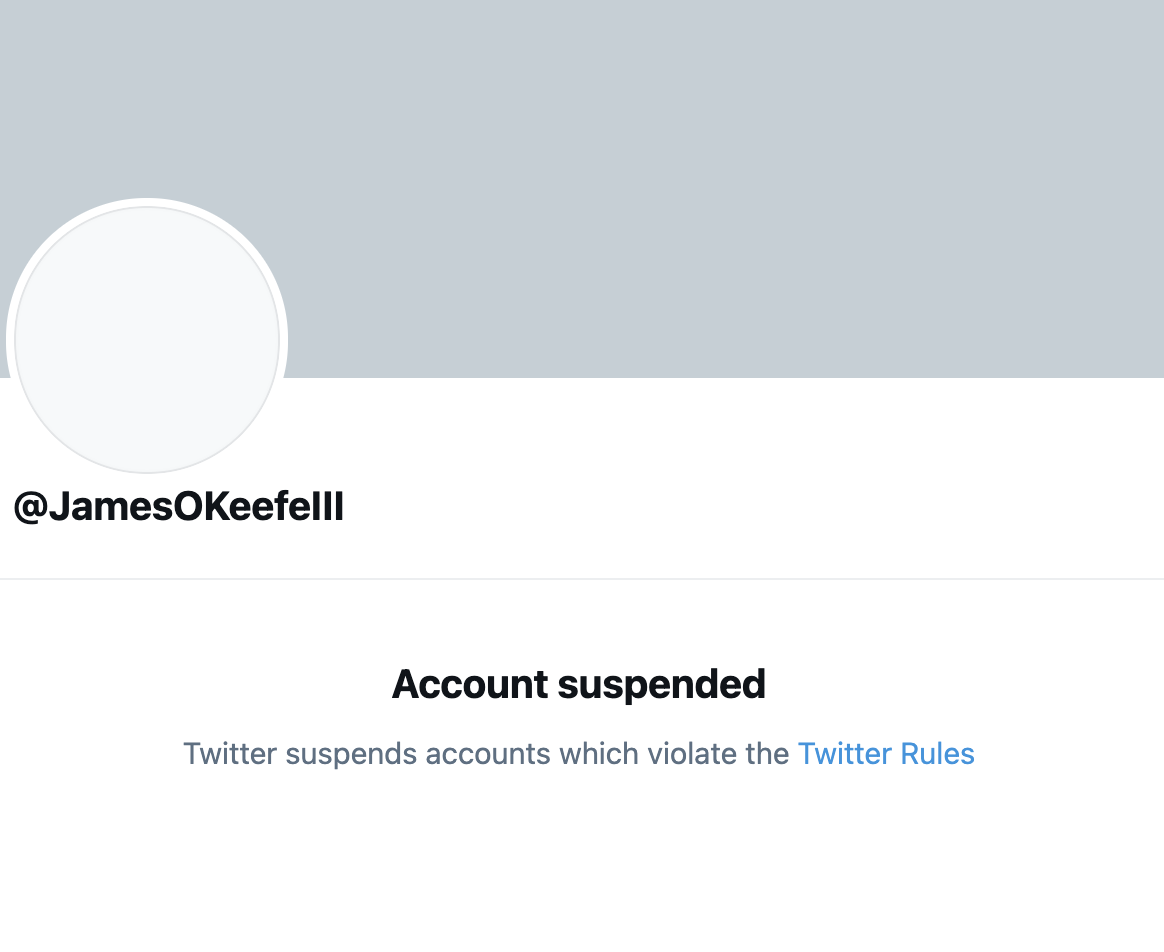 While Project Veritas had already been banned, the account of O'Keefe was still available on the platform – until today, the same day an explosive exposé on CNN continued to trend on Twitter.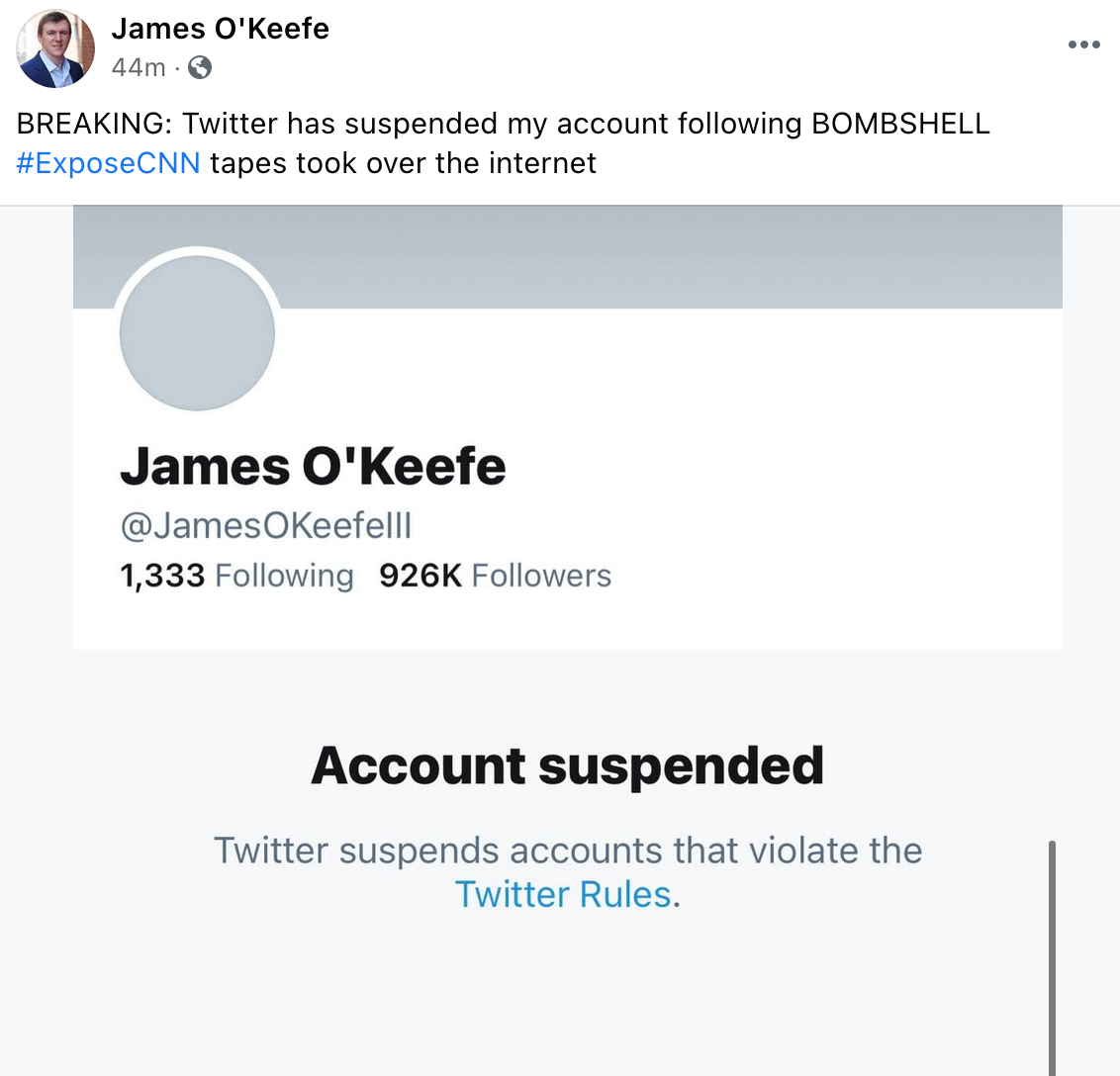 The undercover CNN videos covered CNN refusing to report on information that went counter to the narrative it wanted to convey, as well as the way in which CNN had amped up the coronavirus fears to increase viewership and engagement.
"Look what we did, we [CNN] got Trump out. I am 100 percent going to say it, and I 100 percent believe that if it wasn't for CNN, I don't know that Trump would have got voted out…I came to CNN because I wanted to be a part of that," CNN's Technical Director Charlie Chester was caught saying in the trending video.
O'Keefe told Fox News, "It's probably the biggest story by implication. What it represents – this guy, a director at CNN…he's admitting the network is propaganda. He says they were trying to get Trump out without admitting that's what they were doing and saw me confront him about that. I just want them to be honest, he's not being honest."
In a statement about the sudden ban, a Twitter spokesperson said O'Keefe had been banned due to their "platform manipulation and spam" policy. "…you can't mislead others on Twitter by operating fake accounts," and "you can't artificially amplify or disrupt conversations through the use of multiple accounts."
It's unclear what Twitter is referring to.
Twitter sent O'Keefe a similar message: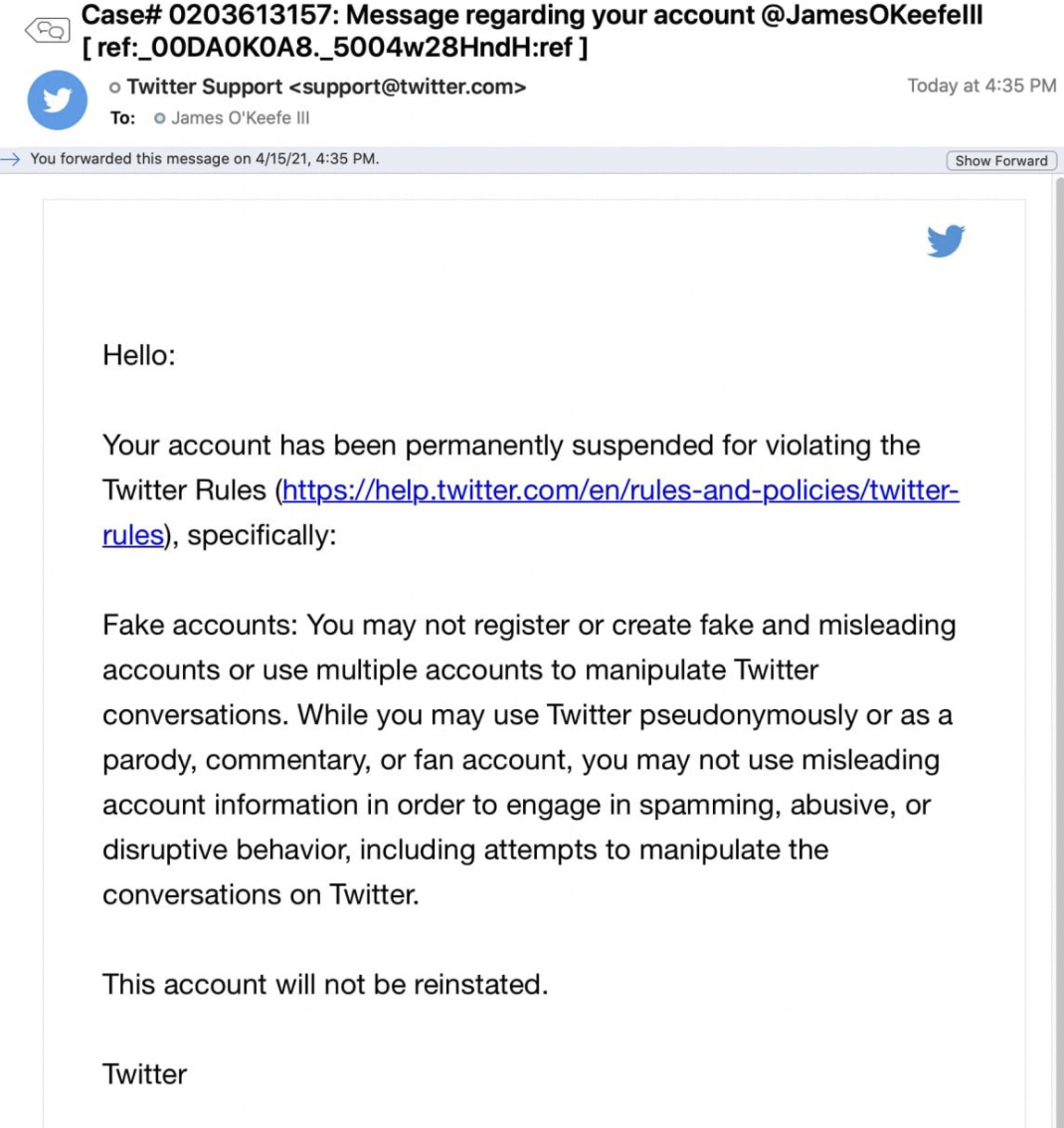 On Telegram, O'Keefe said he was suing Twitter. "I am suing Twitter for defamation because they said I, James O'Keefe, 'operated fake accounts.' This is false, this is defamatory, and they will pay," he said.
Project Veritas has a long history with Twitter. In the past, Veritas leaked undercover information about a Twitter's engineer's bias from inside the company, as well as an internal conference call of Twitter CEO Jack Dorsey.