Independent journalist Nick Monroe, who is known for his in-depth tweet threads, has been permanently banned from Twitter for violating its rules against evading permanent suspension. While Monroe acknowledges that he did have an account that was banned from Twitter three years ago, many people are questioning Twitter's motives in choosing to enforce this rule now at a time when his @nickmon1112 account was rapidly growing in popularity.
Monroe's tweet threads primarily focused on breaking news and debunking fake news but he also did some movie commentary threads. Many journalists, commentators, and YouTubers used Monroe's news threads as a source of reference when creating their content. Monroe's news threads have also been consistently cited by many news outlets including Breitbart News and The Daily Caller.
In 2019 his threads have gained significant traction with his coverage of the Christchurch shootings and Jussie Smollett being two of the many popular tweet threads he's produced this year. The popularity of these tweet threads and others helped him reach 47,800+ Twitter followers (archive link) before he was banned – an increase of 20,100+ followers since the start of the year (archive link).
In an email, Twitter said Monroe had violated its rules around evading permanent suspension.
https://twitter.com/brittpettibone/status/1133350536068026368
Monroe acknowledges that his previous Twitter account @farttocontinue which focused on GamerGate and had around 8,000 followers was banned by Twitter in 2014. He says he became a games journalist in 2015 and used his @nickmon1112 account as a chance to start over. Twitter hasn't specified how Monroe broke the rules but this is the most likely reason for the ban.
While this does appear to be a violation of the rules, the timing is suspect with Twitter waiting over three years to enforce these rules and removing Monroe's account at a time when it was growing rapidly.
Some Reddit users are highlighting that it's particularly suspicious that Monroe's account was removed less than a day after he published a tweet thread calling out Time magazine's Ian Bremmer for promoting a fake Trump quote on Twitter.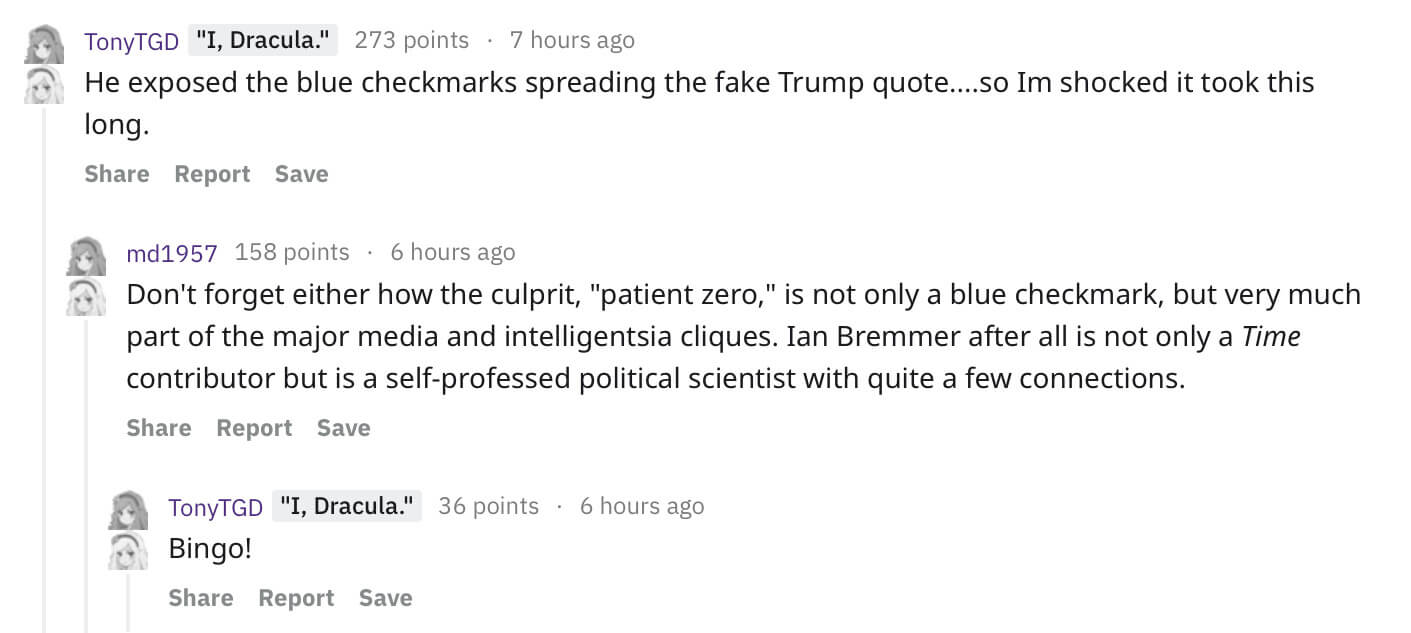 Monroe is still active on Gab and Telegram – two platforms which are committed to protecting free speech. Gab allows all legal speech under the First Amendment of the United States Constitution while Telegram says that it's passionate about freedom of speech and highlights how in many countries, it's the only platform that allows independent sources of information to be transmitted.
Monroe's Twitter ban is the latest example of social media platforms digging into people's past comments in order to find reasons to ban them. Facebook recently gave Global Editor-in-Chief of Human Events Raheem Kassam a seven day ban for simply posting "men can't be women" 11 years ago. Leaked documents have also revealed that Facebook is using out of context comments from a 2007 speech that happened off Facebook as part of its reasoning to list conservative author Brigitte Gabriel as a "hate agent" – a designation that can lead to permanent account suspension.
These same social media platforms are also expanding their rules so that increasingly innocuous things can lead to account suspensions. Facebook has one of the most restrictive rulesets in this area with the following actions now being grounds for account termination:
Based on Facebook's existing rules and standard, if employees decide to put you on an internal watch list or decide that anything you said, anything you posted, anyone you associated with, or any websites you linked to within the last 11 years are objectionable, they could mark your account for termination.
While Facebook's rules are currently the most Orwellian, most the major social platforms have made changes that restrict what you're allowed to post on their platforms over the last few months. For example, Twitter has been cracking down on parody accounts and YouTube has changed its algorithm to promote what it deems to be "authoritative sources."