Twitter temporarily blocked links to two official South Dakota GOP domains and branded them "potentially harmful" after the party attempted to share an official statement detailing its support for President Trump's post-election lawsuits.
When the South Dakota GOP Twitter account attempted to tweet out the statement yesterday, it was told: "Your tweet couldn't be sent because the link has been identified by Twitter or our partners as being potentially harmful."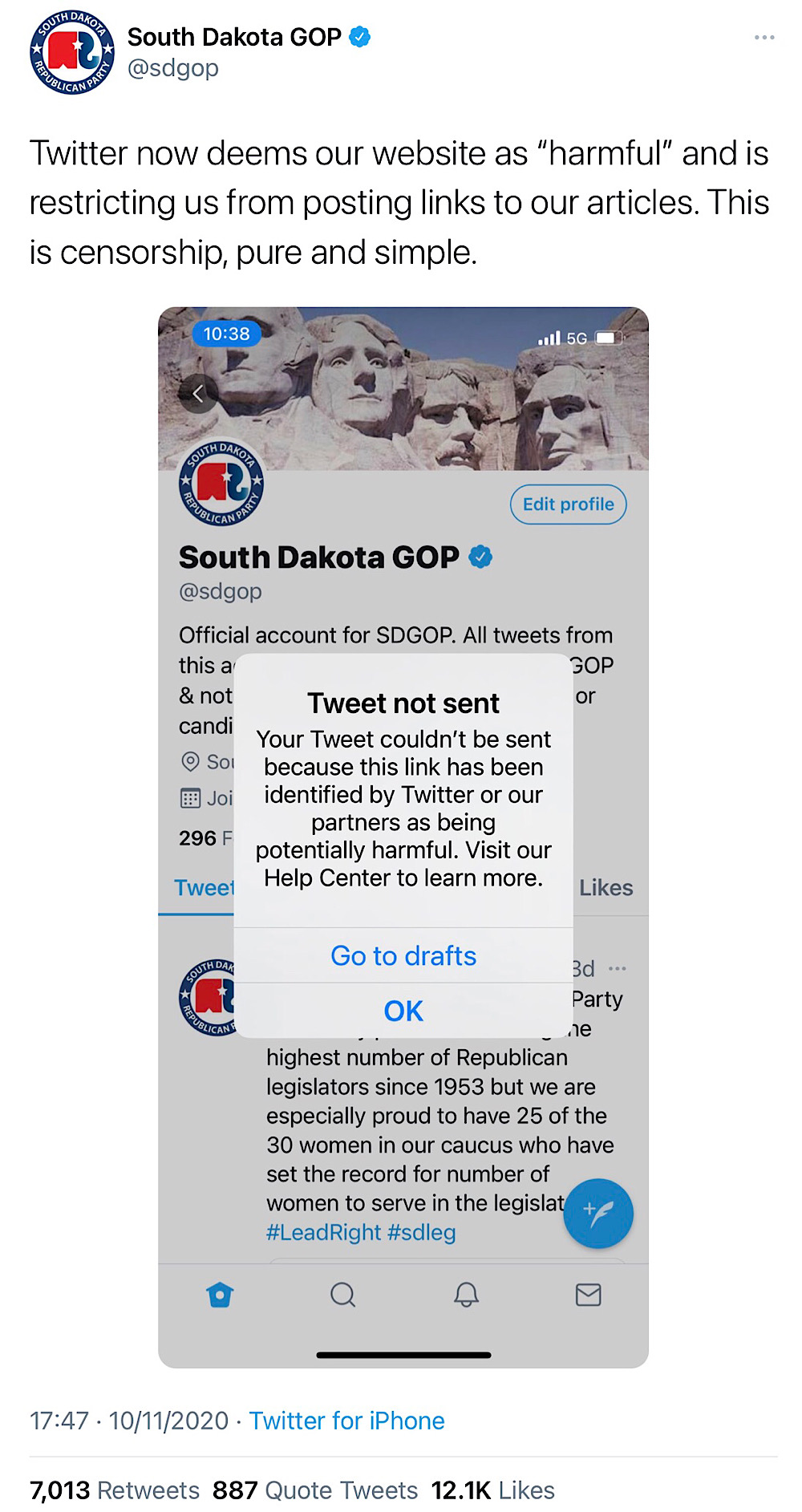 Twitter users quickly pushed back against this act of censorship and after South Dakota Governor Kristi Noem brought attention to the link being blocked, the censorship of sdgop.com (the domain where the statement was published) was reversed.
However, shortly after the censorship of this domain was lifted, Ian Fury, the Communications Director for Governor Kristi Noem, noticed that links to the southdakotagop.com domain (which the South Dakota GOP Twitter account links to in its bio) were still being blocked.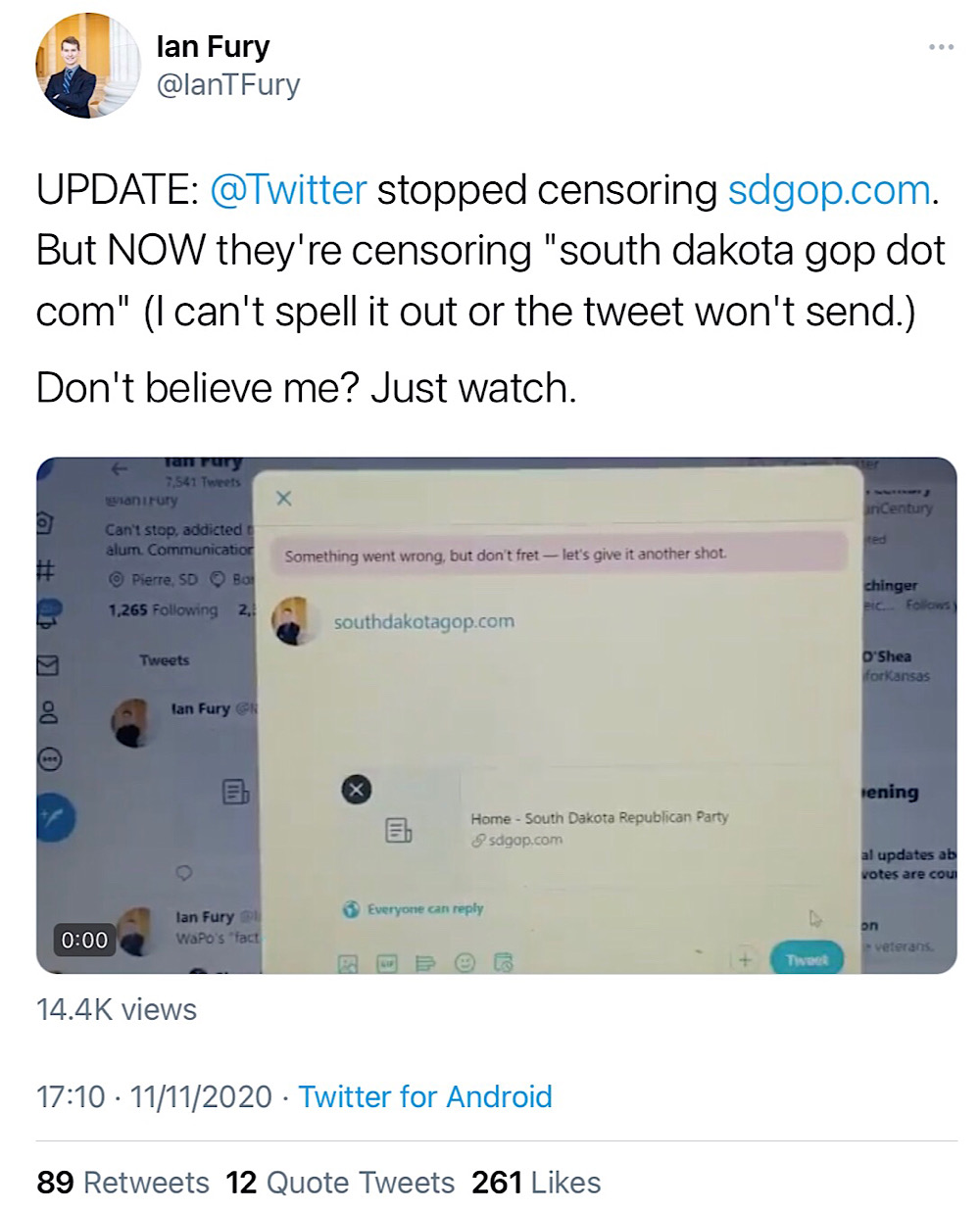 Austin Goss, the Capital Bureau Reporter for Dakota News Now, added that Twitter was also showing a warning message that claimed the link "may be unsafe" and encouraged users to go back to the previous page while the link was blocked.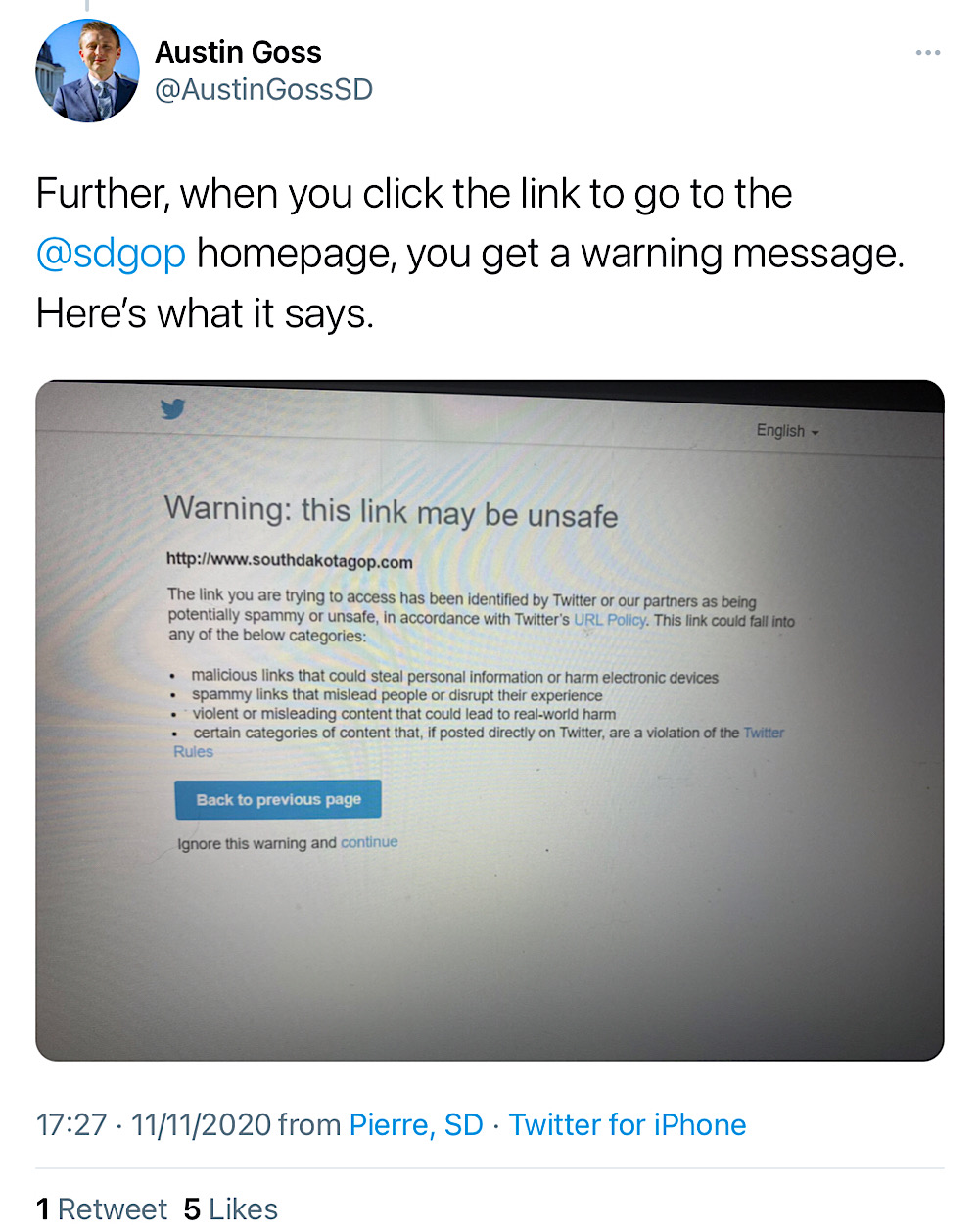 Goss then contacted Twitter about the links to the South Dakota GOP domains being blocked and the block on southdakotagop.com domain was lifted shortly after.
A Twitter spokesperson told Goss that "spammy behavior" can be blocked at any time and this can occur if a user is utilizing multiple accounts, tweeting frequently in a short period of time, or other similar behavior.
When Goss followed up, the Twitter spokesperson told Goss that the link blocking was "all a misunderstanding and not intentional."
While the censorship of the South Dakota GOP's domains has now been reversed, it happened amid an unprecedented wave of post-election night censorship that has impacted high profile Republicans and official GOP accounts.
President Trump has had many of his tweets censored since election night and this has tanked his engagement levels.
GOP officials in Pennsylvania were also caught up in this post-election censorship wave.
And StopTheSteal.us, which is being used to organize post-election night marches and protests across the US, was also "mistakenly" blocked by Twitter this week.