Twitter has stepped up its mass censorship of references to the New York Post's story about Democratic presidential candidate Joe Biden and his son Hunter Biden's alleged corruption scandal by removing both memes related to the story and criticism of Twitter's censorship of the story.
Actor James Woods was locked out of his account and forced to remove a tweet stating: "Sorry you have to read it this way. Twitter is censoring any facts that expose the Biden corruption scams."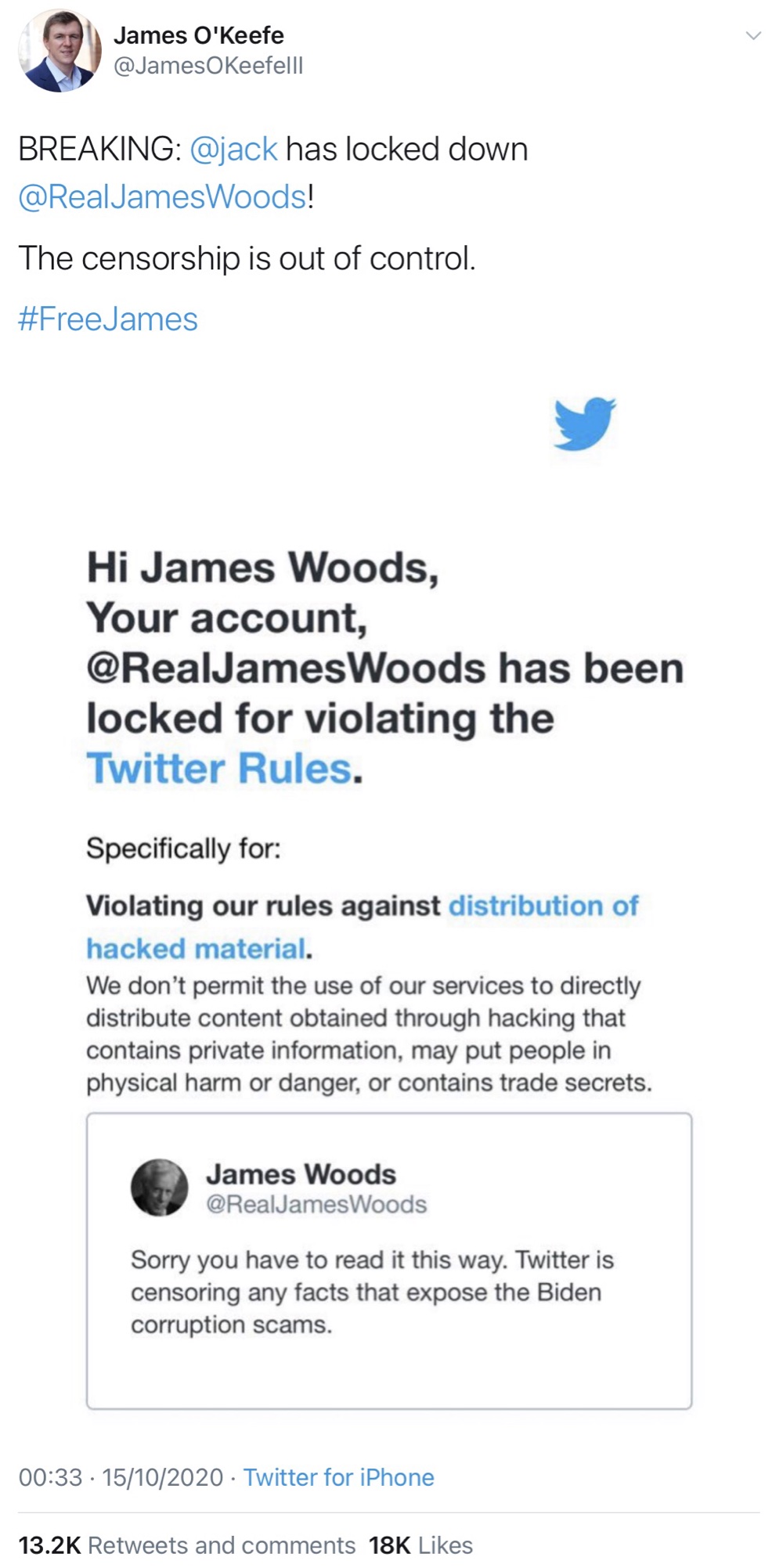 According to Twitter, the tweet somehow violated its hacked material policy.
One America News Network correspondent Jack Posobiec was also locked out of his account and forced to delete a tweet containing a Hunter Biden meme featuring some of the photos from the New York Post's story.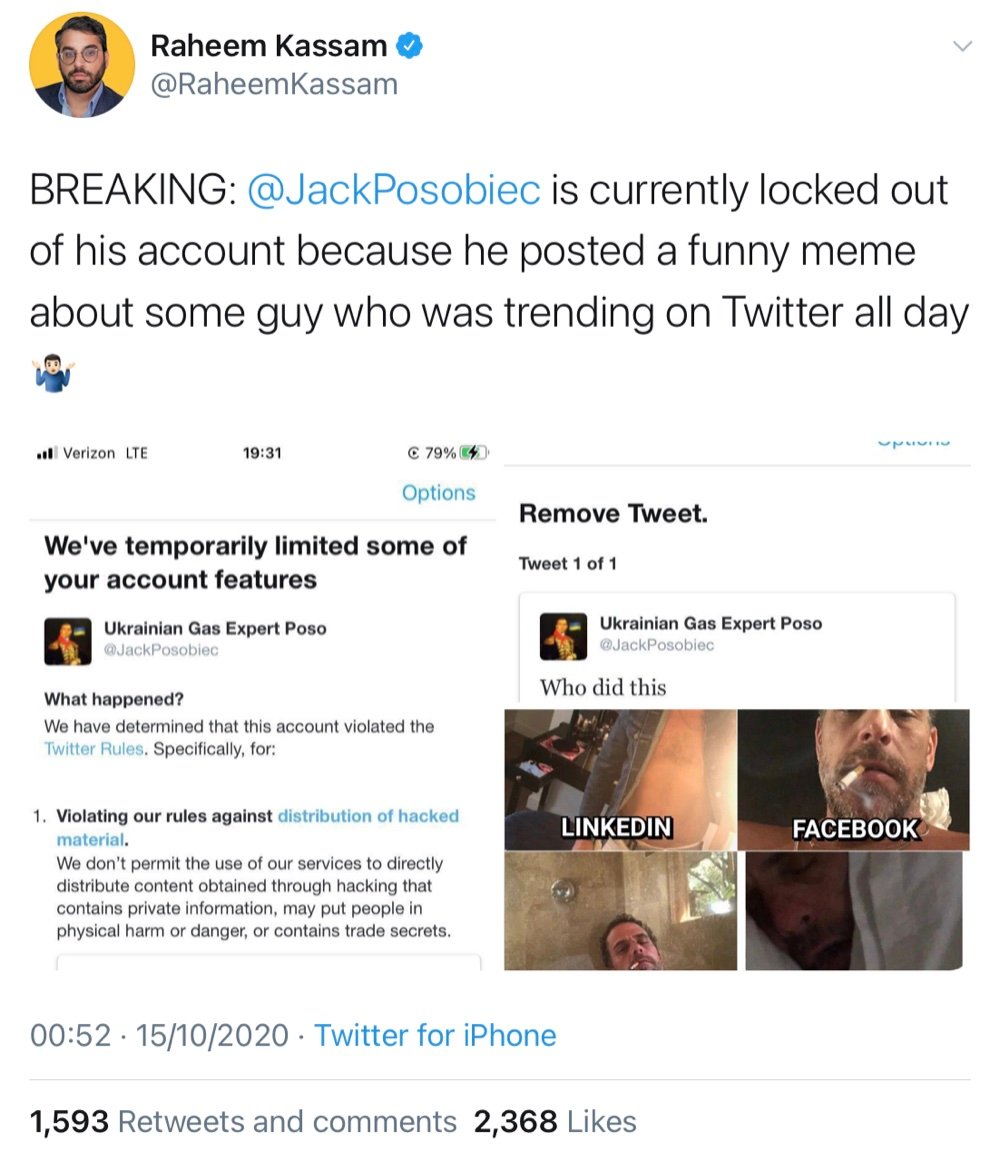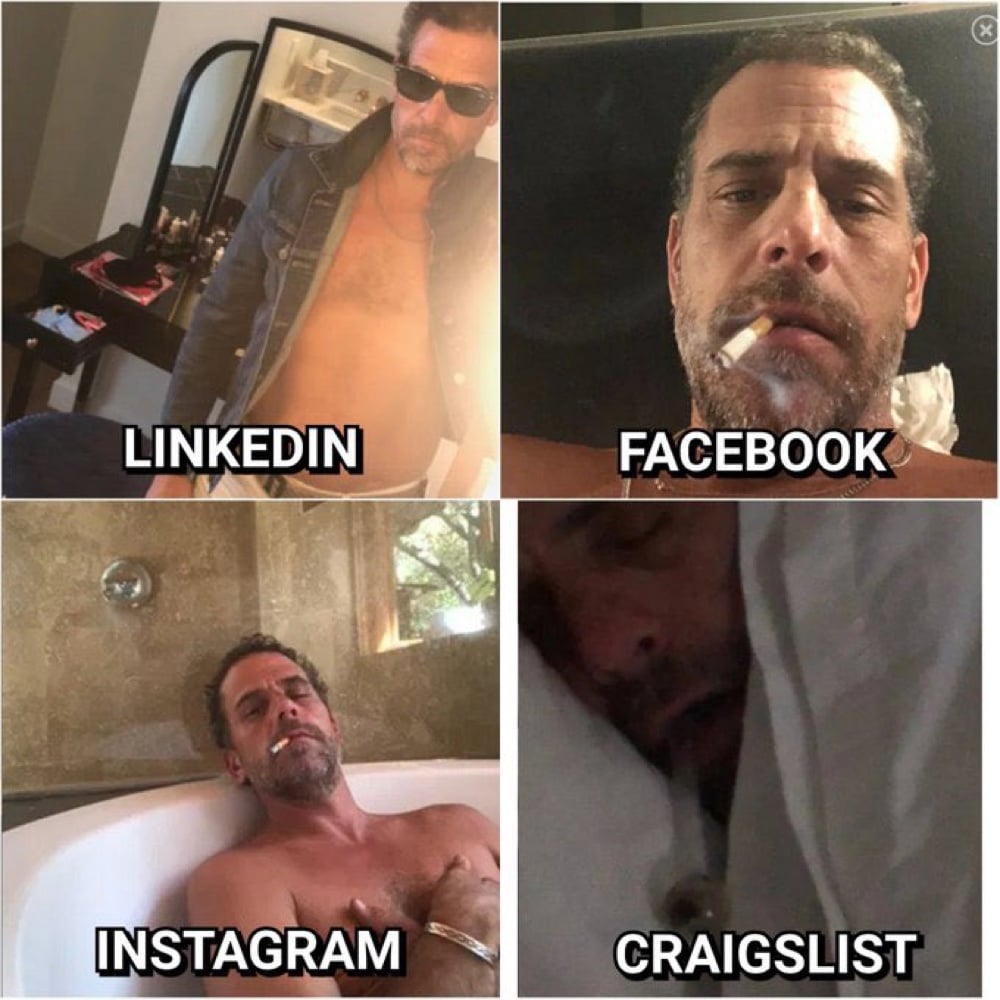 Twitter again claimed that Posobiec's tweet violated its hacked material policy.
When Twitter announced this policy, it was suspected that it could be used to censor a bombshell "October surprise" during the 2020 election cycle.
Twitter's censorship of Woods and Posobiec follows it blocking links to the article, locking accounts that attempt to share the article, and amplifying other news stories that attempt to downplay the significance and veracity of the New York Post story.
Facebook has also aggressively censored the story by suppressing it before it was even fact-checked or deemed to have violated any of Facebook's community standards – an approach the New York Post described as "Censor first, ask questions later."
While this is one of the most high profile examples of Twitter's censoring a story that's unfavorable to Biden in the run-up to the election, there are numerous other examples of Twitter censorship that benefits the Biden campaign.
Users have had their accounts locked for tweets questioning Biden's health, users have been forced to delete compilations showing Biden with young girls, and memes making fun of Biden's constant gaffes have also been censored.
Meanwhile, President Trump's statements are routinely censored by Twitter and the other tech giants.
Research from psychologist and search engine expert Dr. Robert Epstein has shown how influential the news stories people see about political parties and candidates on Big Tech platforms can be. His research showed that biased Google search results potentially gave Democrats millions of additional votes in the 2018 US midterms.
And this potential to swing millions of votes didn't even factor in a scenario where Big Tech platforms are consistently censoring in a way that benefits one candidate while hindering the other.
Trump is unable to post social media statements to his followers without them being consistently hidden or editorialized. Biden's social media statements go unchecked.
When Biden is facing criticism or a scandal, the tech giants will often step in and prevent their users from seeing the relevant content. When Trump faces criticism or a scandal, it's usually allowed to spread unchecked and given full amplification by the social media algorithms.
Facebook and Twitter have over two billion collective users and these disparate censorship decisions could change the sentiment of millions of voters.