Carlos Monje Jr, Director of Public Policy and Philanthropy at Twitter, recently testified in front of the Senate committee and had to answer several tough questions from Senator Ted Cruz. Twitter, Google, and Facebook are under scrutiny due to their speech policing practices and failures to provide acceptable levels of security in regards to the personal information of their users.
Twitter's integrity was questioned after a video was published by Project Veritas, an independent news source focused on delivering undercover reporting. In the video, an engineer from Twitter bragged about how the company creates automatic algorithms that shadowban comments. He suggests that their algorithm detects bots and downranks comment chains started by people who mention such words as Trump, God, Weapons, America, and so on.
After Twitter execs testified in front of the Senate, Project Veritas decided to publish a video from the Senate hearing, in which the Twitter representative was asked about the leaked video. According to James O'Keefe, the founder of Project Veritas, the video was silently removed.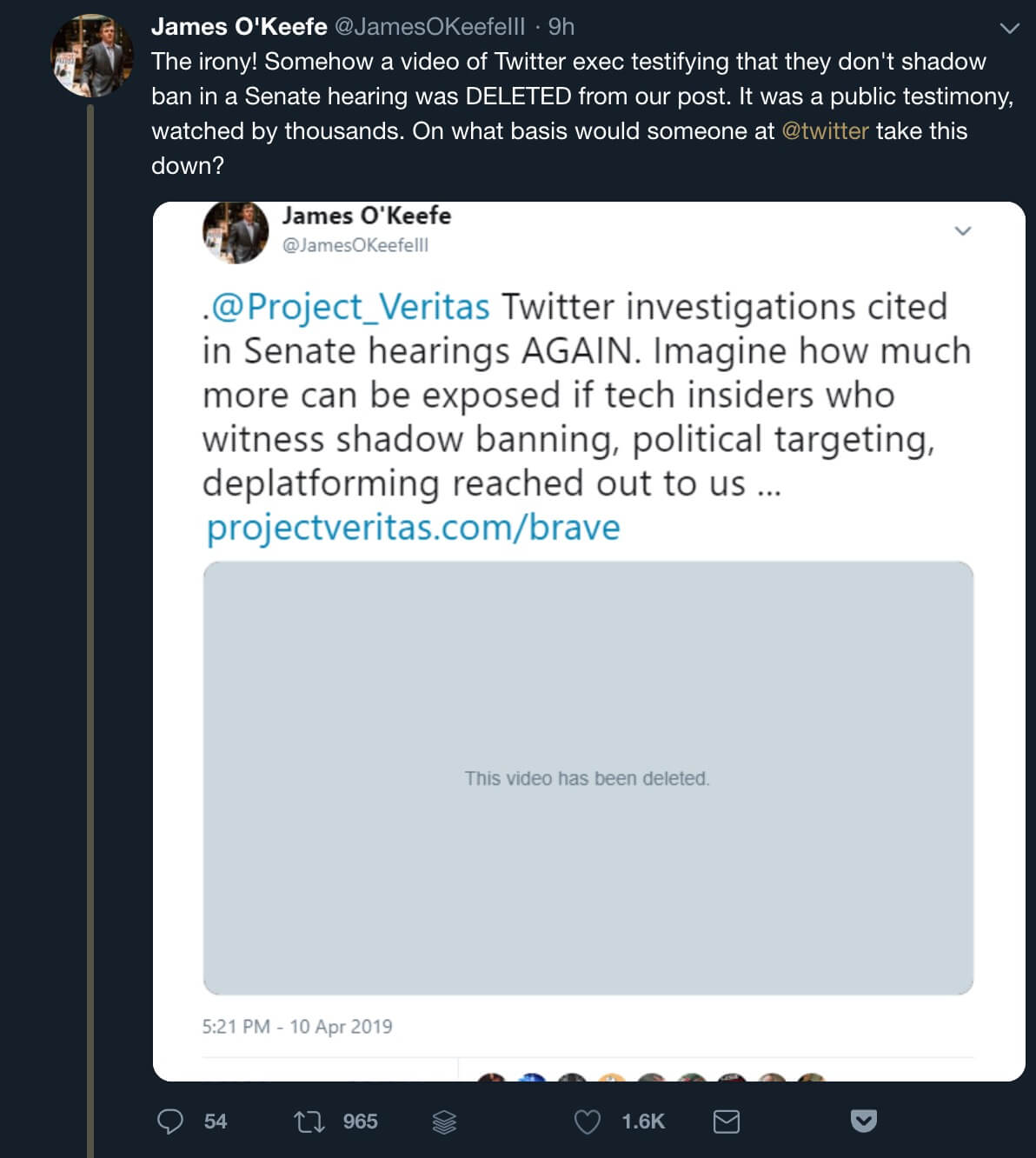 Twitter claims that the video somehow breaks copyright laws. The video was made of footage available publicly and put in the public domain. James O'Keefe mentioned the irony of "a video of Twitter exec testifying that they don't shadow ban in a Senate hearing was DELETED from our post."
Project Veritas still managed to get the video going on Twitter by sharing links to YouTube where the video is still available.
Twitter has been under fire ever since they started banning mostly right-leaning public personalities and politicians on their platform. The bias was so apparent that the CEO of Twitter Jack Dorsey had to appear on multiple podcasts including Joe Rogan to talk about issues that concern people who want to use this social media platform as a public space freely.