Twitter's crackdown on President Donald Trump continues, this time over a tweet containing a video showing the group of doctors in Washington promoting the use of the drug hydroxychloroquine in the treatment of coronavirus.
The video, that had otherwise gained a lot of exposure as it was shared on Twitter, was removed from Trump's tweet because the social media network saw it as violating its coronavirus misinformation policy.
The doctors are heard saying that hydroxychloroquine in combination with zinc and Zithromax proved to be successful in treating Covid-19 patients, even those most at-risk who suffer from comorbidities such as cardiovascular diseases and diabetes.
One of the doctors, Stella Immanuel, said that she administered the drug to 350 patients without losing any to the disease.
Outlets like the New York Times have reported about the video saying that the effectiveness of such treatment was called into question by some recent studies – and that for this reason, anyone (or ostensibly, any study) claiming otherwise was spreading misinformation.
And while hydroxychloroquine is referred to as essentially ineffective, there have been no claims coming from professional circles that it causes serious harm to Covid-19 patients, a New England Journal of Medicine report said in June.
But those who think otherwise, like Yale School of Public Health epidemiology professor Harvey Risch, said that hydroxychloroquine can in fact be used effectively as a means to prevent the disease, something that is done in India, and that the drug is facing opposition for political, not medical reasons.
Speaking to this is the fact that President Trump is not the only one censored in for supporting the use of hydroxychloroquine – Twitter for the same reason suspended the account of his son, Donald Trump Jr., for a period of 12 hours.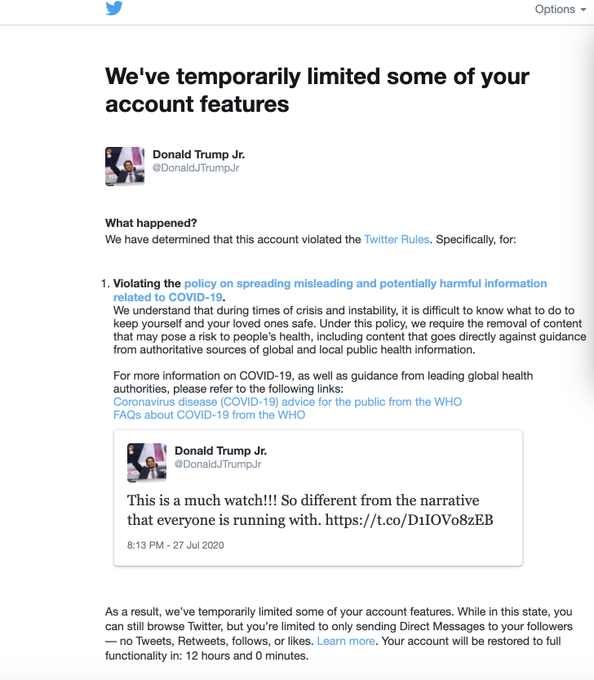 Trump Jr. was suspended for sharing a video showing doctors discussing the benefits of hydroxychloroquine, that resulted in deletion of videos Breitbart posted on Facebook, YouTube and Twitter, that had millions of views.
Meanwhile, the president has asked the National Telecommunications and Information Administration "to file a petition to look at how social media companies moderate content."