With the US presidential election now just eight days away, Twitter has started to place large election "misinformation" warnings at the top of US user's Home and Search tabs.
The warning prompts will start appearing at the top of these tabs from today and contain text that attempts to dismiss what Twitter describes as "misleading" or "unconfirmed" claims about mail-in voting and the election results.
The first prompt warns users that they "might encounter unconfirmed claims that voting by mail leads to election fraud" and insists that "voting by mail is safe and secure."
The second prompt warns users that they "could encounter unconfirmed claims that a candidate has won their race" and adds that "election results might be delayed" because of increased mail-in voting.
Both prompts direct users to more information that tells them voting by mail is safe and secure.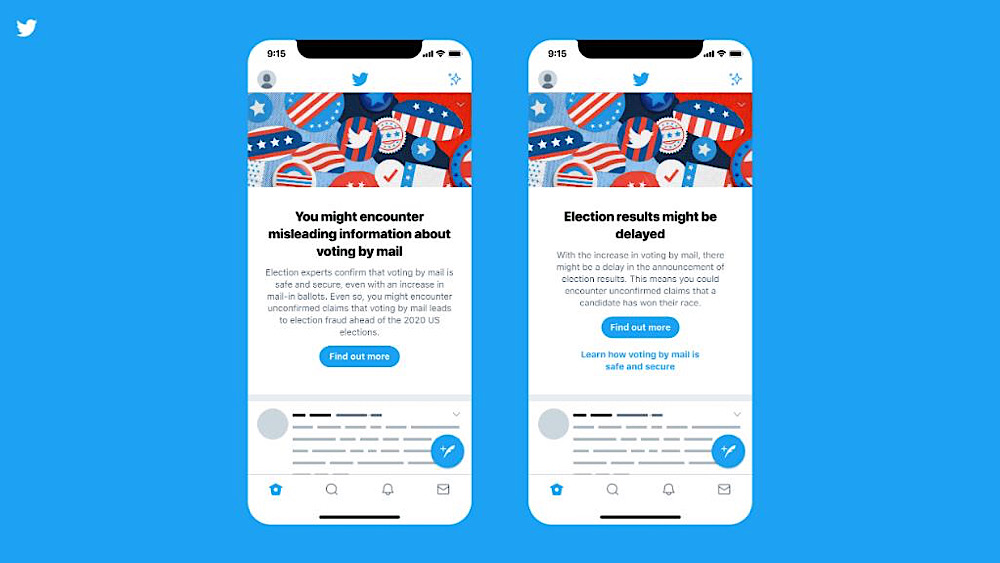 The launch of these prompts follows Twitter and other tech platforms increasingly editorializing posts and conversations about the election.
The specific talking points featured in these prompts (mail-in voting being safe and secure and the election results potentially being delayed) have also been repeated by these platforms and their representatives multiple times in the run-up to the election.
This increased editorialization of election-related topics by the tech giants compounds the impact of their censorship of other posts about the election.
Posts discussing mail-in voting fraud, an alleged corruption scandal involving Democratic presidential candidate Joe Biden, and Biden's health are regularly censored on mainline social media platforms.
But as they take down these posts, these platforms also promote pro-mail-in voting messages, selectively fact-check posts about mail-in voting, and encourage users to register for mail-in voting.
Ultimately, the content social media users see about mail-in voting and other election-related topics is artificially manipulated so that they're only presented with one side of the argument in many instances.
And every time these Big Tech platforms make a new change that promotes these one-sided narratives, it builds on the previous changes and makes this pattern of editorializing the top election-related stories on social media increasingly pervasive.