Earlier today, The New York Times published an article from contributing opinion writer Kara Swisher which was titled "Twitter Must Cleanse The Trump Stain."
In the article, Swisher calls for Twitter to censor some of President Trump's tweets and shortly after it was published, Twitter responded and said that changes will be coming soon to address the situation.
"We are deeply sorry about the pain these statements, and the attention they are drawing, are causing the family," a Twitter spokesperson told the Times. "We've been working to expand existing product features and policies so we can more effectively address things like this going forward, and we hope to have those changes in place shortly."
Swisher's article focuses on a letter from Timothy Klausutis – the widower of Lori Klausutis who was an intern that worked for Morning Joe co-host Joe Scarborough when he was a congressman.
Lori was found dead in Scarborough's office on July 20, 2001 and the autopsy concluded that she died after an undiagnosed heart condition caused her to fall and hit her head on her desk at work.
In the letter, Timothy asks Twitter CEO Jack Dorsey to delete two tweets from President Trump which reference Lori's death and call for a Cold Case to be opened against Scarborough.
Timothy also requests that Dorsey delete a tweet from President Trump's son, Donald Trump Jr., which asks: "What show is Joe going to go on to discuss Lori Klausutis?"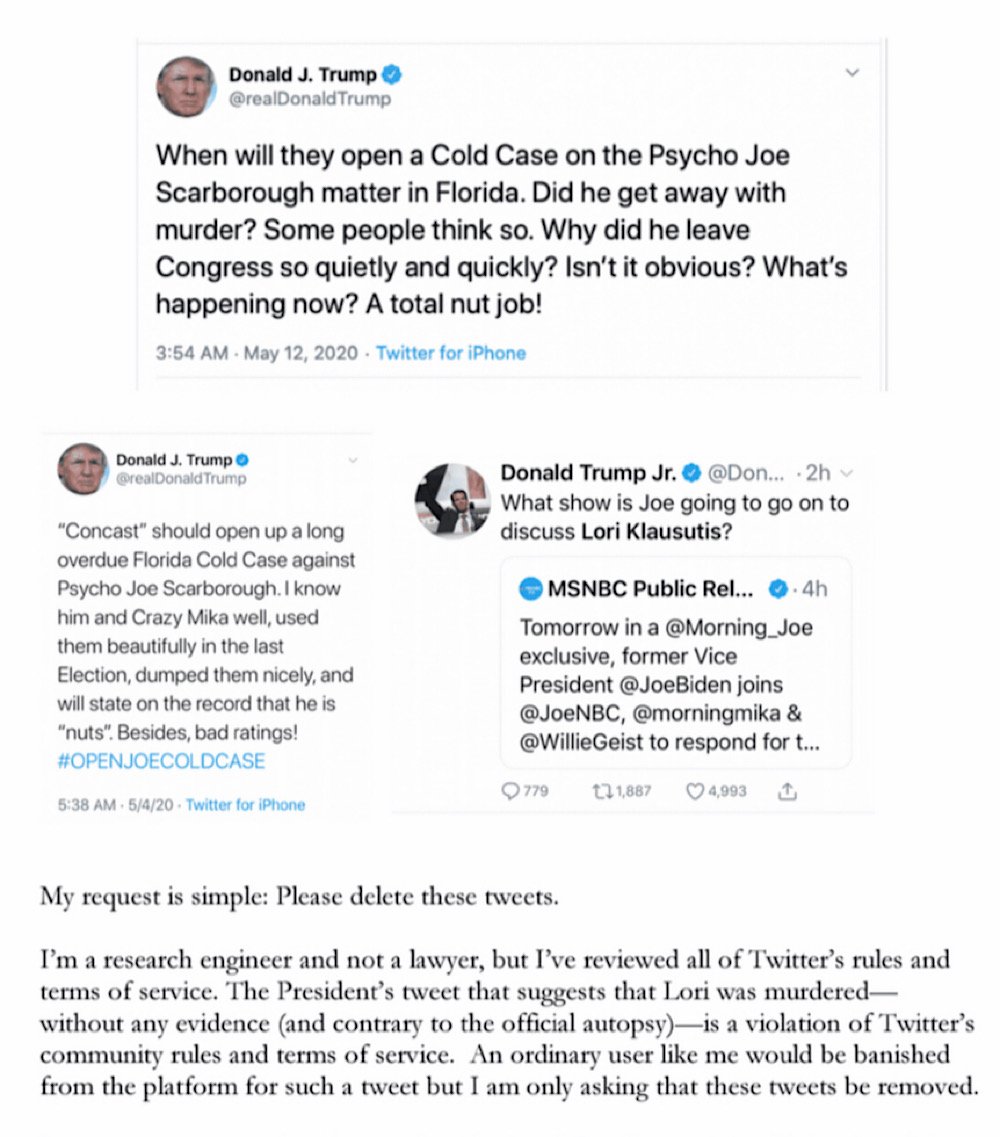 In her article, Swisher states that "Mr. Klausutis deserves an answer from Mr. Dorsey" and recommends that Twitter either "remove the offending tweets" or set up an independent content board which would act in a similar way to Facebook's Oversight Board by reviewing and removing certain tweets.
Swisher even recommends appointing Timothy to this board which would then decide which of President Trump's tweets get censored.
Even though Twitter apologized and stated that changes will be coming to the platform, it wasn't enough for the media which responded by complaining that Twitter didn't immediately censor President Trump's tweets.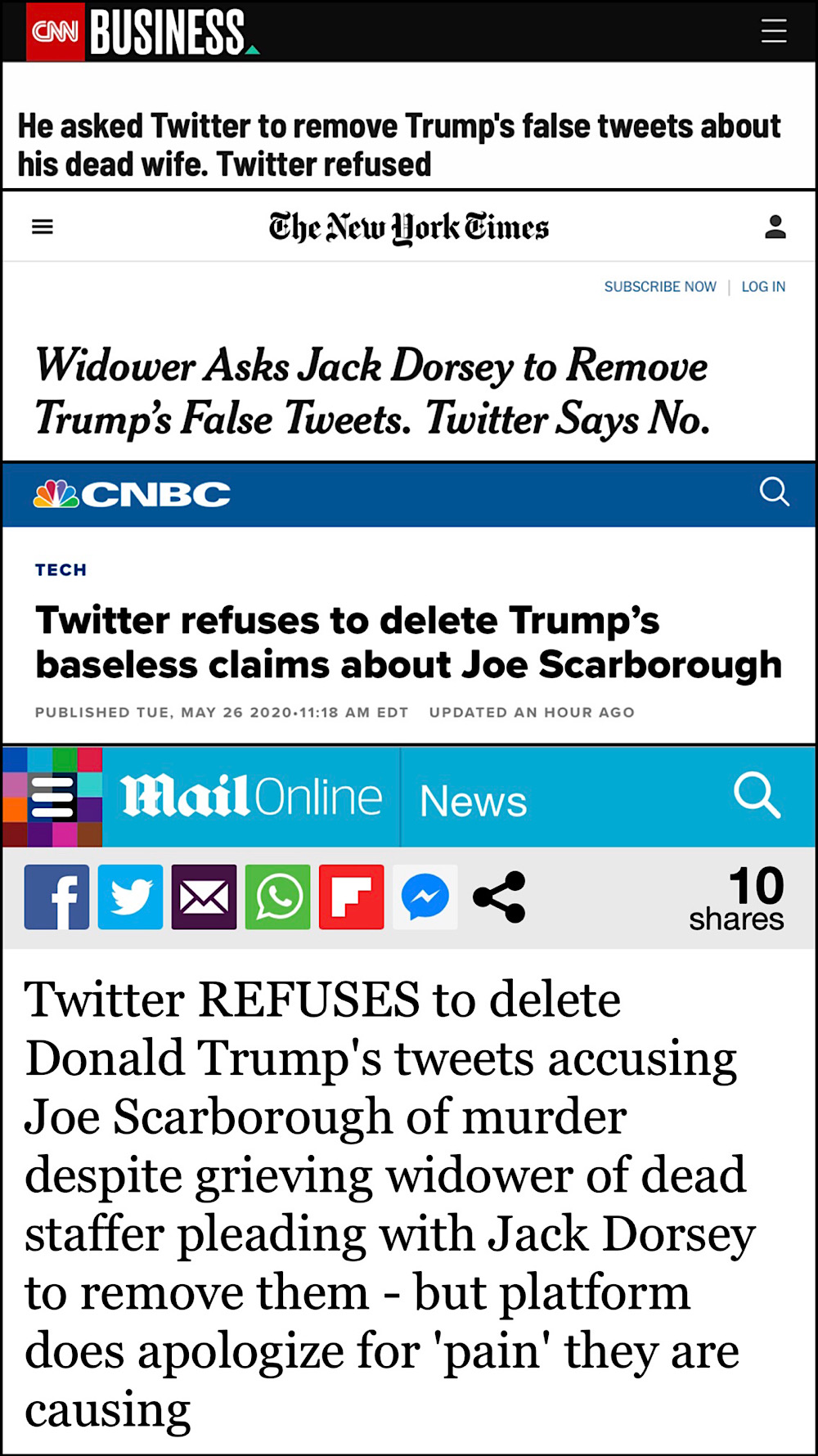 Before Swisher's article was published, CNN had asked Twitter why it wouldn't add misinformation warning labels to Trump's tweets about Scarborough.
And Scarborough's wife and co-host, Mika Brzezinski had also urged Twitter to ban Trump over the tweets.
For those who pay attention to how the mainstream media encourages big tech censorship (?), these complaints which have ultimately elicited a response from Twitter are eerily similar to the complaints that have preceded many other Big Tech rule changes that restrict what users are allowed to say on these platforms.
Before Twitter introduced its manipulated media policy in March, the mainstream media consistently framed memes from President Trump as "hoaxes", "doctored images", "misleading," and "manipulated." (?)
When Twitter introduced this policy, President Trump was the first to have a "manipulated media" warning applied to one of his tweets under these rules.
Since this policy's introduction, it has become increasingly difficult for Twitter users to post memes on the platform with Twitter censoring many memes and locking the accounts of users who post them.
Ironically, some of the outlets that have pushed for social media censorship are now finding that their reporting is getting censored by the measures that they advocated for.
But despite the fallout impacting their own reporting, the mainstream media continues to repeat the complaints that usher in more Big Tech censorship.