Elon Musk has said President Donald Trump's account has been reinstated after running a poll in which users backed the decision.
"The people have spoken," Musk tweeted, after the results of a poll showed Twitter users' narrow support for Trump to be reinstated.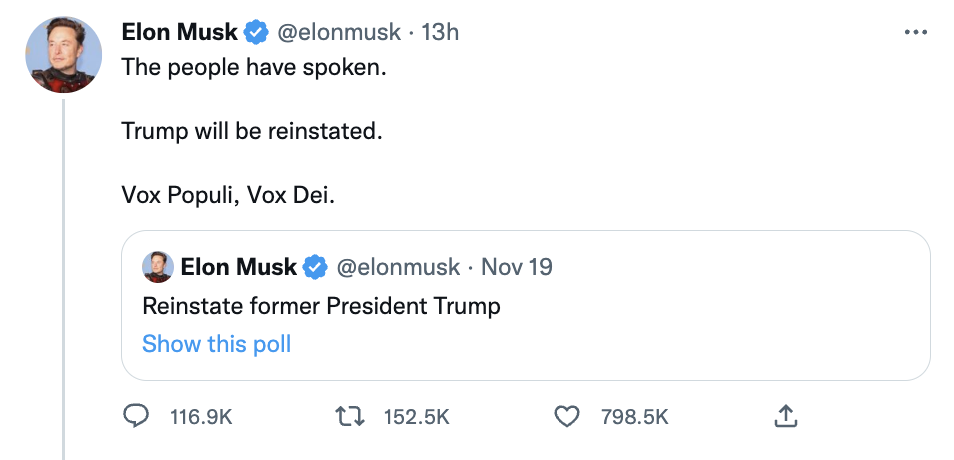 While the account is now active, it's not known if President Trump will return to the platform, as he has previously said: "I don't see any reason for it," and has since launched his own social media platform, Truth Social.
The @realdonaldtrump account was suspended back in early 2021 for saying that he wasn't going to attend the inauguration of Joe Biden. Twitter said that his statement could be seen as an incitement to violence.
Twitter's decision came days after Trump supporters stormed the US Capitol in Washington DC on January 6th 2021.
Following January 6th, most major platforms banned Trump – with Facebook, Instagram and YouTube leading the way.
Earlier this week, Trump announced another run for president in 2024 and, following the decision, on Friday evening, Elon Musk started a poll on whether or not to bring back Trump to Twitter.
Over 15 million users participated in the poll, with 52% voting in favor of bringing Trump back to the platform.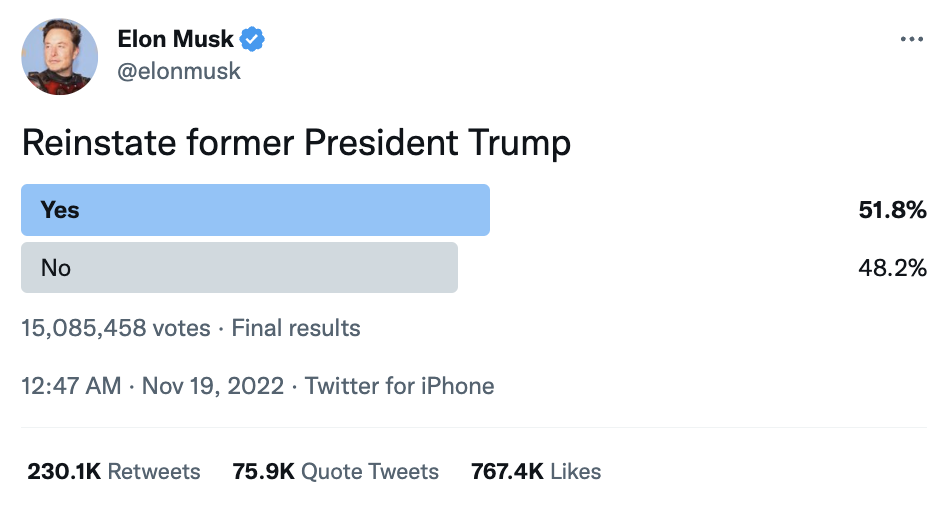 The poll was open for 24 hours. Musk posted a follow up tweet, "Vox Populi, Vox Dei," a Latin phrase that translates to "the voice of the people is the voice of God."
Musk has reinstated some accounts that were permanently suspended, including satirical website the Babylon Bee, Jordan Peterson, and Kathy Griffin, a comedian. However, asked by a Twitter user, Musk said he was not going to reinstate Alex Jones' account.