Satirical site The Babylon Bee, comedian Kathy Griffin, and psychologist Dr. Jordan Peterson are back on Twitter.
New Twitter owner Elon Musk confirmed the reinstatements in a tweet and added that the company hasn't yet decided whether former president and 2024 presidential candidate Donald Trump will be reinstated.
The Babylon Bee and Peterson were locked out of their Twitter accounts under former CEO Jack Dorsey's tenure. Trump was permanently banned under Dorsey's tenure. Griffin was banned after Musk took the reigns.
The Babylon Bee was locked out of its Twitter account in March after posting an article that called Assistant US Health Secretary Rachel Levine, who is a biological male but identifies as a transgender woman, its "Man of the Year."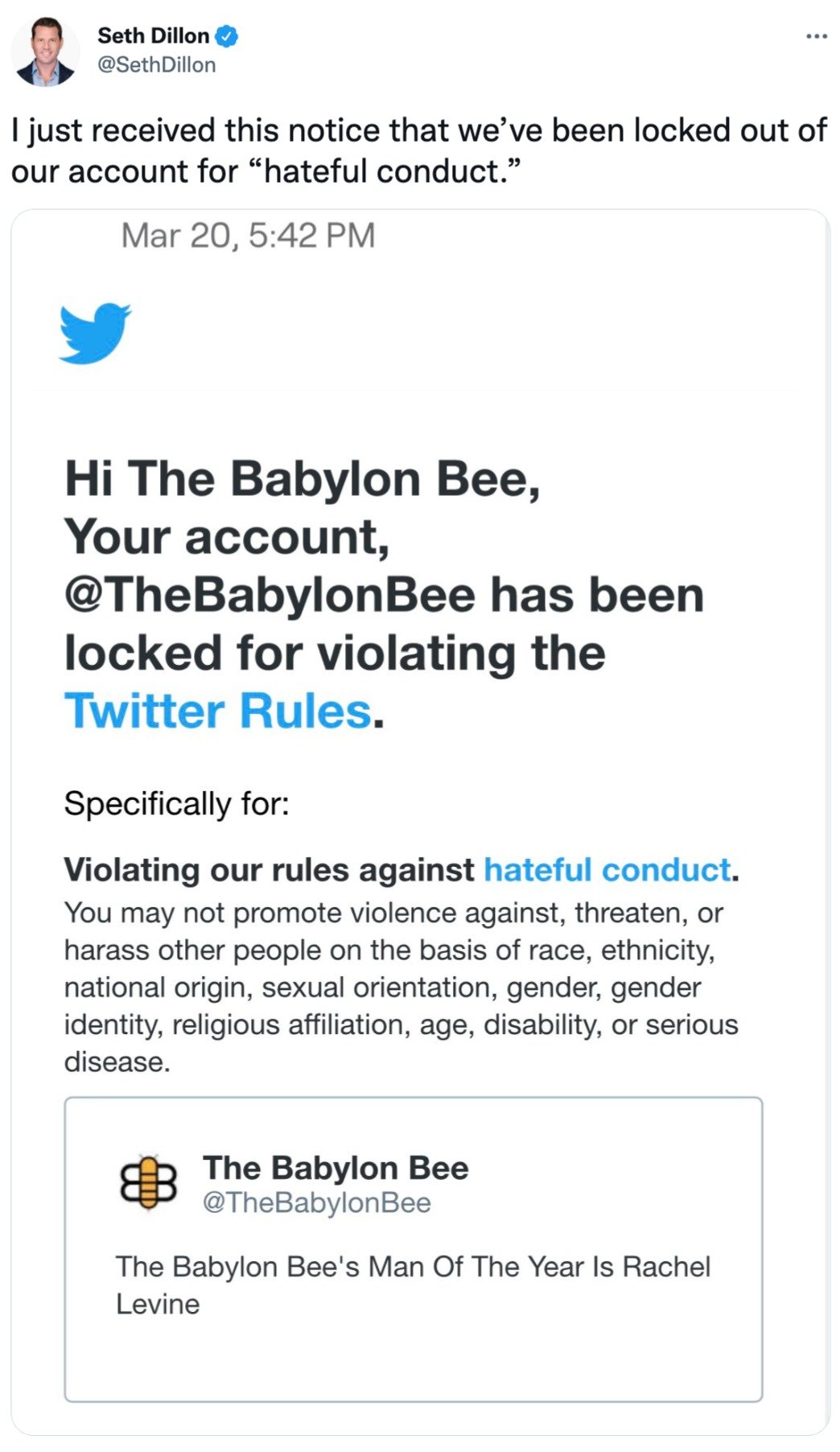 Twitter demanded that The Babylon Bee delete the tweet to regain access to its account but The Babylon Bee refused and remained locked out of its account for almost eight months until today's intervention by Musk.
Peterson was locked out of his Twitter account in June after he denounced gender transformation surgery and called the transgender actor Elliot Page, Ellen Page. Page previously went by the name Ellen Page but started going by Elliot Page after identifying as a man.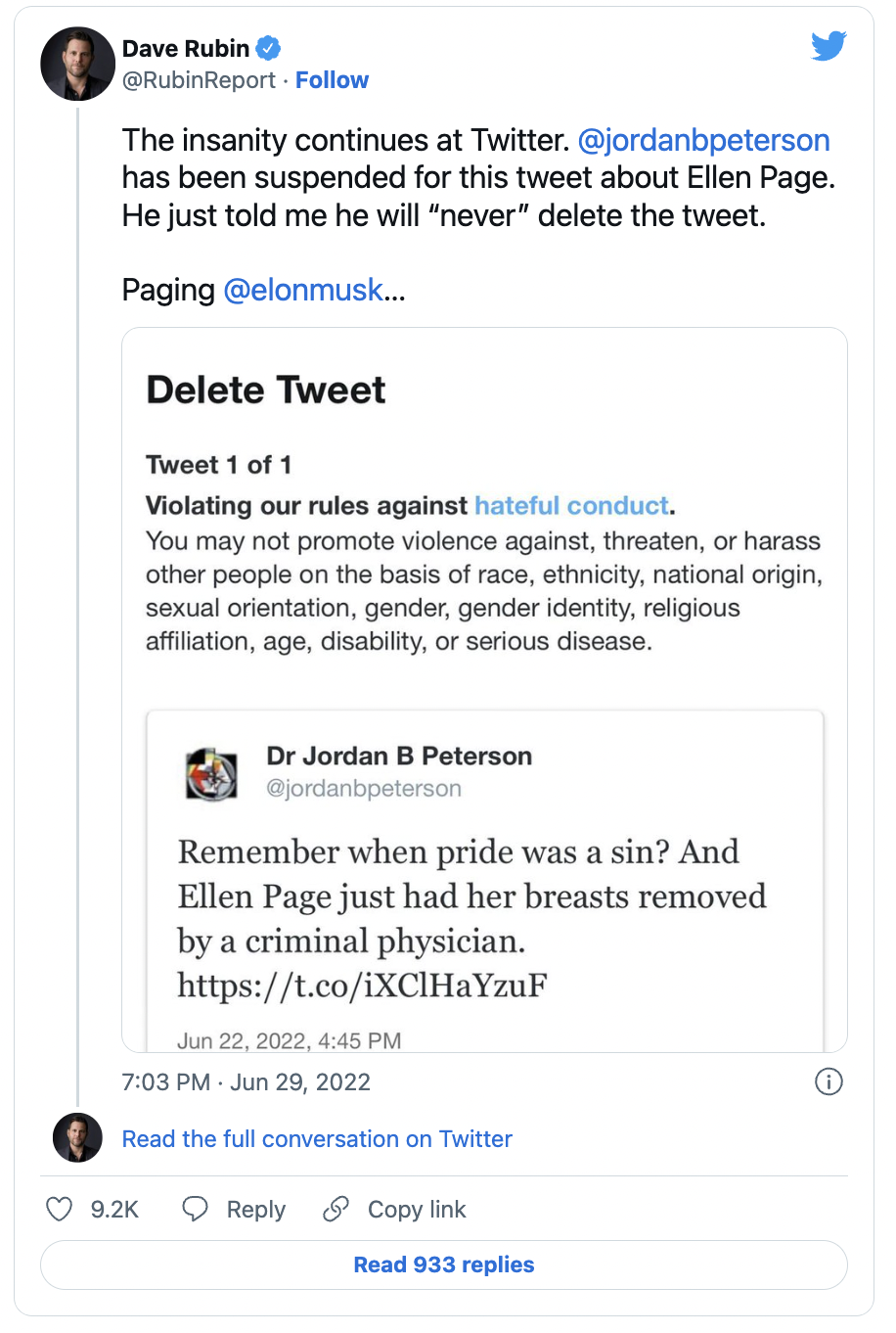 As with The Babylon Bee, Twitter demanded that Peterson delete his tweet to reattain access to his account. However, Peterson refused and was barred from using his account for nearly five months until today's announcement from Musk.
Griffin was banned from Twitter this month after Musk had warned that the company would be banning verified accounts that broke the rules against impersonation. These rules prohibit impersonation and require parody accounts to distinguish themselves in both their account name and bio.
After Musk had tweeted out this warning, Griffin, who was verified and had a blue checkmark, changed her profile picture to Musk's profile picture, changed her Twitter profile name to "Elon Musk," and didn't identify her account as parody. She then sent tweets that impersonated Musk and encouraged Twitter users to vote for Democrats a few days before the 2022 US midterm elections.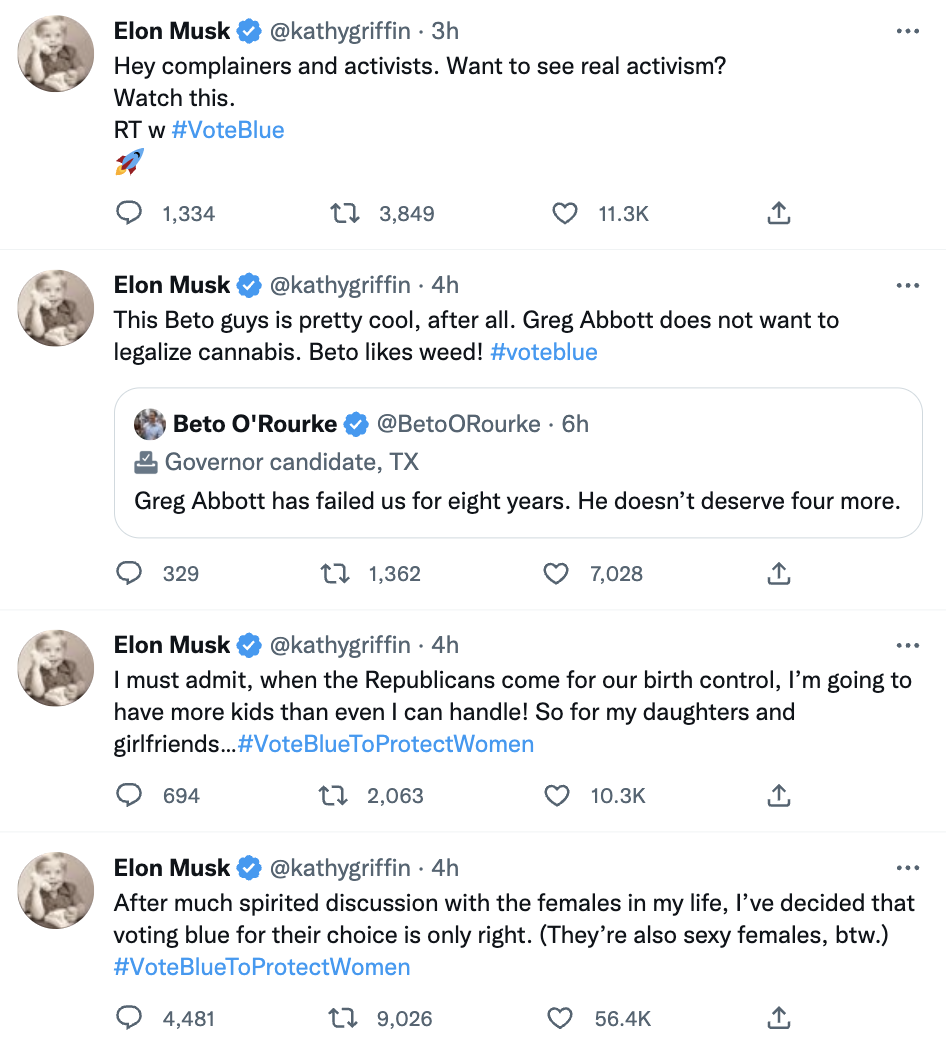 Trump was banned on January 8, 2021 after sending two tweets. One of these tweets thanked the 75 million Americans who voted for him and the other announced that he would not be attending the January 20, 2021 inauguration of current President Joe Biden.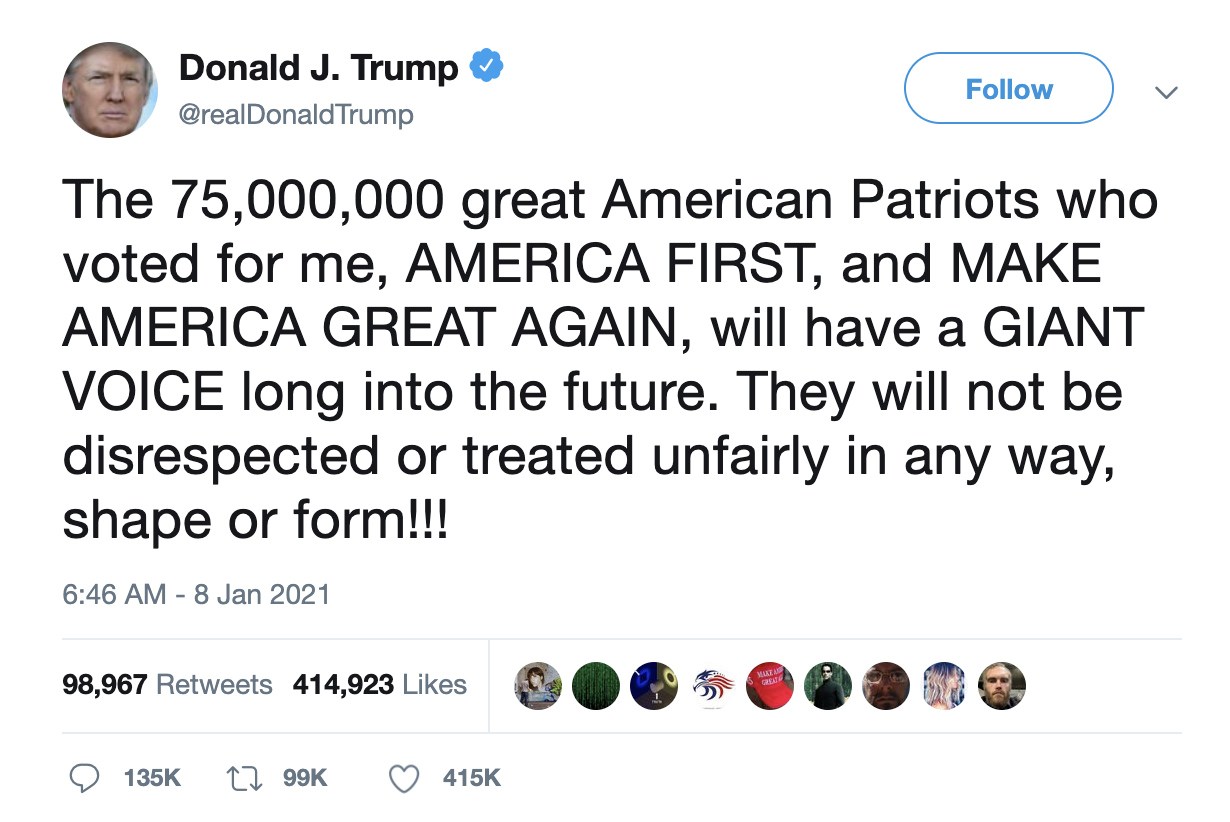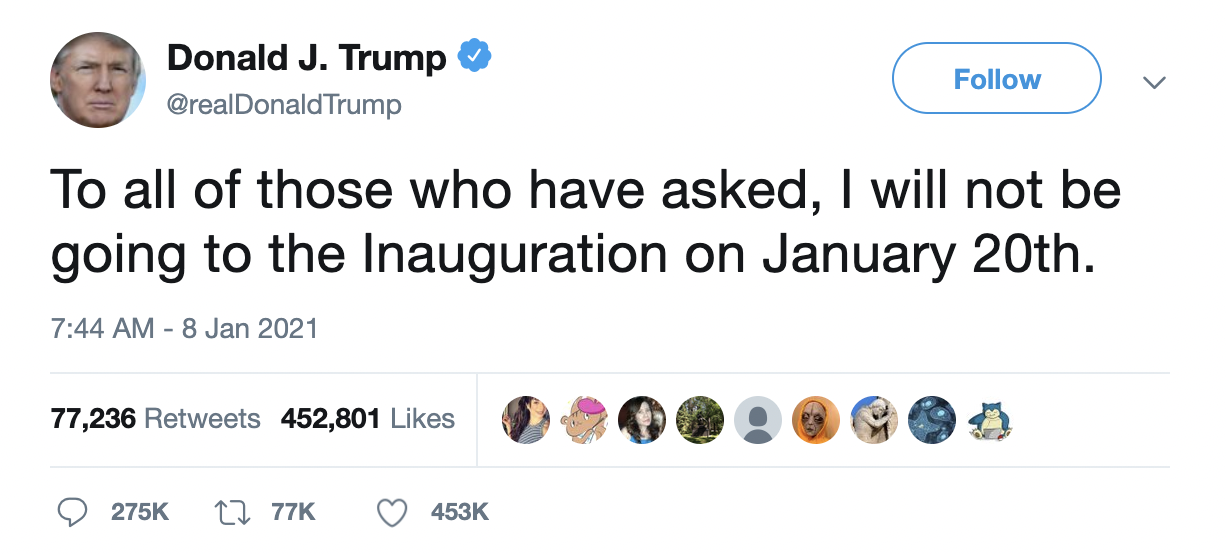 Before buying Twitter, Musk said that he thinks "timeouts" are "better than permanent bans."
These three account restorations are the first reinstatements of Musk's tenure. Under the previous regime, countless accounts were banned, suspended, or censored.
While Musk has reinstated these accounts, he subsequently told one user "no" when they asked him to reinstate the account of Infowars founder and host Alex Jones.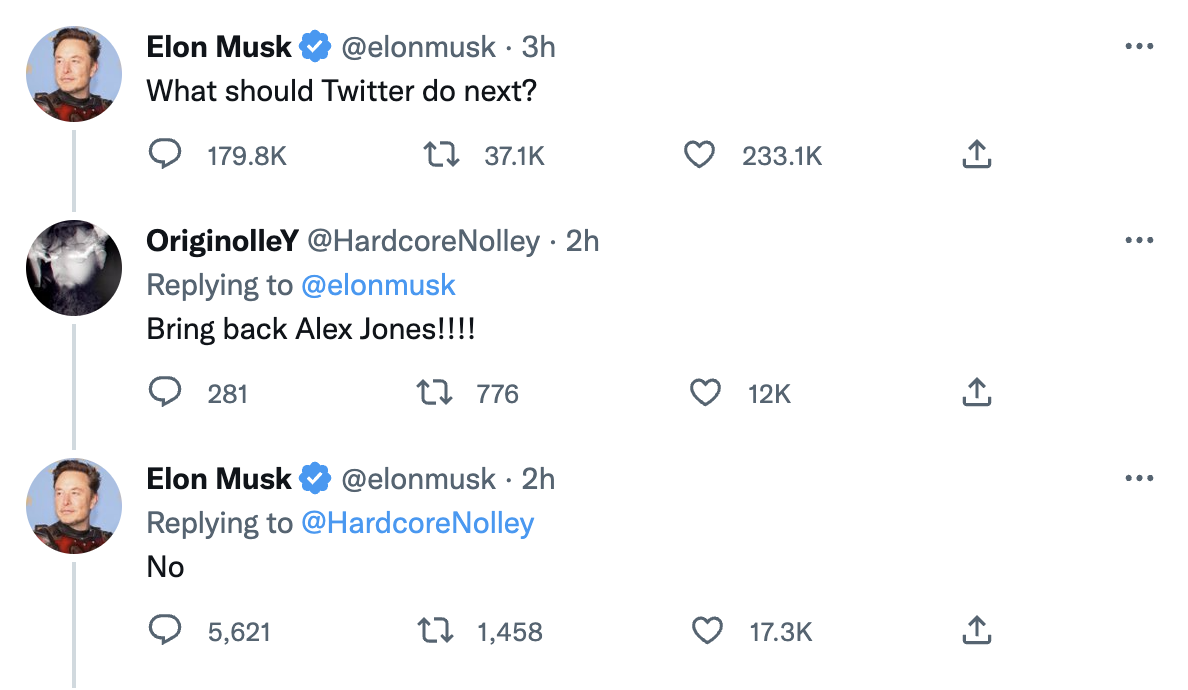 In addition to announcing these account reinstatements, Musk tweeted:
"The New Twitter policy is freedom of speech, but not freedom of reach.

Negative/hate tweets will be max deboosted & demonetized, so no ads or other revenue to Twitter.

You won't find the tweet unless you specifically seek it out, which is no different from rest of Internet."
Musk added that this policy "applies just to the individual tweet, not the whole account."