Twitter and Facebook have removed a viral video from meme artist Carpe Donktum that was shared by President Trump yesterday after receiving copyright takedown requests.
The meme mocks CNN's biased coverage of President Trump and his supporters and features a white toddler chasing a black toddler with a CNN lower third stating "Breaking News: Terrified Todler [sic] Runs From Racist Baby" and "Breaking News: Racist Baby Probably a Trump Voter."
A text card then appears which states "What Really Happened" before showing an extended clip of the two toddlers who run towards each other, hug, and then happily chase each other.
It finishes with the text: "America is not the problem. Fake news is. If you see something, say something. Only you can prevent fake news dumpster fires."
Jukin Media, a company that licenses videos for third-party use and that represents one of the parents of the toddlers featured in the meme, wrote that it had submitted a takedown request to Twitter but did not confirm whether it had sent the takedown request to Facebook.
The meme was initially posted by Carpe Donktum last year but after Trump shared it yesterday, Jukin Media decided to issue the takedown notice and asked Twitter to remove it:
"Yesterday, a doctored version of a video that belongs to one of Jukin Media's video partners was posted to Twitter by President Trump. Neither the video owner nor Jukin Media gave the President permission to post the video, and after our review, we believe that his unauthorized usage of the content is a clear example of copyright infringement without valid fair use or other defense. We have submitted a DMCA [Digital Millennium Copyright Act] takedown notice on behalf of the video's creator, and in accordance with Twitter's policy. Separately, in no way do we support or condone the manipulated video or the message it conveys."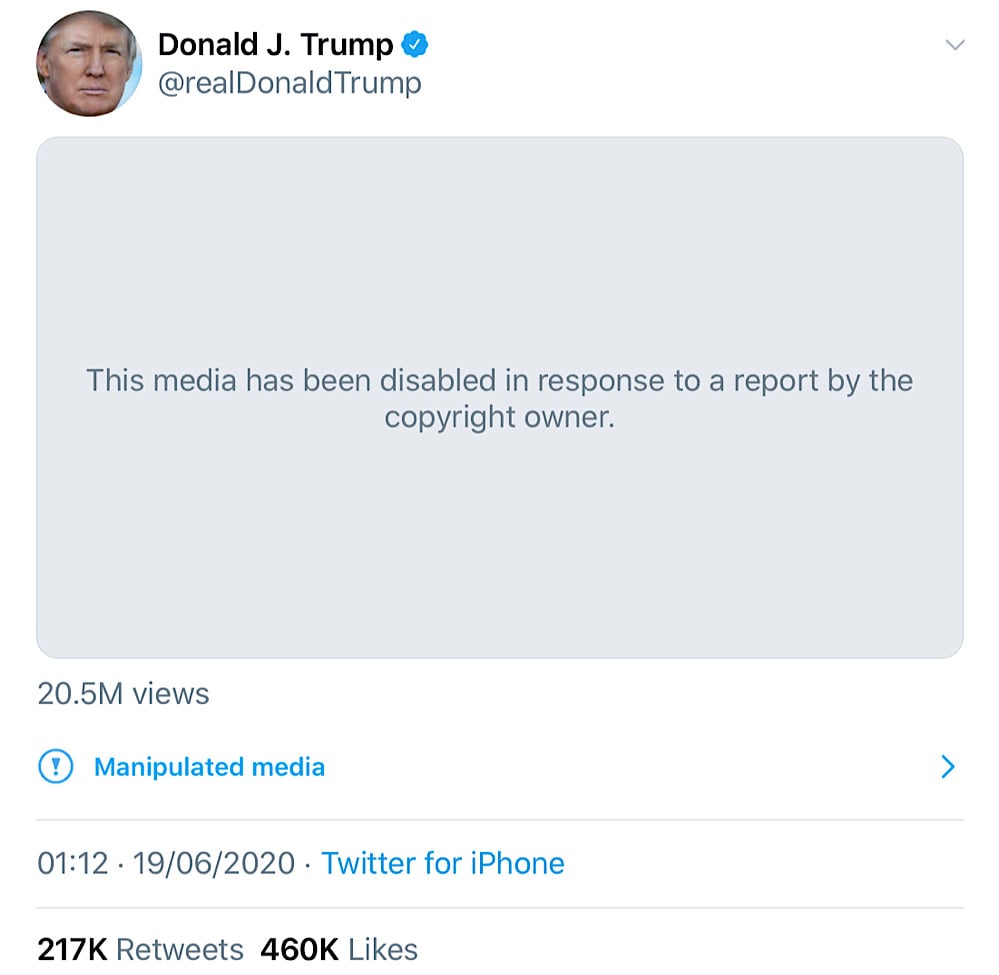 The takedown follows Twitter slapping the video with a "manipulated media" warning yesterday and many media outlets and journalists fact-checking the satirical meme to confirm that it wasn't really from a CNN broadcast.
Jukin Media faced backlash from the YouTube community earlier this year after it was accused of extorting the YouTube channel MxR Plays in an attempt to get them to pay thousands of dollars over the use of a meme but an amicable agreement was ultimately reached by both parties.
This meme is the latest of several Trump memes that has gone down in response to DMCA takedown requests with Trump's viral Obama-Biden meme being removed from Twitter in April after a DMCA notice from Warner Chappell Music.