Twitter was accused of censoring photos showing overcrowding at the cells holding illegal migrants at the United States' southern border, hiding the content behind a filter warning as "potentially sensitive." When questioned, the platform later removed the filter, saying the suppression was an error.
On Monday, the founder of the non-profit journalism group Project Veritas, James O'Keefe, posted a video showing a compilation of the photos, taken at the Texas Immigrant Detention Center in Donna. O'Keefe claimed there were "thousands of illegal immigrants packed into tight spaces and wrapped in space blankets on the floor." He also alleged there were more than 50 migrants who are COVID-19 positive.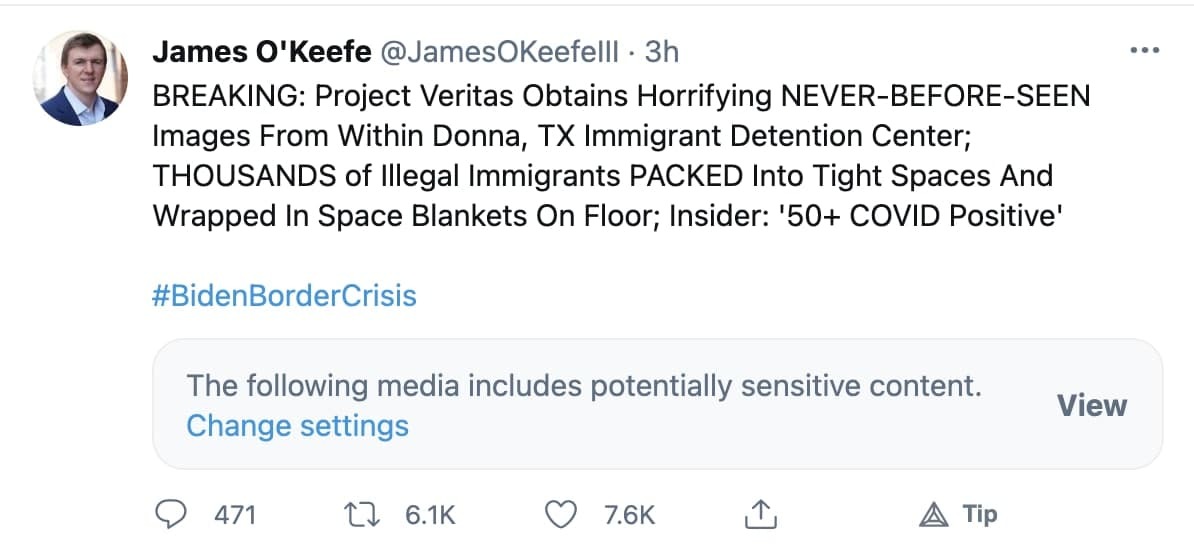 Twitter hid the video behind a "potentially sensitive" filter.
Speaking to Breitbart News, a spokesperson for the social media platform said the "potentially sensitive content" filter was "incorrectly applied by one of our automated tools and it has since been removed."
The photos posted by O'Keefe make the situation at the southern border clearer. Government officials, including the White House Press Secretary and the head of Homeland Security have been denying there's a crisis at the southern border.
However, Biden insists that his administration's approach is better since "we have people there helping them."
The perceived immigration leniency of the current administration has led to a surge in immigrants; more than 30,000 immigrants were apprehended in only one border sector earlier this month.